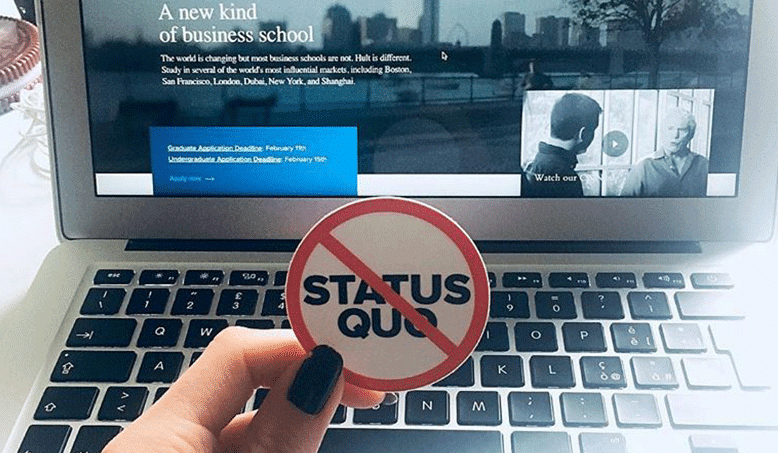 Written by Giulia Biasio, Global Ambassador and Masters in International Marketing Class of 2018
A new journey
I've always been that kind of meticulous person who wants to do things right and cares about every single detail: that's why studying different languages (particularly English) has always been really interesting to me. Learning a new language means starting a new journey  step-by-step. Every time you learn a new word, you will store it in your mind and have to use it later on in the right way. Otherwise, people will start looking at you strangely (and this still happens frequently to me!). I've been studying English since elementary school with good results and satisfaction but since being here at Hult, I've learned that what you learn at school is only the first step in a long and challenging process.
"My name is Giulia, I'm from Italy and I'm a current MIM student at Hult International Business School."
I was taught at school to always introduce myself first which is quite an easy task. What you're not taught in school are the many different directions a conversation can take after that initial introduction. That's when it gets difficult.
My experience
I've been studying English for quite a long time and when I chose to come to the United States I was happy to know that I had the chance to demonstrate my language skills. Quite an easy task, you may think. After all, I'd been studying English for almost my entire life! But I have to tell you that this has been far from easy for several reasons:
First of all, speaking a different language from your native one is a challenging task, both from a physical and a mental point of view. I remember the day we had orientation here at Hult and we spent a lot of time networking which involved speaking English for the whole day. Pronunciation of the English language is totally different from Italian and my tongue had been bouncing around in my mouth like a ping pong ball the whole time. I ended up going home with a smile fixed on my face, but only because my facial nerves couldn't relax! My brain was also quite tired as if I went through a really intense workout.
Out of my comfort zone
The second biggest challenge is trying to express yourself in a different language. Your brain has to work twice as hard because you keep thinking in your native language, but what you have to listen to and what will have to come out of your mouth has to be in English. Sometimes, I think if l stay here in the U.S. and keep speaking and listening to English my brain will start thinking in English. Something I have learned is that this type of ability does not come so easily, and that this challenge, and being at Hult, makes you step outside of your comfort zone and push your limits. So, you still have to work hard on your language skills. This push for self-improvement has definitely increased my productivity.
Additionally, remember that you'll always be able to return home and be able to speak your native language! Yes, I sometimes crave tortellini, pasta, and tiramisu, but what makes me feel at home is being surrounded by people from time to time who speak my own language.
A cultural exchange
Lastly, I realized that I tend to use Italian gestures that have little to no meaning in English at all. I usually use them while I speak animatedly in English because it is a way to convey meaning in my culture. Sometimes I end up explaining to other people how to use those gestures, and the meanings behind it. It is a cultural exchange!
My personal story is one that proves that we shouldn't feel too comfortable or satisfied with "just okay" results. Keep working on yourself and try to expand your knowledge by taking advantage of every single moment. That is what I'm trying to do during my time here at Hult. Even if you feel uncomfortable, don't be scared. The bigger the challenge, the bigger the opportunity to grow.
Oh, just a second… how do I say that in English?
---
To find out more about our Masters program, download a brochure here
---

Giulia Biasio is from Italy and is currently studying for a Masters in International Marketing at the Hult Boston campus. Giulia is passionate about reading, cooking, and sports. She is also an active member of the Marketing Club, Women in Business Club, and Tech Club. After Hult, she hopes to be a Digital Marketing Manager.  
Kickstart your career in this education and innovation hotspot by studying at Hult's Boston business school. To find out more, take a look at our blog My Boston undergraduate experience. Download a brochure or get in touch today to find out how Hult can help you to learn about the business world, the future, and yourself.
Related posts