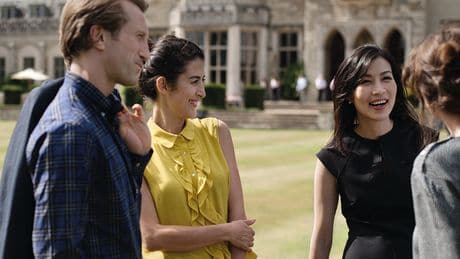 Developing a strong professional network, boosting key knowledge and skills, and accelerating career progression are three big reasons why ambitious professionals choose to go to business school. However, with time being such a valuable asset, many people are understandably reluctant to take time away from work and family life to pursue a traditional full-time MBA. This is just one reason why the option of an Executive MBA is important—it provides rigorous, specialized training for career-focused professionals, but it can be completed part-time in as little as 18 months.
If you're already considering an Executive MBA, you're likely several years into your career. At Hult, the average age of our EMBA students is 37, with 11 years of work experience. This means that our EMBA candidates benefit from studying alongside like-minded, established professionals with a diverse set of skills and expertise.
Hult's Global Executive MBA attracts some of the most interesting, entrepreneurial, and ambitious minds in the world — from the COO of Ferrari to the Directors of family-run businesses. Whatever your own professional background or goals, here are the four most compelling reasons why an Executive MBA could be an important next step in your career.
You'll earn a degree that adds value to your resume, company, and salary—without putting your career on hold
One of the key features of an EMBA is that you can pursue your studies without taking a career break. Hult students have the flexibility of earning their Executive MBA in as little as 18 months, by taking a total of just 21 days off work. There is no question that this is an intensive pace, but the benefits are clear. To start, you won't have to sacrifice a regular paycheck or risk losing a job you enjoy. You'll also have the additional benefit of being able to apply what you learn on your course immediately in your workplace.
The implications of this immediate learning transfer are huge. You'll be able to put classroom theory into practice and add value to your company straight away. Being able to apply the learnings from your Executive MBA to your job immediately is big plus for your employer and makes a strong case when trying to get employer to fund your Executive MBA for your degree.
It can also mean good things for career progression in your current organization. Executives are likely to take note and be keen to retain the valuable new leadership and management skills you bring to the table. This will put you in a strong position when it comes to negotiating promotions and salary. Hult's 2015 EMBA graduates, for instance, reported an average salary boost of 49% just one year after graduation.
You can position yourself for a big career change — in industry, function, or location
If you have your eye on a major career move, earning an EMBA could be the most important choice you make. In fact, 99% of Hult students change their job location, industry, or function after graduation.
The skills and practical experience you'll gain in the classroom and through case studies, live projects or business simulations will build on your existing professional expertise and help to propel your career in an exciting new direction. These same experiences and new understanding can also provide a platform for entrepreneurs to launch their own business ventures. Importantly, at this level of study, you will also focus on developing and refining the skills needed for success in a leadership role, whatever your industry.
Likewise, if you're interested in working overseas, your EMBA can enhance your resume and give you the connections needed for an exciting career move abroad. You may also have the chance to study abroad in another city or country, giving you invaluable insight into different markets and local job opportunities. This is a key feature of Hult's EMBA program — our students have the opportunity to study at up to six of our global campus locations, including London, New York, Shanghai, and Dubai.
You'll enrich your professional network with diverse, fascinating, and successful people
The people you'll meet on your course will prove invaluable as friends and mentors, and even as future colleagues or collaborators. Your peers are likely to come from all over the world and bring a diverse range of skills and professional experience to the classroom, allowing you to benefit from their unique perspective and expertise. You may find you're learning alongside a successful tech entrepreneur, a senior scientist, or the CFO of a multinational company. At Hult, we were proud to be recognized by The Economist in 2015 as the top EMBA program for industries represented.
"The multicultural and multi-industry nature of the students was another advantage because a lot of the learning comes from interaction with classmates."

Tayseer Alhaj, Hult EMBA CLass of 2014
At this level of business study, you'll have the opportunity to learn almost as much from your cohort as you do from your professors. And at this level, your professors are likely to be world class, with cutting-edge knowledge and experience gained as successful business theorists and practitioners. The result? An incredible new insight into global business practices and an enviable network of connections who will prove an important asset throughout your career.
You'll refresh your knowledge, hone your expertise, and deepen your understanding of what makes businesses successful
In the digital age, the business world is evolving fast. If you're a professional who is a few decades into your career, it may be the right time to refresh your knowledge or upskill in new areas. On a personal level, you may also find it enriching to revisit an academic environment and to challenge yourself by studying alongside like-minded senior professionals.
Likewise, if you're someone who has primarily learned on the job, an EMBA could be the perfect way to enhance your credentials, hone your technical and soft skills, and ground your practical knowledge with a fundamental understanding of the different functional areas of business administration. The purpose of studying business at the EMBA level is to marry theory with practice, allowing you to fill knowledge gaps and tackle some of the most pressing issues faced by today's business leaders.
"Students are exposed to real-life issues and appropriate pragmatic solutions to challenges. The learning process is complemented through the camaraderie developed and interactions with like-minded individuals from diverse cultures, academic backgrounds, and career paths."

Bachir El-Saghir, Hult EMBA Class of 2014
Whether your motivation is to refresh your skills or learn new ones, hone your knowledge or upskill in a new area, accelerate your career or expand your professional network, the cumulative impact of earning an EMBA will be significant both personally and professionally. At Hult, our Executive MBAs receive tailored career support to ensure you achieve your goals. In an ever-changing and highly competitive global job market, enhancing your credentials with an Executive MBA could open up exciting new opportunities and make all the difference in your career.
Curious to learn more about the important benefits of graduate-level business study?
Discover Hult's Global Executive MBA.
Step up your game with executive education at Ashridge agile business school. To find out more, take a look at our blog Why there's no time like the present to start your Executive MBA, or firm up your exec career footing with a Masters in International Business from Hult. Download a brochure or get in touch today to find out how Hult can help you learn everything about the business world, the future, and yourself.
Related posts