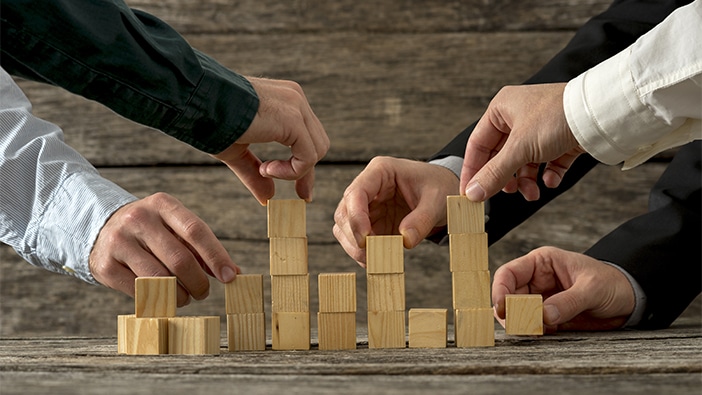 Students on our Executive MBA program require different career development support from those on our full-time MBA program. The majority of MBA students are looking to secure a new job on graduation. This is also the case for some Executive MBAs but for most, their career objectives are more complex than simply finding employment.
Most are in full-time positions while they're on the program and are looking to further their career with their current employer. Many are senior executives who are happy in their role and want to use their EMBA to stay relevant, build their skills, and widen their network.
Hult's Career Development is designed to cater for all three of these groups of Executive MBA students – those who are seeking a new role, those who want to progress in their current company, and those who are satisfied in their current role.
The job seekers
For those who are looking for new a job, we work with them to define a strategy and set a path for them to achieve their goals in a suitable time frame. The average age of our Executive MBA students is 37, and many are older. They might not have applied for a new position for years as they've progressed through promotion or been headhunted. So embarking on a job search can be quite daunting.
We support them through all aspects of building, refining and applying your job search tool kit – career decisions, resume, LinkedIn profile, personal branding, interview skills – through 1 hour workshops every month of their core program modules and one-to-one career coaching with a personal advisor. We operate as an "on-demand" service, we're there when student need us.
We also emphasize the importance of networking with classmates. Paula Quinton-Jones, Hult's Global EMBA Director for Career Development gives this as an example of the power of networking with peers:
"You could find yourself sitting next to someone who works in your dream company or job. For example, one of our current EMBAs is looking to move into the driverless car technology field and one of his target companies is Nvidia. I asked him if he knew a particular student in his class. He said "Yes, he's in my group and we socialize most Saturdays during EMBA weekends". "Great" I said," So you know his wife works at Nvidia?" He didn't, because they never talked about work!" – Paula Quinton-Jones, Global EMBA Director for Career Development at Hult
The ladder climbers
If you are using your Executive MBA to leverage a move in your current industry or organization, then your focus will be on gaining clarity on what you want from your next move and how to articulate and demonstrate it. This will mean focusing on your personal brand and honing your leadership style, and we'll work with you on this throughout the year.
The future-proofers
The best time to make career plans is when you are happy, challenged, and content. Executive MBA students who aren't looking to make a career change are able to make decisions purely based on development needs and ambitions. This can include future-proofing your career and starting your own business. Hult's EMBA is a perfect platform to gather feedback from colleagues on your strengths and weaknesses, gain new insights into your work, and also get inspiration to explore new directions your career could take.
Career Development resources
This is our Career Development 'Road Map' that shows all the resources available to you from before you arrive to post graduation: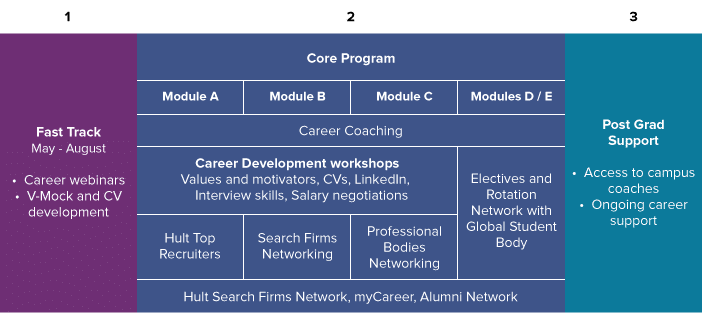 We start working with you before you arrive on campus through our Career Fast Track program. We help you get some clarity on career decisions you may be looking to make over the next two years and also to get a jump-start on some of the basics with a series of webinars and the Vmock resume-writing system.
Once you arrive on campus you will start working with us on the full range of career development offerings. As well as monthly workshops, each campus has a dedicated EMBA Career Coach who works with students on everything from identifying motivators and values, choosing career paths, developing job search strategy, perfecting your resume and LinkedIn profile, mock interviews, networking skills, and salary negotiations.
You can also work with your advisor on topics such as framing career development conversations at work, how to position yourself for promotion, or build the confidence to start your own business. Coaching is available as and when you need it.
Career events for Executive MBAs
Students on the Executive MBA program our busy people who are only on campus on four-day weekend a month. We have designed our events calendar to complement this schedule and focus on networking, the key opportunity channel for EMBAs. In modules A, B, and C, we organize dedicated networking events:
Module A, Hult Top Recruiters: We invite some of our top corporate partners, such as Google, L'Oreal, and EY on to campus to connect with our EMBA talent.
Module B, Networking with Search Firms: Search firms, or recruitment companies are key assets for more senior and specialist roles. In Module B they join us on campus to network with EMBA students and recruit for mid-manager to senior manager roles.
Module C, Professional Bodies Networking: local professional bodies and business groups join us on campus to expand your local network and understand the opportunities and available in these sectors and the benefits of collaboration with them.
Here are some recent examples of these events held across our different global campuses:
Search firm networking at Hult Dubai
We welcomed 10 search firms onto our Dubai campus, as well as two of our corporate partners EY and Phillips, to meet and make connections. The evening started with a panel of headhunters from McKenzie Jones, JCA Associates, and Derwent Executive sharing their view of the market and hints and tips for candidates. We then broke out for networking so that firms and students could connect personally and a number of our EMBAs are now working on specific roles with search firms.
"Networking opportunities were very important for me, and Hult was outstanding in offering me that in Dubai, especially compared to other business schools based there."  – Ludmilla Figueiredo, EMBA Class of 2014, Director of Business Development at Kharabeesh
Advanced networking and business storytelling at Hult London
On the London campus we've recently hosted two events for our soon-to-be graduating second year EMBA students to work on their networking and storytelling – helping them to get their personal story clear and then practicing how to tell it in different scenarios. Advanced networking coach, Heather White, and award-winning public speaker Simon Bucknall ran these sessions.
Market insights panel in Shanghai
In Shanghai, networking is key and the ex-pat community is an essential part of anyone's career development strategy in the region. We've brought a number different experts on to campus this semester to share what challenges businesses are facing in the region, as well what this means for careers and opportunities, and to connect directly with our students.
A panel of experts joined us to talk about corporate governance in China and what this means for senior managers, and Larry Wang, CEO of Wang & Li Asia Resources, a recruitment firm for large scale fortune 500 came to discuss the shift from production to innovation in China and the fact that entrepreneurship is now being looked for as a key competency by many major companies.
---
To learn more about Hult's Executive MBA program, download a brochure or contact us.
---
Step up your game with executive education at Ashridge agile business school. To find out more, take a look at our blog Student perspective: Adjusting to life abroad and how I knew Hult was right for me, or firm up your exec career footing with a Masters in International Business from Hult. Download a brochure or get in touch today to find out how Hult can help you learn everything about the business world, the future, and yourself.
Related posts