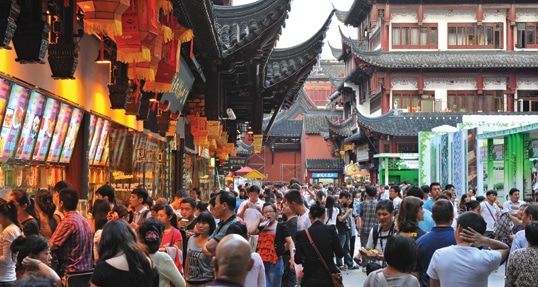 In recent decades we have seen China develop into the world's second-largest economy and increase its presence in numerous industries. One of the most notable trends of the past few years has been the explosion of the smartphone market.
Lenovo Group Ltd. said the sector has been going through a phase of "hypergrowth" that is only just starting to slow. The Beijing-based electronics company posted revenue growth of 7.2 percent for the third quarter of 2014, the smallest increase since March 2013.
In an interview with Bloomberg, Lenovo chief executive officer Yang Yuanqing said: "The industry is changing from in the past, when China grew much faster than the rest of the world. The market is changing, and China will not see further hypergrowth."
Despite this forecast, there is no doubt China is now a key part of the global smartphone industry.
Lenovo has moved to secure its position in the fiercely competitive marketplace with the USD2.91 billion purchase of Motorola Mobility from Google, which made it the world's third-biggest smartphone maker behind Apple and Samsung.
Yang said: "Lenovo will be number three in the global smartphone market, but definitely we will not stop here. We want to become the leader in the smartphone and mobile devices area."
In the domestic Chinese market, Apple has overtaken Samsung to become the leading mobile brand this year, according to the China Brand Research Center. Samsung lost the top spot, which it had held since 2012, following a survey of 13,500 Chinese consumers assessing brand awareness and loyalty, CNET reported.
The China Brand Research Center said one of the reasons the Korean electronics group had lost out was its emphasis on market share over customer experience. "If companies (are) focusing too much on market share, while ignoring the concerns of consumers, it will cause a problem in brand management," the report said.
Meanwhile, other big names in consumer electronics have been struggling to retain a foothold in the Chinese market. Sony has decided to take a step back from China's mobile sector, partly because of stiff competition from local brands such as Xiaomi and Huawei, which have been making their presence felt on the global stage.
The Wall Street Journal recently reported that handsets produced by Chinese companies now account for 38 percent of the international smartphone market, more than Samsung and Apple combined.
[Tweet "@Hult_Biz Chinese companies now account for 38 percent of the international smartphone market"]
Samsung has resolved to overhaul its smartphone range to stay relevant in swiftly evolving economies like China and India.
There is no denying that markets such as these are now a critical part of the international business environment. If you are a technology professional or entrepreneur with a global outlook, it is worth asking if you can afford to ignore them.
Working and developing in China
How do you view China: a closed shop, almost impenetrable to all except the biggest global corporations, or a land of unrivaled opportunity?
It's certainly true that you will face some unique challenges if you choose to seek employment in the country, but the process will also offer substantial scope for professional development. While it is often viewed as an exclusive market in terms of jobs, China is an open economy offering exciting prospects to candidates who fit the bill in terms of what employers are looking for.
To start with, foreigners must meet baseline requirements including a minimum age of 24, a Bachelor degree, two years' relevant full-time work experience post-graduation, Mandarin language skills, and a clean criminal record. Your application will also be viewed positively if you have a good cultural awareness of China and have made a clear commitment to the region.
As Shanghai-based recruitment expert Simon Lance told CNN, the days of overseas professionals – particularly those from the West – being able to stroll into a job in China are long gone.
[Tweet "@Hult_Biz The days of overseas professionals being able to stroll into a job in China are long gone"]
"The novelty of being a foreigner has worn off," said Mr. Lance, who is regional director of staffing firm Hays in China. "Employers are seeking value. Demonstrating a genuine commitment to China is key." He also underlined the importance of Mandarin or local language skills, pointing out that foreigners who can't offer this attribute will struggle to compete with the millions of graduates coming out of the country's higher education institutions.
Nick Cucinella, chief executive of CareerBuilder China, recommended having a resume in both English and Mandarin, even if you are not yet fluent in the language.  He also advised candidates to take initiative and target prospective employers. Many applicants get lost in the crowd because they fail to go beyond online jobs boards and search engines.
As well as being highly competitive, the Chinese job market can be complex, particularly for foreigners. Work permit conditions can vary between cities, districts, and even individual companies, so it is crucial to thoroughly research and prepare for the unique demands of every job application you make.
When it comes to visas, there has recently been some positive news on this front for U.S. passport holders, with the U.S. and China announcing an agreement extending the term of tourist and business visas from one to ten years. American businesses operating in the Asian nation will welcome improvements to the visa system. According to a survey by the American Chamber of Commerce in China, 68 percent of firms felt the recruitment of foreign workers was being hindered by excessive visa processing times.
Speaking at a summit of the Asia-Pacific Economic Cooperation, Barack Obama said: "I've heard from American business leaders about how valuable this step will be. And we've worked hard to achieve this outcome because it clearly serves the mutual interest of both of our countries."
---
If you would like to find out more about Hult's business programs, download a brochure here.
---
Kickstart your career in the commercial center of Asia by studying at Hult's Shanghai business school. To find out more, take a look at our blog Hult Prize regional finals inspire in Shanghai. Download a brochure or get in touch today to find out how Hult can help you to learn about the business world, the future, and yourself.
Related posts