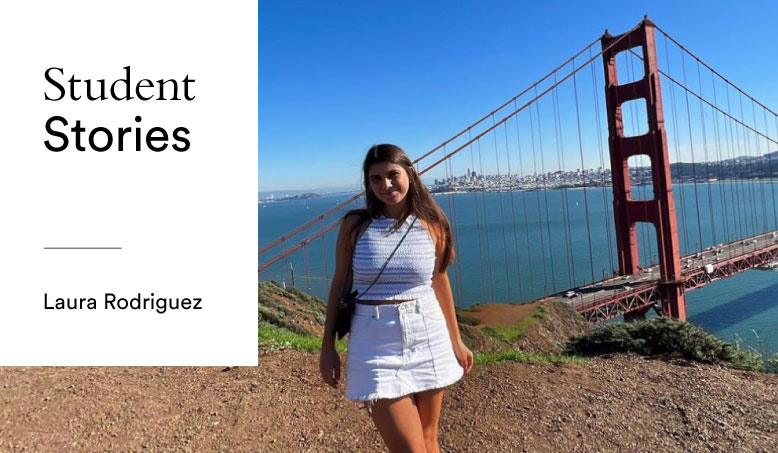 If there's one thing we know about Hult students, it's that they're doers. And Laura Rodriguez is no exception. We caught up with her to hear about her experiences on moving away from home at the age of 13 and her journey to Hult and how she transformed her love for travel into a thriving travel club on campus. She also shares how she burst out of her comfort zone by applying for a job at Hult. Whether you're an international student with a passion for business or someone who loves to travel, Laura's story will inspire and leave you motivated to pursue your own dreams.
Hey Laura! Tell us about yourself and your journey to Hult
I'm Spanish and I've always had a thirst for travel and a desire to study business. This led me to move to the UK on my own at the age of 13, where I finished high school. I did my Bachelor's in Business Administration in Madrid. And after some travels and an exchange semester in Orlando, I decided to come to Hult San Francisco to do my Master's in Entrepreneurship and Innovation.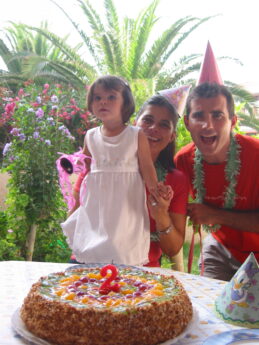 International communities are what you seem to be liking wherever you go …
I've been fortunate enough to meet people from around the world since my boarding school days, and it continued when I went to an international school in Madrid. Some of my closest friends are from those communities, including my best friend from boarding school. Learning about different cultures is so fascinating to me. And it's made me feel more open and connected to people who have had similar experiences traveling and being part of international communities. It's just a different kind of connection than with people who haven't been exposed to other cultures.
Learning about different cultures is so fascinating to me, and it's made me feel more open and connected to people
What made you start the travel club, and can you share a few highlights from the club's travels?
I decided to start the travel club because I see new experiences as a way to grow and develop. And of course, I love traveling! The club has 150 members and is open to anyone. There's no fee to join. Members can join the trips they have an interest in and skip the ones they don't. The club is for people who want to explore different places without spending too much money.
There have been many memorable trips. We rented a car and visited Napa. On another weekend, we visited Carmel-by–the-Sea. We also organized a group trip to Yosemite National Park. Our next adventure is to Six Flags. We hope to secure discounted tickets. The planning has been stressful as it's just the two of us, but we've still enjoyed the process. We also wanted to visit Lake Tahoe but had to cancel due to storms. As summer approaches, we hope to organize more trips and expand our group.
I see new experiences as a way to grow and develop
Why do you think you got the job at Hult?
When I applied for this job, I wasn't sure I was even going to get the interview. But I think what helped me stand out was my enthusiasm for attending events and being involved in the community. I'm naturally outgoing and enjoy talking to people, which I think they picked up on. It's interesting how the hiring process can be different in other places compared to back home, where experience is usually the most important factor. But for this job, they seemed to value potential and passion over experience. The job involves working at the front desk and managing social media and events, which is perfect because I love marketing. I'm planning to pursue a dual degree in marketing next year in Boston.
How do you balance your time between traveling and grad school—has it been challenging?
I always love having a balance between attending classes, doing sports, meeting up with friends, and traveling. It's a bit of a challenge, but I do my best to make it work. Fortunately, I can always make time for my friends and my favorite sport—running. Due to my master's schedule, traveling can be a bit more complicated because it requires more planning and more time off to go somewhere far.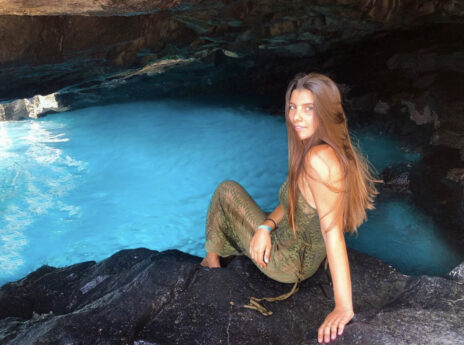 How does it work with the internships? Who do you work with to get the internship? Or do you get any support with finding them?
We have a career advisor who helps us with improving our resumes. Hult also hosts a range of career events, and they provide insider interview tips. However, finding the internship is ultimately our responsibility. The other great thing is that internships are worth full credit.
How did you know Hult was "the one"?
I've always been interested in business. Maybe it's because my parents run their own business doing apartment rentals in Tenerife. I used to help them out during summer breaks. And as I grow older, my desire to carry on with the family business has become stronger. When I expressed interest in pursuing a master's degree in the US, my dad initially thought it was just another opportunity for me to travel. But when he saw how much time and effort I put into researching universities and creating an Excel sheet with pros and cons, he knew how serious I was about my goals. My criteria ranged from top-ranked business schools to location. I chose Hult San Francisco because I fell in love with the city and appreciated the walking culture, which reminded me of Europe.
I chose Hult San Francisco because I fell in love with the city and appreciated the walking culture, which reminded me of Europe.

What does the future hold?
At Hult, we can decide to do Global Campus Rotation. I want to do my rotation in New York because I'm interested in working in the US after my master's program. And being an international student, I can be eligible for OPT in the US after graduation, which means I can work and stay in the US for a year.  I am also determined to achieve my New Year's resolution of running a marathon.
---
Interested in learning more about Hult's master's program? Download a brochure.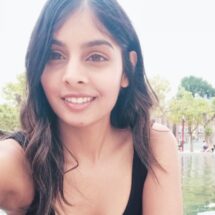 Ulisha Singh
Ulisha is a copywriter and contributor to the Hult blog. With her experience writing for various industries, from software to yoga, she has gained invaluable insights that allow her to create specialized content for her clients. In her free time, Ulisha likes to travel, work out, and eat her way through London.
Related posts