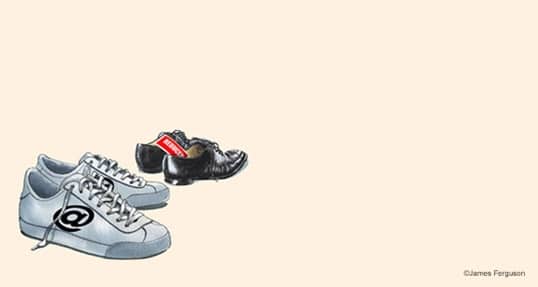 Written in collaboration with an interview with Beat Bühlman, managing director of Global Product Development at Hult International Business School, for the Financial Times "Technology companies become magnet for MBA students".
Last year at two high-ranking business schools on opposite sides of the Atlantic, careers officers were looking at an interesting trend in MBA recruitment. At London Business School, the number of those who joined technology companies for the first time eclipsed those who joined banks. And at Stanford Graduate School of Business, numbers joining technology companies soared for the second successive year.
At LBS, Amazon led the charge and snapped up 11 MBAs from the class of 2013, outpacing Citi's hire of eight. The second-biggest corporate hirer, Google, which recruited seven MBAs, took on more than the second-ranked bank, which was HSBC with five.
"It's the first time we've had a technology company hiring a greater number than an investment bank," says Lara Berkowitz, executive director of career services at LBS.
At Stanford, known for its close ties to Silicon Valley, 32 per cent of the class of 2013 chose a job in technology, against 24 per cent in 2012 and only 13 per cent in 2011.
"What you're seeing is part of a historical shift," says Vic Menon, data and web manager in charge of employment reporting and analysis of job trends at Stanford.
"There's very strong student interest," adds Maeve Richard, assistant dean and director of Stanford's career management centre. "At the same time these companies are growing more complex and they realise they do need MBA talent."
The development at LBS and Stanford is supported by a global student exit survey published by the Graduate Management Admission Council last week. It found that technology is emerging as a promising destination for business school graduates, with 61 per cent of students seeking work in that sector reporting early job offers and accounting for 15 per cent of all students with early offers.
Careers advisers say a number of factors could be driving MBAs towards technology companies and away from the traditional, coveted jobs in banks and consultancies.
"The size of the bank [induction] programmes is certainly smaller and the interest in students has gone down commensurate with that," says Ms Berkowitz.
"If you take away job security and promotion [which used to make banking look good], the alternatives become more attractive," adds Steve Dalton, senior associate director in MBA student services at Duke's Fuqua School of Business.
Money is also part of the puzzle. Cash remuneration from technology roles has "converged" with that offered in finance and consultancy roles, according to Ms Richard. However, salary is not the only draw.
"People are excited about the company and the product – that's the main driver, not the money," agrees David Morris, assistant director, head of corporate sectors in LBS career services.
But getting in is not easy. Competition for jobs and internships with companies such as Google, Amazon and Facebook, is fierce. The chances of securing a coveted internship are enhanced if the student attends a top business school: the large technology companies recruit on campus.
The recruitment process is also more rigorous. This newer breed of employer is not only looking for solid technical skills – less tangible qualities are also important. Beat Bühlman, managing director of Global Product Development at Hult International Business School, was taken on to help redesign Hult's MBA programme to better prepare students for this changing job market.
If two similarly qualified candidates emerged at Google, "we would choose soft skills rather than hard skills", says Mr Buhlman, who was previously in a hiring role at the tech giant.
Flexibility is important, he adds, pointing to the Google Street View project. "When Google started this project it couldn't hire someone who had this experience because no one had done it before. So one thing that Google is looking for is someone who is not afraid not to know what they will be doing in two years from now."
"We want students who can handle and are comfortable with ambiguity," agrees Cassandra Young, MBA staffing consultant for Microsoft. Ms Young says Microsoft is looking for MBAs to help in its transition from old-style software company to a new-style devices and services group with brands such as Xbox.
. . .
Microsoft takes 75 MBAs a year on to its internship programme and recruits 300 students per year into full-time roles. Again, it is a considerable advantage to be attending one of the top schools.
Ms Young says the company has an "on-campus presence" at 15 US business schools and recruits globally using an outside firm which targets top schools. But a top school is not essential. If someone manages to find her, she says, it shows they have a real interest in joining. "We are really looking for passion," she adds.
For students interested in joining new technology companies, the big names are not the only attraction. Mr Menon says that of the Stanford MBAs who joined technology companies in 2013, about 40 per cent went to large companies, 40 per cent to small and medium-sized companies and
20 per cent to start-ups.
The latter might have smaller pay packages but they are often given equity in the business. Mr Menon says that two recent Stanford graduates made $1bn within two years of finishing school when the small technology company they had joined was sold.
"We value MBAs for . . . the global approach that they can bring," says Miriam Park, director of university programmes at Amazon. The online retailer, she adds, will be hiring hundreds of MBAs globally in 2015.
This article was originally published by the Financial Times, "Technology companies become magnet for MBA students".
Beat Bühlman is the managing director of Global Product Development at Hult. Read about Hult's groundbreaking new MBA curriculum and Hult Labs' report findings on "What Top Employers Want".
Make the most of what your career has to offer with a Masters in International Business from Hult. To learn more, take a look at our blog Should you choose a Master of International Business or MBA program? or give your employability a huge boost with an MBA in international business. Download a brochure or get in touch today to find out how Hult can help you to explore everything about the business world, the future, and yourself.
Related posts