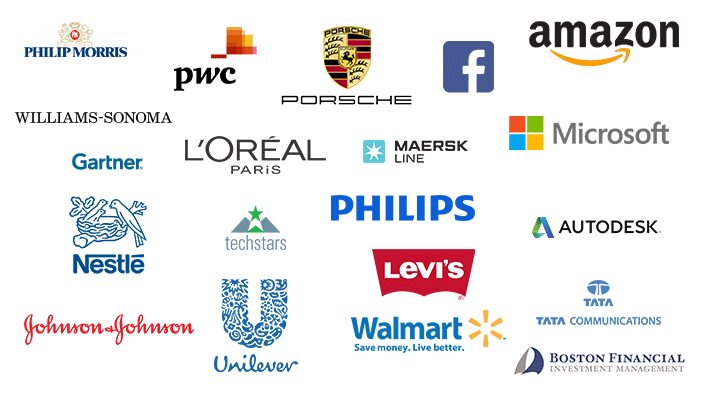 At Hult, the emphasis is on the business the part of business school. Our programs are designed in consultation with CEOs, our students work on real problems facing real companies, collaborate with game-changing organizations, and the world's leading corporates and most exciting startups are a constant presence on campus.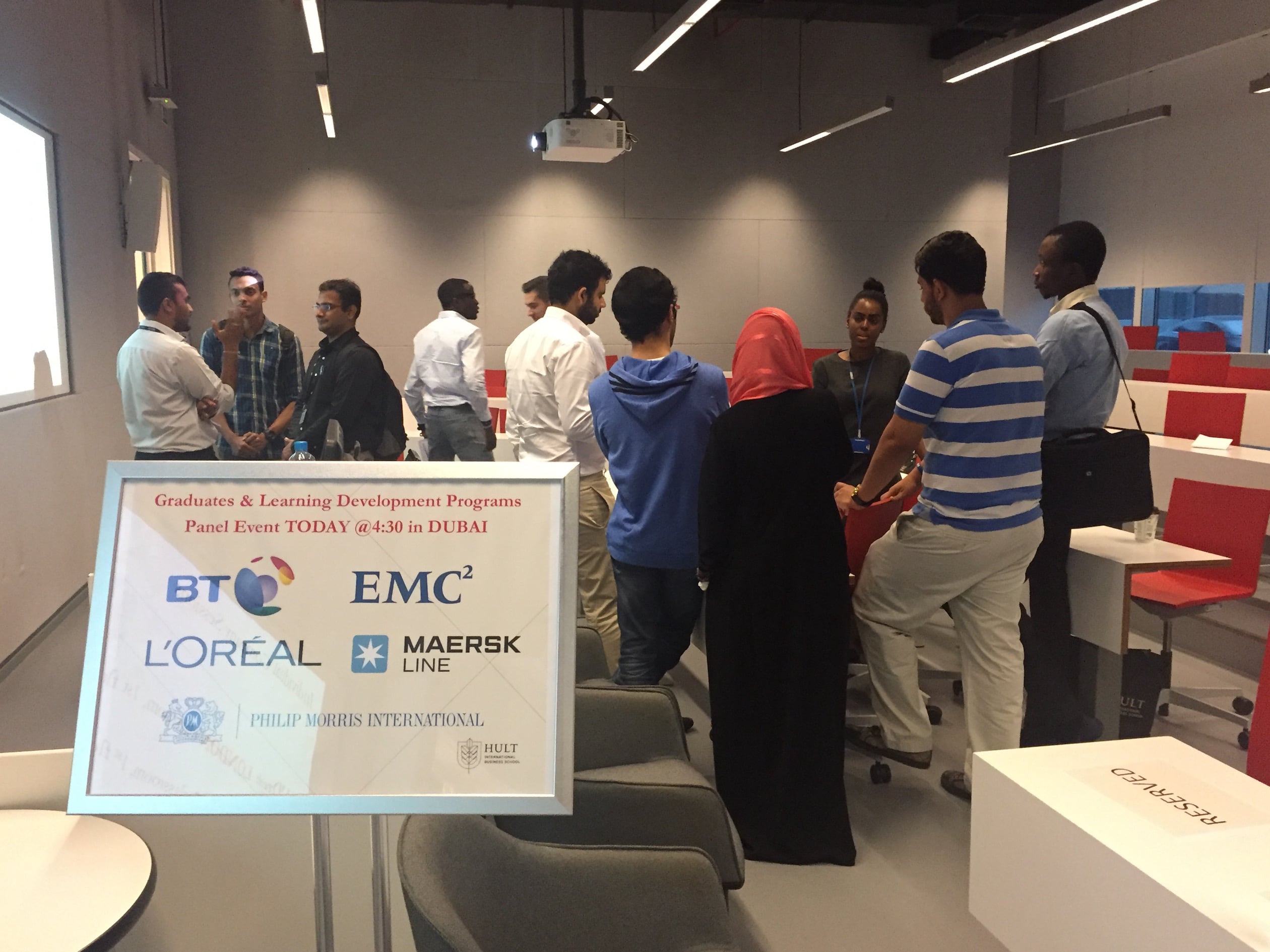 Here are just a few of the companies that we've had the pleasure of welcoming on campus so far this term:
London
PwC – Hult Master of International Business alum Marc Seipp, a Management Consultant at PwC, bought the "PwC Pitch Challenge" back to Hult's London campus for the second year running. A select group of students devise a solution to a real clients' problem and compete in a "pitch off". It's a unique opportunity to practice winning the business in the first instance, rather than reflecting back on case studies in the classroom. It's also a great networking opportunity. As Marc says:
"A huge network being established at Hult that we can all leverage and build. It's not just about receiving; it's about contributing and creating a community of like-minded professionals. A business school is not just about education; it's also about the network and the opportunity." – Marc Seipp, Hult MIB Class of 2013, Management Consultant at PwC
Amazon – David Domene graduated from Hult in 2014 and is now an Area Manager for Amazon. David has recruited three Hult students so far for Amazon and this term he was back on campus again with his manager, presenting to students and taking their questions.
Gartner – The HR Manager from Gartner – an industry leader in the field of It research and consulting with offices in no less than 27 countries – came to campus with Hult alumni who now work there. After presenting, the team from Gartner set students a challenge and gave them a month to work on it. The student teams with the best solution to the challenge will be invited to visit the Gartner office in London, and Gartner will then recruit some students from that winning story. Last year, we ran a similar challenge with SalesForce where several Hult Masters students who participated are now employed.
Unilever – Over 100 students attended the Career Discovery event with Unilever's Tony Latham. Tony leads the Finance team overseeing all aspects of Unilever's Global Supply Chain and spoke to students about the consumer goods industry, his personal career path, and his contribution to Unilever's sustainability mission.
Tata Communications – The global giant of IT consulting came to present to students about the companies and to recruit for the positions they have globally.
Microsoft – Microsoft's Talent Manager who recruits for positions globally ran a webinar on the recruitment process at Microsoft and what it's like to work there. Afterward, Hult sent suitable CVs to Microsoft who selected the ones they wanted to interview.
San Francisco
With its close proximity to Silicon Valley and global reputation as a center of innovation, San Francisco is home to many of the today's most recognizable brands. Among those presenting and speaking at Hult San Francisco this term were:
Facebook
LinkedIn
Walmart
Levi's
Williams-Sonama
Autodesk
We also welcomed some of the Bay Area's most well-known accelerators and incubators. Speakers from Techstars, Startup Showcase, Cleantech Open, and Startup House joined students for an "Unleash Entrepreneurship" panel session on the region's startup Ecosystem.
Dubai 
L'Oreal, Philip Morris, and Maersk Line – HR representative from the three global companies operating in the Middle East joined students at Hult Dubai for a panel on Leadership Development Programs which are increasing prestigious and popular with students as they are a great way to get a "foot in the door" at management level of global, highly competitive companies.
Porsche, Philips, and the UAE Ministry of Health – Senior professionals from these hugely influential organizations came to campus for an Executive Speakers Panel and Executive MBA Networking Event, exclusively for Hult's EMBA students.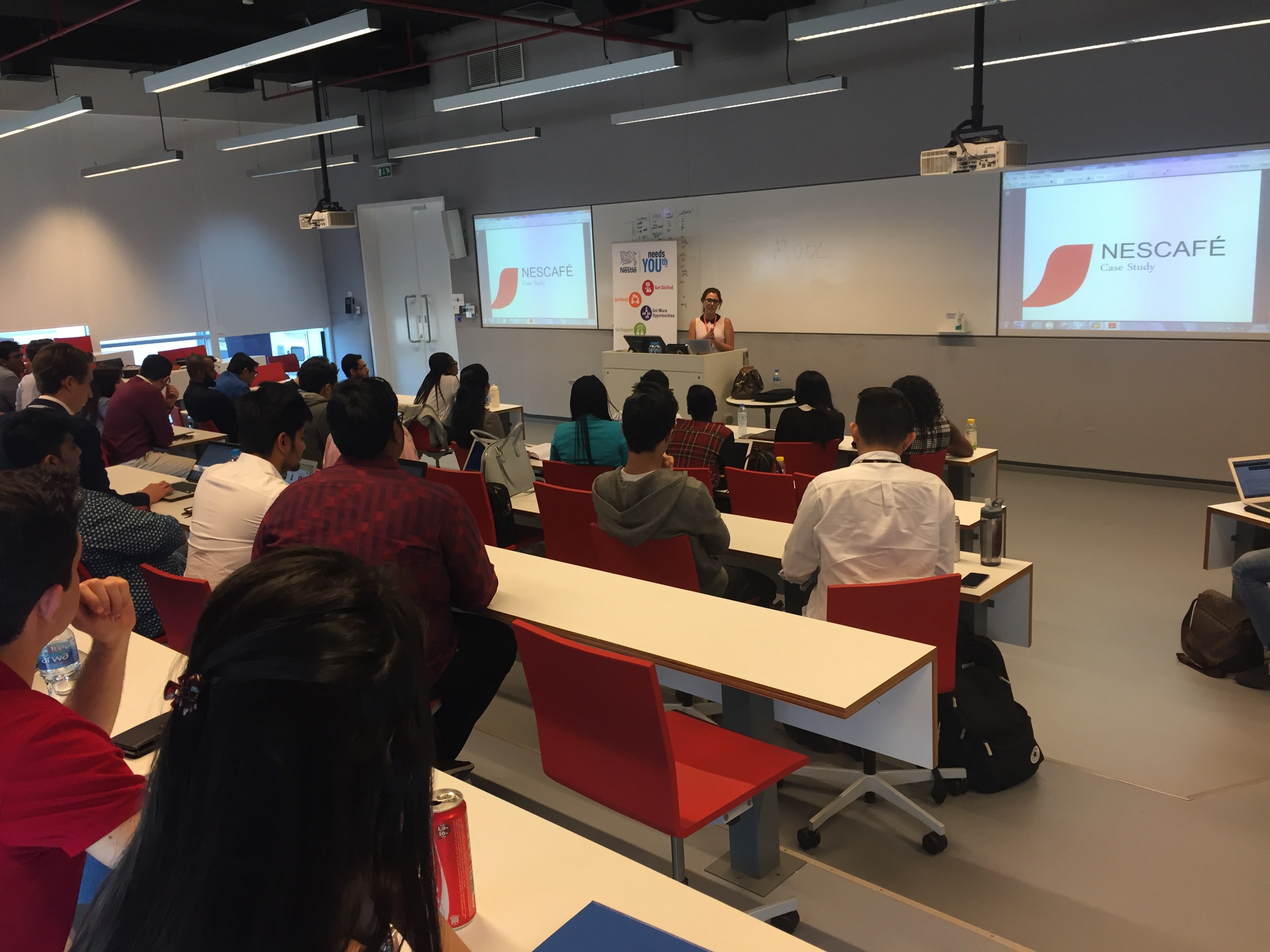 Nescafé – The global coffee brand came to our Dubai campus to launch the Career Connections Challenge – a marketing case competition with the prize of an interview and internship at Nestlé. The challenge is to propose a new Nescafé product and a put together strategic recommendation for a marketing plan. Students have three weeks to work in teams to prepare their presentations to pitch the solutions in front of a judging panel of Nestlé managers.
Boston
Johnson & Johnson – The industry leader came to Hult's Boston campus to look for talent to join its HR Leadership Development Program. They told students:
"If you have a strong business mindset with a passion for people, we have just the right opportunity for you. On a mission to reinvent HR, Johnson & Johnson is looking for outstanding and passionate individuals to join its HR leadership development program."
WeWork – The innovative office space company has gone global very quickly and continues to grow. They're coming to Hult Boston next week to network with students and share their the successes and challenges they've faced from expanding so rapidly.
Boston Financial Investment Management and GCP Applied Technologies – 3 speakers from global companies came to talk to students at Hult about working on global teams. Ali Abdullah, Assistant Vice President in Capital Transactions at Boston Financial Investment Management. Will Mendoza, Product Manager for GCP Applied Technologies and Kie Wantanabe, current MBA at Harvard, previuosly at McKinsey in both Tokyo and London – provided insight into their experience working in a global team environment, and what drove them to pursue a global career.
Shanghai 
Microsoft – At our Executive MBA campus in Shanghai, Mr. Tang Jun, Honorary President of Microsoft China and CEO of Wicrecend Group advised students on how to navigate the Chinese-Western culture difference and shared the story of his own to rise through the ranks of international business before joining students for an informal networking event.
---
Download a brochure to find out more about Hult's business degree programs.
---
Make the most of what your career has to offer with a Masters in International Business from Hult. To learn more, take a look at our blog How can an MBA help entrepreneurs? or give your employability a huge boost with an MBA in international business. Download a brochure or get in touch today to find out how Hult can help you to explore everything about the business world, the future, and yourself.
Related posts