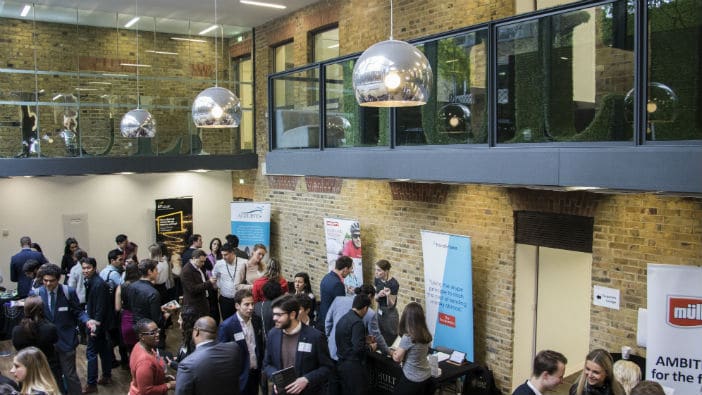 With recruitment season in full swing, our global campuses recently welcomed over 150 companies to Hult's recruitment and internship fairs in London, Dubai, San Francisco, and Boston.
This is a great opportunity for students to network, hone their skills, and secure career opportunities. In London, Maury – a Brazilian Master of International Business student – did his homework on the companies beforehand. He put his new-found confidence and networking skills to good use and connected with big name brands like LinkedIn, Amazon, and Cap Gemini:
"I made sure to research the companies ahead of time to target specific opportunities that might lie within marketing. I received a lot of useful networking behavioral advice from my career advisor. Naturally I am quite shy but I now feel skilled in being able to talk to people, which is very useful for events like these."

Maurício Ribeiro, Hult Master of International Business Class of 2017
Bloomberg capitalizes on Hult talent
Rebecca O'Hare—graduate recruiter for Bloomberg—says that Hult is one of the schools that Bloomberg has the most hiring success with, for both internships and full-time positions, and she puts this down to the international mind-set and exposure of Hult grads:
"The mind-set of Hult grads fits very well with Bloomberg because we are very international, and we value diverse backgrounds and experiences. The education and training at Hult is fantastic. Candidates are always polished and display really good interpersonal skills, and I think they receive a lot of support in getting 'interview-ready' as well: so they always have really good CVs, and present themselves very well in interviews. For us the real key is having that international mind-set, the language skills, and the regional exposure".

Rebecca O'Hare, Bloomberg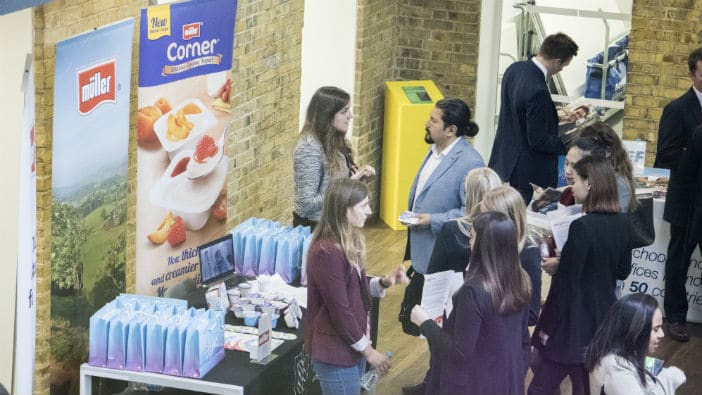 David Norton, who works for property search app Get Homie, says that Hult students have a reputation for being more entrepreneurial than the average student: "Even just chatting to students here today I have heard people's own business ideas, so it's a great place to come and find people with that startup mentality".
Hult alumni come back to campus to coach and recruit their fellow Hultians
The career fairs are also a time when alumni come back to campus to recruit. From Deloitte, Hubspot, and Bemis, to EY and Agilisys, many companies attending the fairs have personal experience of the Hult network. David Domene Luque, a Hult MBA from the Class of 2014 who is now an Area Manager for Amazon, has hired 4 Hult grads in the last year:
"As well as the international mind-set, one of the key reasons I come back to Hult to recruit is the flexibility and adaptability of Hult graduates."

David Domene Luque, Area Manager, Amazon, Hult MBA Class of 2014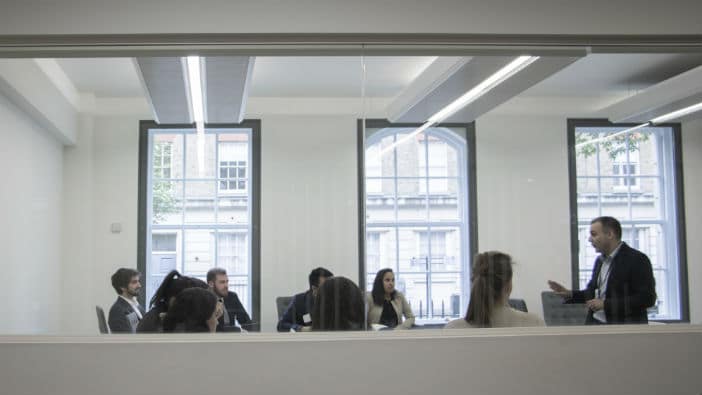 Boston campus hosts 30+ student interviews with L'Oréal
The Boston campus has been visited by various companies this year including Domino's, PWC, L'Oréal, Colliers, and Amadeus. In April, Boston's internship fair attracted almost 40 Boston-based startups, and has resulted in over 80 students securing internships to-date.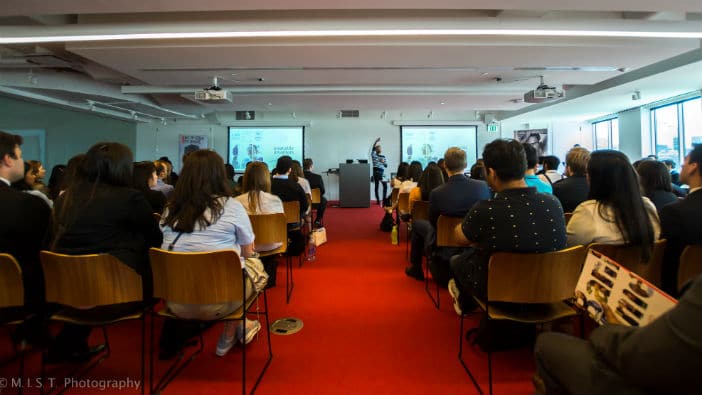 Earlier this month, L'Oréal Miami came to Boston for an on-campus recruitment and information session, attended by 100 students and resulting in over 30 interviews on campus. Second round interviews will take place later this month.
"Hult candidates bring years of international experience and a strong sense of entrepreneurial spirit. Some of our top recruits in the last couple of years have been from Hult, and we look forward to continuing to build our strategic partnership."

Munir Kamil, HR Director, L'Oréal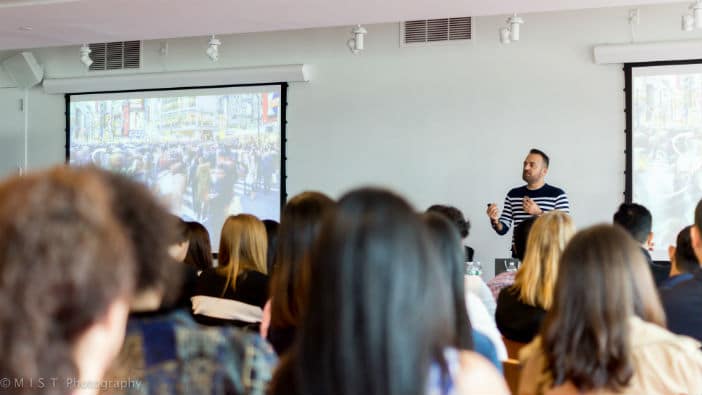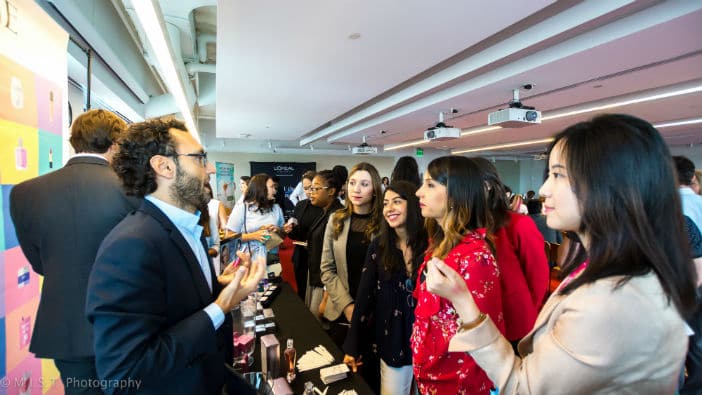 San Francisco prioritizes plugging students in to the startup community
In San Francisco, 45 companies attended the fair. The startup community was well represented, and many founders directly interacted with students. Some companies extended job offers on the same day, with 35 hires resulting from this day so far to-date.
"My whole team loved it – great event! We hired 7 Hult interns this summer. Great results, great job Hult team!"

Recruiter feedback – San Francisco campus (anonymous survey)
Dubai welcomes big name brands to hold interviews on campus 
In Dubai, over 20 companies and 70 students attended the fair. Students attended 35 pre-arranged interviews with companies such as KPMG, Audi Volkswagen, Louis Vuitton, Maersk, and Hilti.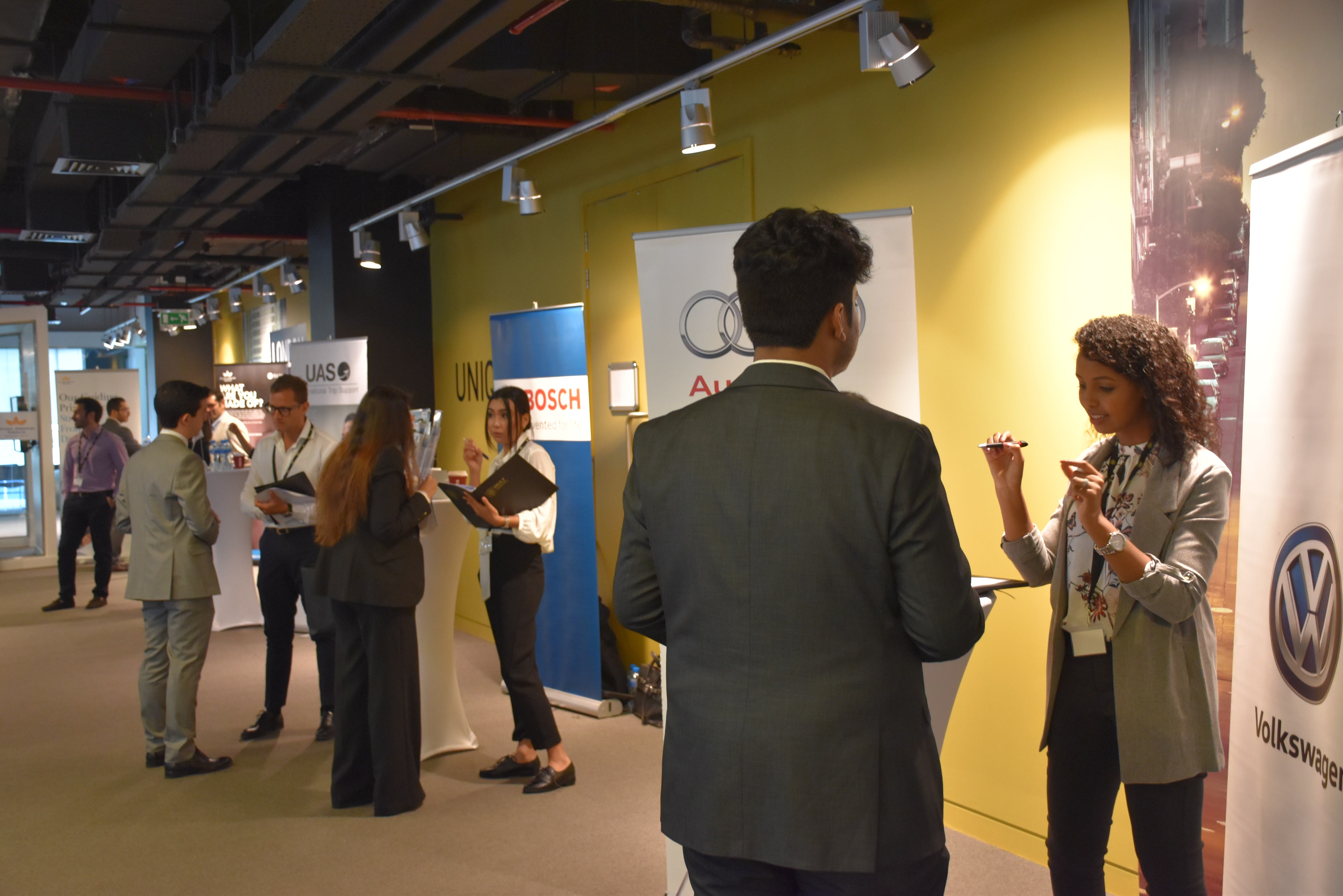 We look forward to catching up with the campuses again later in the year to find out more about the job offers extended to our talented students.
Read our top 5 tips to stand out at a career fair.
---
If you would like to find out more about Hult's global business programs, download a brochure here.
---

Mel Cloney is a staff blogger working in London, and is passionate about the Hult journey. Her writing focuses on faculty, academics, and student and alumni experiences. She's a food, scuba, and running junkie with a penchant for all things French.
Make the most of what your career has to offer with a Masters in International Business from Hult. To learn more, take a look at our blog Career Bootcamp: Hult alumni return to share expertise on campus, or give your employability a huge boost with an MBA in international business. Download a brochure or get in touch today to find out how Hult can help you to explore everything about the business world, the future, and yourself.

Mel Cloney
Mel is a staff blogger working in London, and is passionate about the Hult journey. Her writing focuses on faculty, academics, and student and alumni experiences. She's a food, scuba, and running junkie with a penchant for all things French.
Related posts