There's no taste like home

Idinma Ilodibe, 2 years ago
7 min

read
Food tales I: Celebrating culture through food
Close your eyes for a moment and think of your fondest memories shared with the people you love. Are you picturing yourself sat around a dinner table or out at a picnic in the park? Perhaps not, but wherever you pictured, I'm almost certain there's food involved. Food is an important part of many family and cultural traditions, and with good reason. There's something about breaking bread together in good company that allows us to build and nurture relationships with each other. In Nigerian culture, food is something of a love language in the sense that sharing food or making sure a guest is fed are widely understood ways to show care. At the heart of it, eating is one of the first human experiences that we have. Richard Wilk, professor emeritus of anthropology at the University of Indiana, puts it beautifully when he says, "learning to eat is learning to become human."
"Learning to eat is learning to become human." Richard Wilk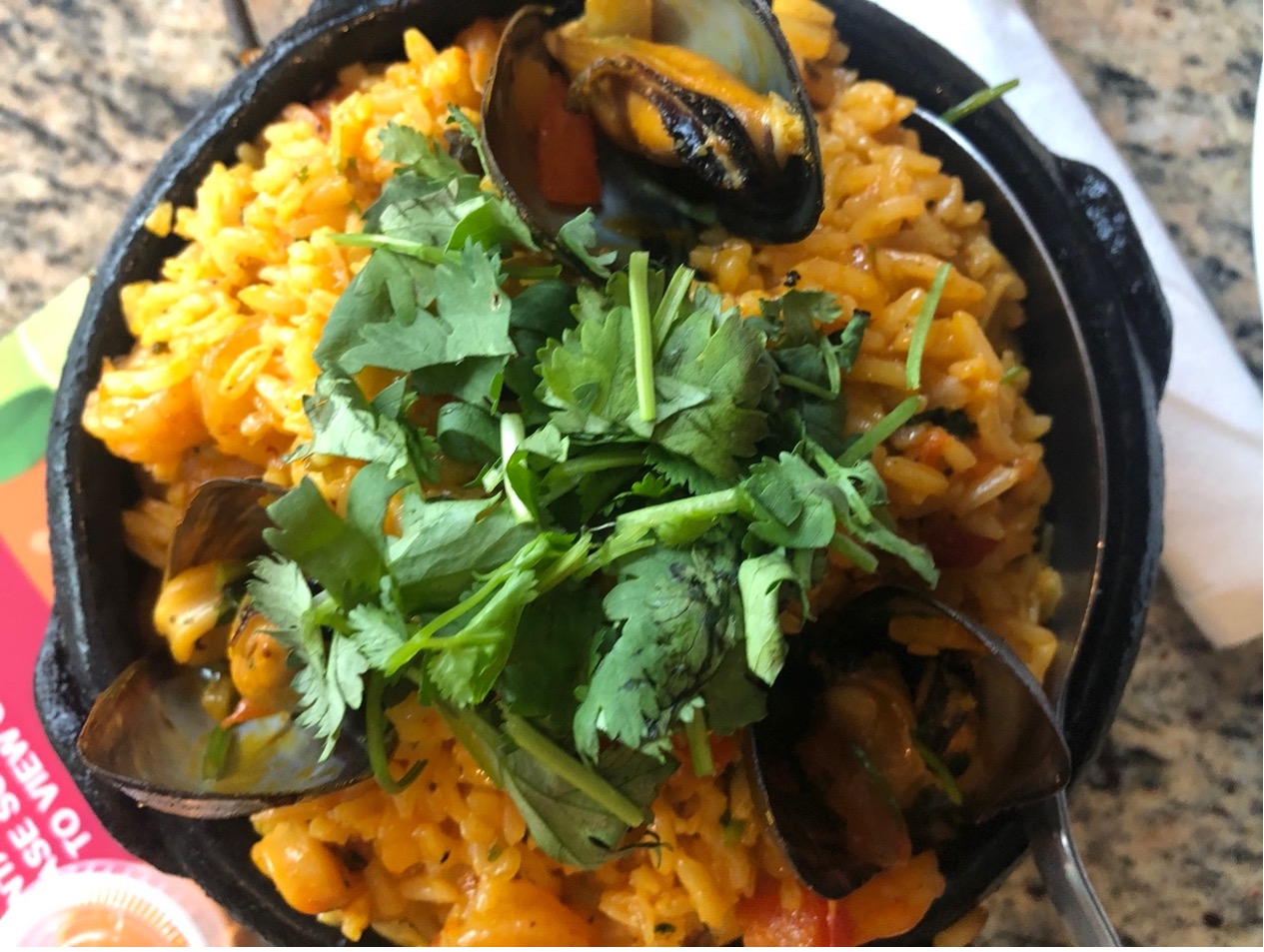 Brazilian Seafood Rice at Muqueca Restaurant in Cambridge, MA (2020)
I've been blessed with several multicultural experiences in my lifetime, and I am thankful for them all. Some of my fondest memories at my international high school were during the cultural shows we put on for each continent of the world. Before each show began, we would make our way to our grand dining hall where we would feast on a variety of foods from whatever region we were celebrating that day.
During my undergraduate degree, the international student body created a yearly tradition out of celebrating cultures around the world, complete with food from all around the world. I studied abroad in Paris for a semester in college nearly three years ago and I still remember the food like it was yesterday. Now some people consider Paris the food capital of the world and understandably so—Paris is home to several international cuisines. Taking advantage of this—every Wednesday, a group of fellow exchange students and I would take turns eating at different restaurants with meals from each other's countries. We aptly called them "international nights." When my week rolled around, I remember how excited I was sitting around the table with everyone at a Nigerian restaurant I handpicked, describing every dish, and offering up recommendations to equally enthused classmates.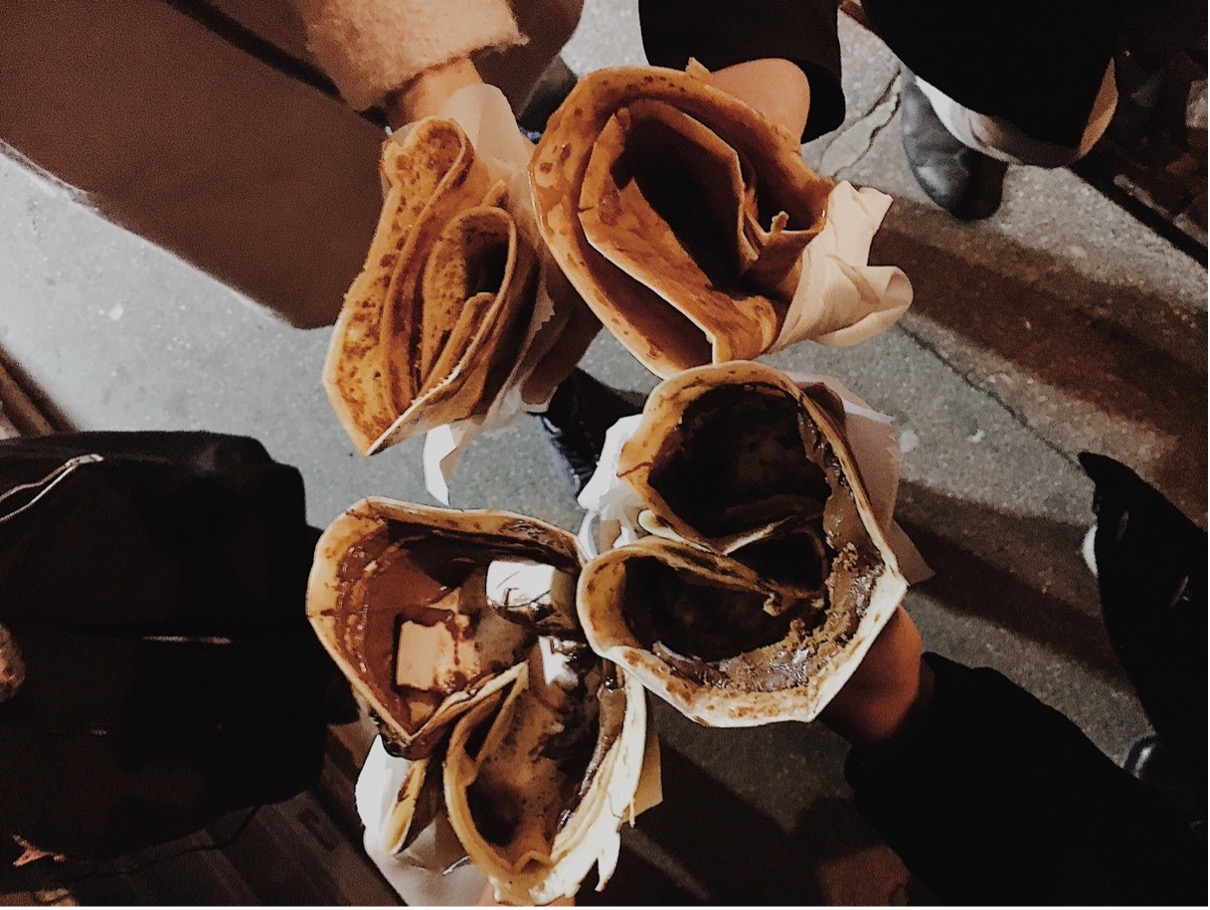 "Crepe night" at Rue Mouffetard, Paris (2018)
Fast-forward to 2020. I moved to Boston to begin a master's degree program at Hult International Business School. Now, Hult takes the "International" part of its name very seriously because you'll hardly sit in a class with less than 30 nationalities represented. Even through the pandemic, Hult managed to put on a few cultural events celebrating regions around the world—within CDC guidelines, of course. These events were some of the top highlights of my Hult experience because these were the times I got to interact with my classmates in person, outside of the classroom. Celebrating each other's cultures and foods was the one thing that allowed for a bit of intimacy and normalcy in an otherwise virtual and distant year.
"Celebrating each other's cultures and foods was the one thing that allowed for a bit of intimacy and normalcy in an otherwise virtual and distant year."
International Culture Festival | Africa—Hult Boston Campus (2019)
Food tales II: A Nigerian in diaspora
When I meet someone new and they discover that I'm Nigerian, food usually manages to come up in conversation. It often happens because they ask whether I miss home which prompts me to mention how much I miss the food—and the people of course. The next thing they'll say is typically something along the lines of "Oh, I bet you do! What's Nigerian food like? Spicy, right?" Nearly eight years later and I have yet to come up with a well-rehearsed response to this sentiment. How do you describe food—so rich in flavor and history alike—to someone whose context for non-Western food begins with a word as uninspiring as "spicy"? In any case, I'll generally mumble an affirmation to the last question with some sort of disclaimer that while Nigerian food would probably be considered spicy to whoever's asking, "spicy" is not a word I/we use to describe food. You see, in Nigeria, "spicy" food is just food, plain and simple. I'll go on to say that our cuisine consists of a lot of stews and soups, typically full of a wide variety of fish, meats, and leafy vegetables, accompanied with some sort of starchy components like rice or fufu.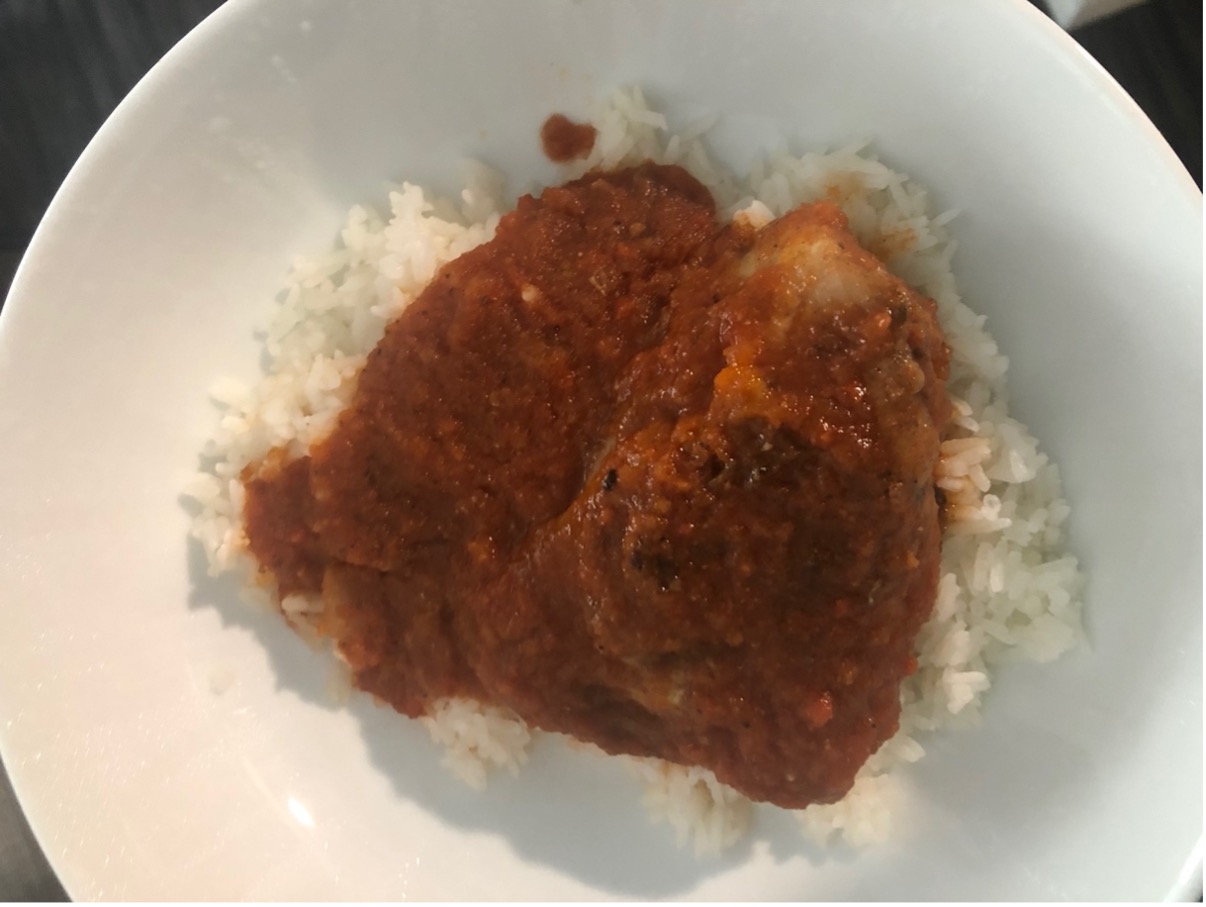 Rice and chicken stew is a classic and hearty Nigerian dish
I left Nigeria for the US in 2013 and I have since then lived in multiple towns and cities. With each new place and experience, the one thing that stays the same is my food. I always travel with specialty ingredients like pepper soup spice, ground uziza seeds, and bouillon cubes which we all call Maggi back home—much like the way people in the US lovingly refer to all facial tissues as Kleenex.  I've also figured out new ways to get items that need replacing in any place I find myself. I cannot write any further without pausing to give credit to my mum—and truly, Nigerian mums everywhere—who always find ways to send egusi and dried fish through a visiting relative or friend. Nigerians in diaspora often joke that you should never tell a Nigerian aunty when you're travelling back home because she'll have a 50-pound suitcase of clothes and shoes ready for you to send to relatives back home. Well, my mum is that Nigerian aunty, except she's on the other end of your journey waiting to fill your suitcase with food stuff to send to her children when you travel back.
Just earlier today, a Nigerian student headed to my university campus in Boston for a rotational program this summer and sent me a WhatsApp message saying that he had gotten my number from another Nigerian student (we are truly everywhere). He went on to ask me for recommendations for African or Caribbean stores in the Boston area where he could get specialty food products. I was born ready for such a moment as this. Having done extensive research and visited a couple different stores, I quickly fired off a response to him, recommending my favorite store, telling him how to get there from East Cambridge (where our campus is located). I even mentioned which store to avoid for overpriced items (though to be fair, they all are, and we don't care because we will buy them anyway). This one small act brought me so much joy because I understand how important the role food plays in my culture. Living thousands of miles from home today, cooking the traditional dishes I grew up with helps me stay connected to the land that raised me.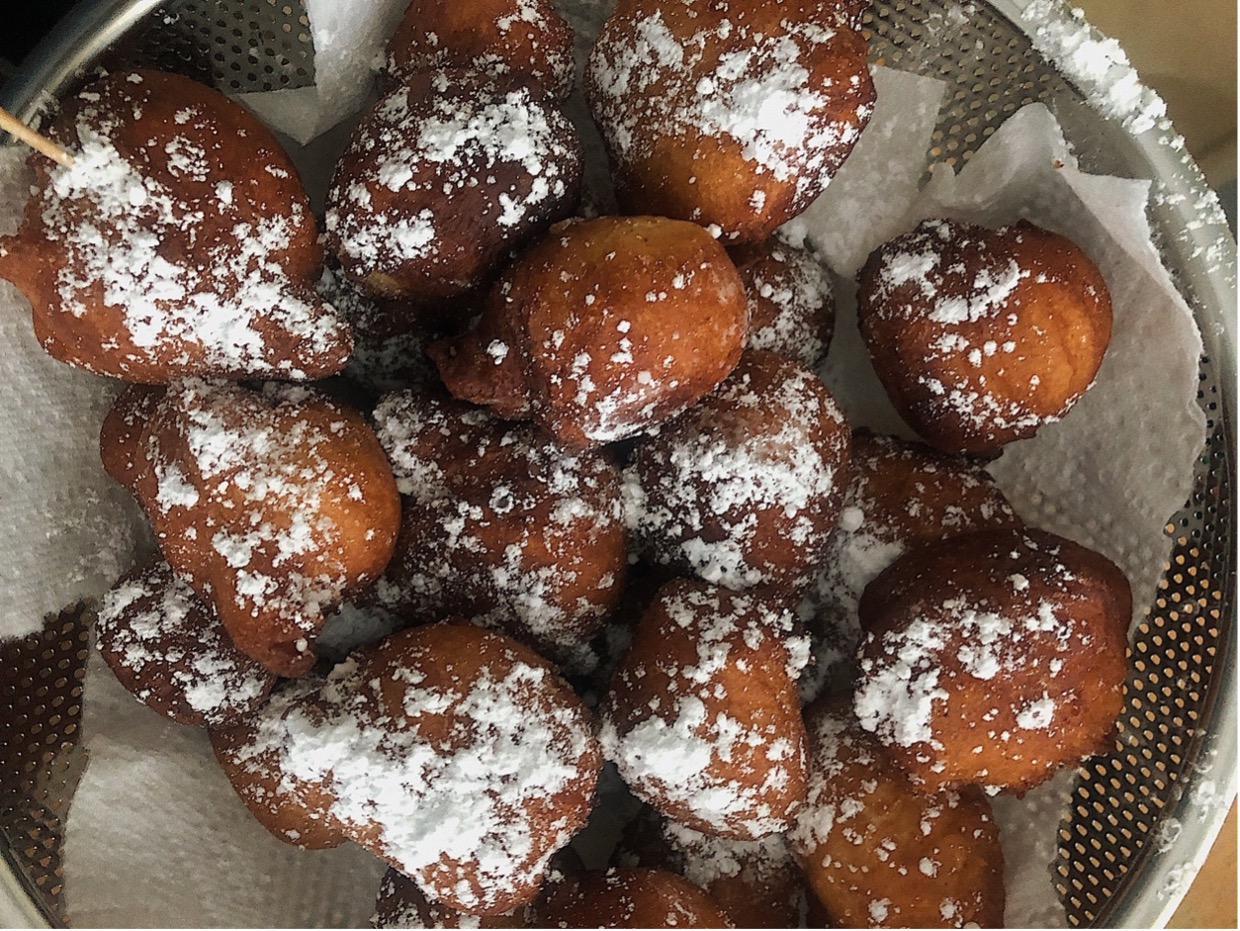 Puff-Puff is a traditional African snack made of deep-fried dough
Recipe: Overnight oats on the go!
Finally—a recipe without a background story—a long one that is! This is my go-to recipe for overnight oats when I have a busy morning the next day and need something I can grab on the way out.
Ingredients*
½ cup of old-fashioned oats
½ cup of oat milk
¼ tsp cinnamon
½ tbsp chia seeds
½ tbsp flaxseed
½ tbsp hemp seeds
½ tbsp coconut flakes (or chocolate chips or both!)
½ tbs crunchy almond butter
¼ cup kefir yogurt (optional)
1 chopped banana (or a handful of blueberries!)
Steps
Before going to bed the night before, layer the oats, milk and yogurt (if using) in a small cup/jar with a lid; I prefer to use a mason jar. Mix all ingredients so that the oats are fully immersed in the milk and/or yogurt. Next, add in all the other ingredients and leave **overnight** in a refrigerator. The next morning, take it out, mix it all together with a spoon and enjoy on the go!
*Every ingredient in this recipe is optional or substitutable with whatever you'd like!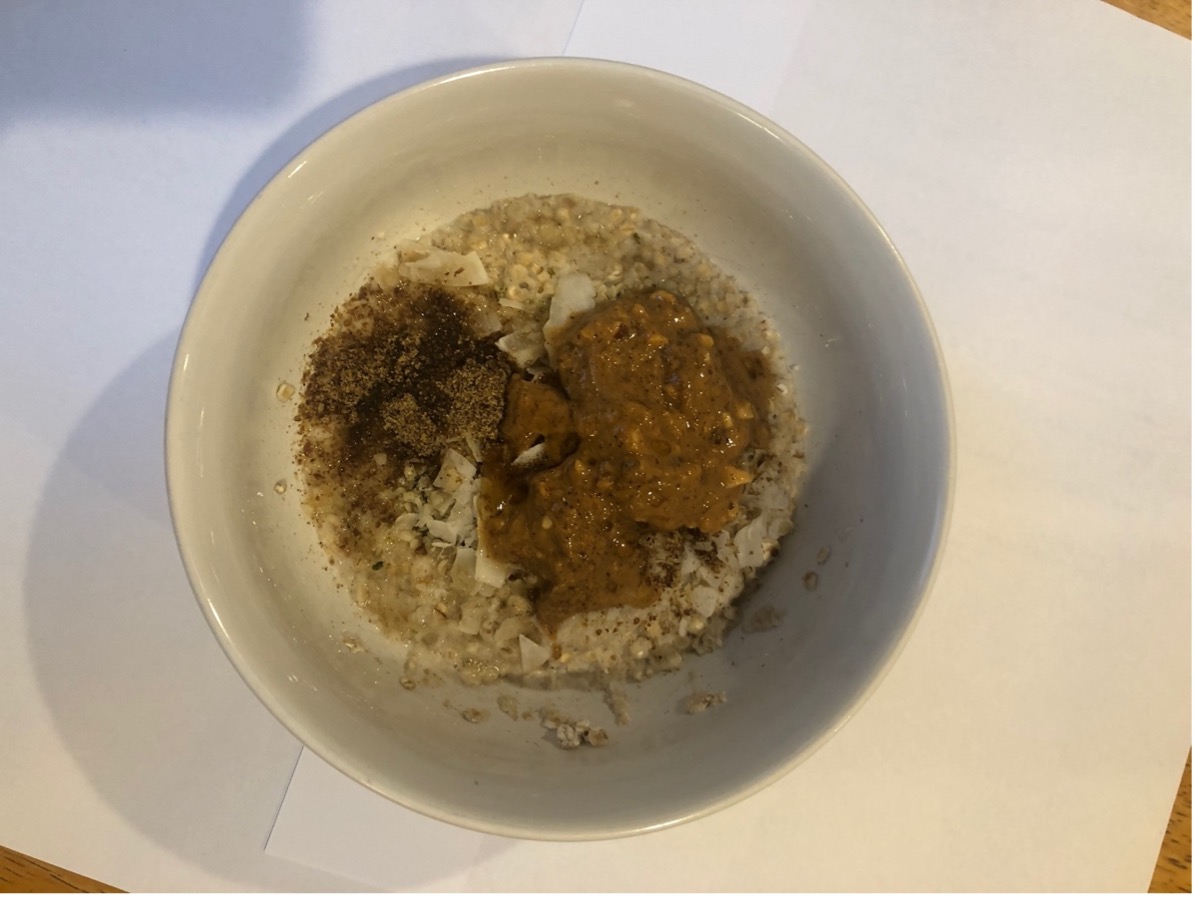 Overnight oats are pictured above (shown in a bowl for visibility)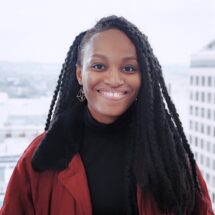 Idinma Ilodibe
Idinma Ilodibe is a Masters in Business Analytics (MSBA) student at the Boston campus of Hult International Business School. Prior to Hult, she graduated summa cum laude from the University of Oklahoma. In addition to being a Blog Ambassador for the Hult Global Ambassador Program, she serves as the VP of Communications for the Hult Boston Consulting Club. Idinma is passionate about storytelling. In her free time, she enjoys listening to podcasts.
Related posts