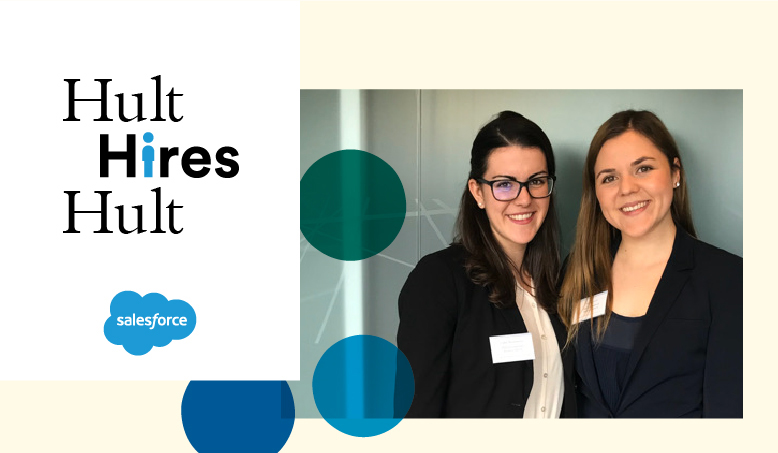 Hult Hires Hult facilitates alumni company referrals. With the help of the Hult careers team and an alum already at Salesforce, Laura worked her way onto the company grad scheme and up from there. She recently referred another Hult grad, Sophie. This interview digs into Laura and Sophie's story from Hult to Salesforce.
Can you tell us about how you two got to know each other?
Sophie: We both joined Hult in 2018, studying our Master's in International Business, based out of the London campus.
Laura: It was towards the end of our program that we started working together. We were on the same team for a hands-on business challenge with GE Healthcare, to find a new solution to innovate the National Health Service in England. So, that's when I really felt like I got to know Sophie. We would meet a lot after different classes and lectures, so it grew from there.
Sophie: We ran a few interviews with some healthcare workers to try to understand the trends within the industry. And based on that, we came up with some recommendations that GE could look at tapping into further. It was a really good team dynamic where everyone used their creative mindset and everything just flowed naturally.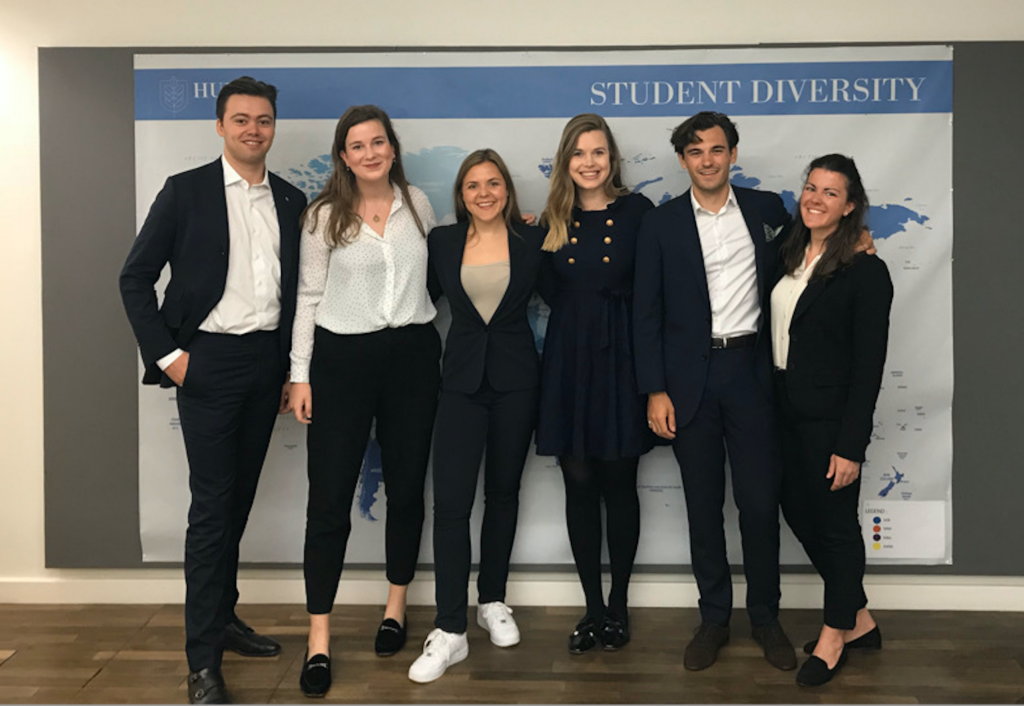 Laura, you joined Salesforce right after graduation didn't you?
Laura: Yes, I went straight into the graduate program at Salesforce. While we were at Hult, they came to campus to introduce themselves. They set us a challenge, and the finalist teams got to go pitch at the Salesforce Tower. From that, I had a good insight into the company and kept them in mind.
And how did the role come about?
Laura: A Hult alum working at Salesforce contacted David on the Hult London careers team with an opening for the graduation program. Meanwhile, I was working with David and the team on different career-focused sessions. They encouraged me to apply for the graduate program. And with the help of the Hult alum, I applied and she put me through as a referral.
David really helped me choose different options and apply for them, and I got graduate program offers from three different companies. Then it was just a case of making the right decision. I relocated from London to Dublin in 2019 for that, completed the Salesforce graduate scheme after one year and relocated back with them to London in 2020. From there, I worked on public sector solutions, and since then I've been promoted twice. Now my role is account executive for ECS business, which is the same as what Sophie does, but Sophie does it for the commercial side of the business.
Sophie, you went home to Germany after graduation, didn't you?
Sophie: Yes, so right after graduation, I went back to Munich. I joined a Munich-based startup where I was working as an account manager. I did that for about three years and during that time we were Salesforce clients, so I was working with the Salesforce software daily. I'd always remembered Salesforce as a good employer, especially from our Hult days and remembering the sessions they gave when they came to introduce themselves to us on campus.
So that in combination with me using their product day-by-day brought me to apply to Salesforce. I remembered that Laura was already working there, so I reached out to her. She helped me with the application process and I joined three months ago. As Laura said, I'm an account executive, responsible for financial services and banking customers in Germany, and that's how I got here.
And Laura referred you to Salesforce. How does that work?
Sophie: The way it works at Salesforce is if you're an employee, you can refer someone through the workday system and the person who's referred gets a link that they can apply through. And then the talent advisors within Salesforce see that this person got referred when they applied through this link. And they can also see the employee that referred you. So, basically, it just helps make the process a bit faster and draws a bit more attention to your application. Imagine how many thousands of applications they get every day! So a reference is a good way to just get noticed that bit easier.
How did Laura help you prepare for the hiring process?
Sophie: Laura helped a lot. Especially since Salesforce has such a strong culture and really lives their values. It was really helpful to talk to someone on the inside that understands what is important to a talent adviser once you're in the interview. So, it helps both in understanding the process first, but also in understanding the areas that I could focus on or prepare more for, just because that's something that Salesforce really values.
Laura: I remember when Sophie reached out. She already had a few positions in mind that she wanted to go for. So we had a call and went over them and really tried to find the perfect fit. I guess that's also a benefit of being internal and having someone that can help you. Often, job titles can be so confusing. And when you read a job spec you might think you're either overqualified or underqualified. But someone internally can really help you with the definitions of what these roles mean. And then after speaking to Sophie, I immediately reached out to the hiring manager and the recruiter. Having access to that internal network really speeds up the whole process.
How does a referral help get you noticed?
Sophie: It just makes it that bit easier to stand out because, on paper, many people have a really good CV and experiences. We speak many languages, have done internships, etc. But there are so many applications coming in every day that there has to be some filter that a company like Salesforce puts on the CPU. So a referral helps in that sense. Obviously, you have to prove yourself in the interviews anyway. It's not like it gets you the job, but it's just opening the door that bit more.
And what's in it for the company?
Sophie: For the company, the benefits are great because it's an effective way of hiring people that could be a great fit for the team and the company itself. An employee is vouching for this person so they probably already share the same values and ways of working, so everyone really profits from it. I guess from every point of view, it just really makes sense.
Laura: Another aspect that made Sophie stand out is her experience. I know her very well from our Hult challenge. So I know what her style of working is like, how enthusiastic, engaged, and motivated she is with her projects. That just leaves me with a really good feeling of referring someone who I know will do the same amazing job as they did when we were studying together for the project. So, knowing Sophie from a personal, but also from a professional perspective and then, as she said, knowing the Salesforce culture and the kind of people we're looking for. I just knew she would be a great cultural fit.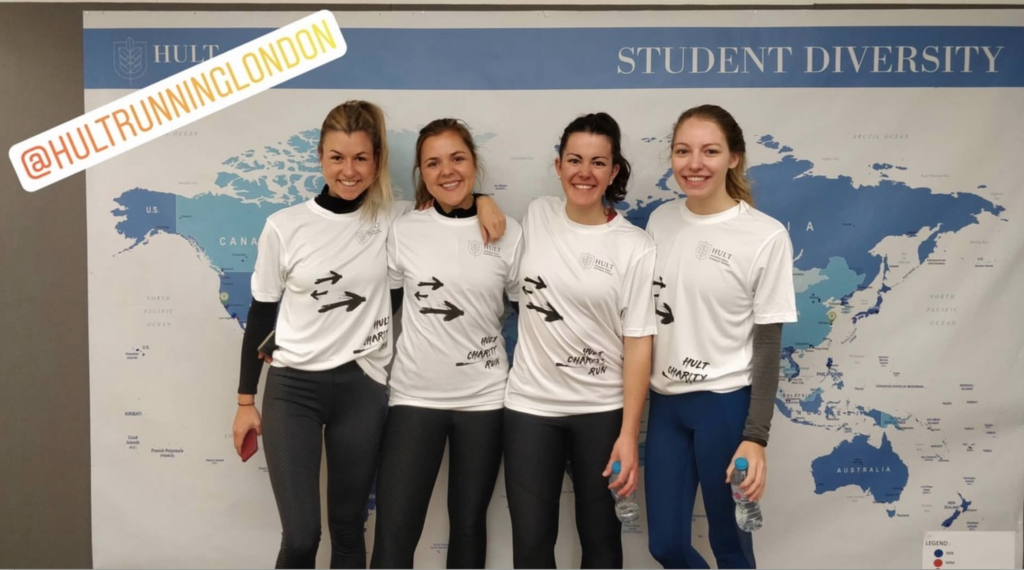 Do you think there are any traits that Hult grads tend to have that help in processes like these?
Laura: Yes, definitely. I think one of the most important things that you learn at Hult is being open and curious. A lot of the graduates from our cohort were similar in that you know what you want and you're going to go for it, but in a way that you're open, seeing new things, and knowing how to position and present yourself. Hult does a great job in preparing you for the professional world. So, when you go through your interviews, you feel very confident because you've done it with the Hult career development team. I feel that's what makes you stand out. You prepare, you practice. You know what your USP is when you're competing against two, three hundred other people. And that just really helps in bringing that across with the recruitment team.
Sophie: I agree. Hult gives us the tools and the help if we're willing to put in the work. I remember one coaching-type session I had with the Hult career team. I went there a bit lost, like I don't know what I want to do after Hult. And we did a very fun game, actually, where we went through all the job ideas I ever had from a small child up until that day. And it was an easy way to get to the results. But I just felt like my concerns were taken very seriously.
And, like Laura said, curiosity and willingness to just always be out there, meeting people, networking, that's what makes successful Hultians really stand out. Because you have the chances, you have the networking opportunities, you have challenges you can participate in, you can talk to alumni, you can talk to employers. You just need to be willing to do that. And the people that are willing to do that, I think, end up with a really good career path.
Thanks so much for your time and sharing your stories.
Hult grad with an opening at your company? Go to Hult Connect and leverage the beauty of the Hult network with Hult Hires Hult.
Related posts