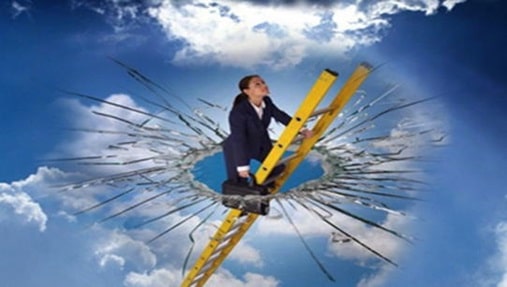 Gender parity is still an issue at "the top"—the corporate top. It's a subject close to my heart because I am an MBA student about to graduate, and I am a woman. I have my limitations, just like any other human being on the planet, and I'd always thought of them as the only obstacle to reaching a top position in a company. The reality is that the business world works a different way.
A study published in the American Sociological Review states that while women are equally capable as men of building and leading a business (hopefully none of you needed that confirmed), women are less likely to take a company's rein (become CEO) more often than not, even when they are well-positioned to do so. Therefore, there aren't a whole of women leading boardroom meetings. According to a January report from Catalyst, a nonprofit dedicated to creating diverse work environments, women hold 4.6 percent of Fortune 500 CEO positions, and the exact same percent of Fortune 1000 CEO positions.
So how should business schools respond to these low statistics? At Hult International Business School, female students have had opportunities to develop their leadership skills and make their voices heard. One example is the "Women Leaders Around The World Club", which has made tremendous efforts to engage female students, and bring in female business leaders to speak about their experiences and inspire students to reach for the top. Female professors have also stepped up as mentors and coaches.
The school also offers the elective course "Women In Leadership''. It is designed to take students out of their comfort zones and engage them in new approaches and frameworks for understanding and appreciating women in leadership (the class is open to all students). The course teaches students how to identify and develop their own personal leadership styles, as well as inspire them to aim high as leaders. As a student in the class, it was quite encouraging to hear male students voice their concerns and show their support for female business leaders, even if it meant some uncomfortable conversations. How many times do we get the chance to speak candidly and see the world from another's perspective? It's my hope that a class like this can bring more awareness and support to a topic that needs much greater attention.
One of the most important lessons I have learned during my MBA program is about the "seven pitfalls" that affect women in business and leadership. The pitfalls made me think about what I need to do differently as I kick start the next phase of my career.
Bold requests: Women tend not to make requests, while men often do. Women scrutinize, examine, and reassess their positions; they are excellent at negotiating for others, not so for themselves.
Self-promotion: Women expect achievements to speak for themselves. This is totally wrong. Your accomplishments only speak for you if you make sure people hear about them.
Self-Scrutiny, and being hard on yourself: The only way around this is to focus on intention; place self-examination and worry in the back seat, and put your purpose and goals behind the wheel.
Hard Work Gets You Noticed: This is called a "loyalty trap". Two things happen when you get noticed for how hard you work: (1) you become indispensable, and when you're indispensable, no one will ever want to move you away into a new, bigger opportunity, so (2) you become invisible. Be known instead for the authenticity of your work and for an intuition that has proven its worth
Grunt Work: There's no escaping grunt work, but don't get lost in it (that won't do much for your career). What you can do is create leadership moments for yourself by proactively identifying and going after opportunities to lead, whether they be large or small ones.
Strategic Networking: Relational vs. Transactional—men network to obtain something; women network for relationships and connections.
Staying the Course: Don't back down when you should push forward; no matter how long it may take you, stay on course!
When you are aware of the pitfalls, it's much easier to maneuver around them in order to stay on course—despite the ups and downs we'll inevitably face in our careers. And here's to Hult for offering a class that has armed us with ways to deal with the thorny issues women often encounter in the workplace. Because ultimately this is what we should want: when we finally get close to that boardroom door, it's up to us, and us alone, if we want to go through it or not.
Suzy Wanja is a passionate Hult Global Ambassador. She is from Kenya (home of safaris!), and was an Audit Manager in a Big 4 firm prior to starting her MBA @HultSF. She loves traveling and has visited Canada and over 13 states in U.S.A – and still counting!
Make the most of what your career has to offer with a Masters in International Business from Hult. To learn more, take a look at our blog Being an influential woman: focus areas for female leaders, or give your employability a huge boost with an MBA in international business. Download a brochure or get in touch today to find out how Hult can help you to explore everything about the business world, the future, and yourself.
Related posts