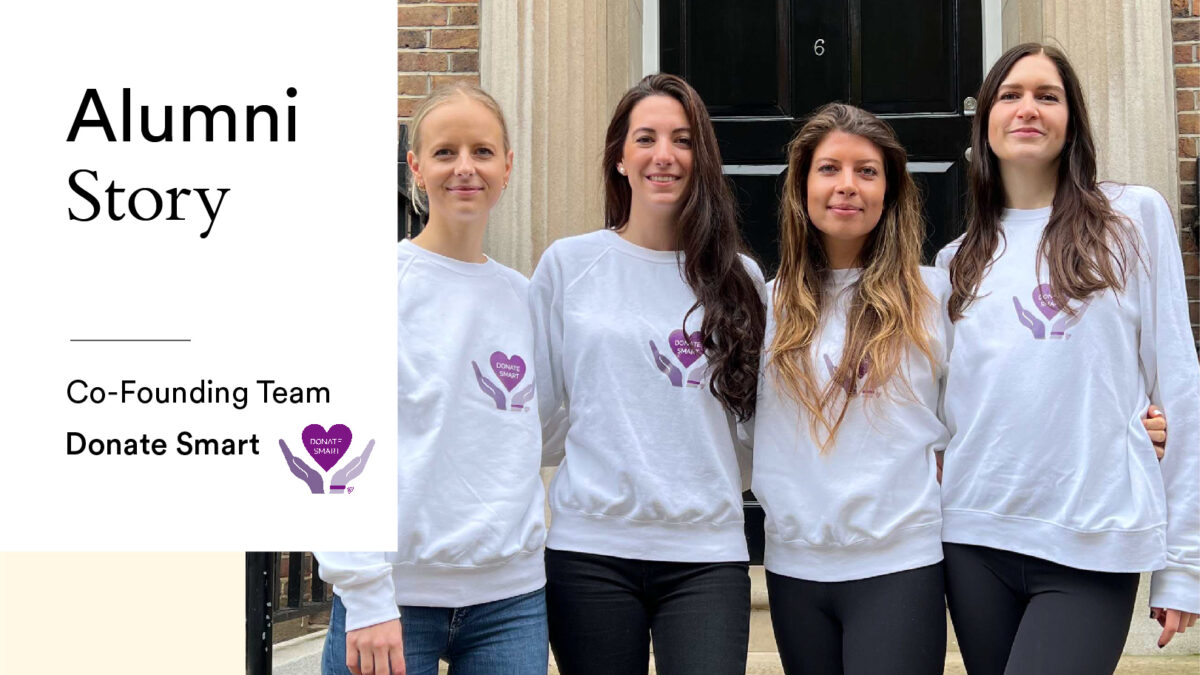 Donate Smart is a pioneering venture formed by a group of women from the MBA Class of 2021. Their mission is to help rough sleepers off the streets in a cashless world, through technology. I spoke with the team to find out more, as they entered the final stages of preparation to launch their pilot project. With the wind in their sails, they've already won a Rising Star of the Year Award from the Start-up Awards National Series!
So, how did you all meet?
Sophie Delacher (Austrian): We met in our Future Mindset class and instantly clicked. We quickly became friends and decided to form a team for the course challenge. This is where the idea for Donate Smart was born. We worked on this project throughout the Future Mindset Challenge and were committed to achieving something meaningful. It was the perfect combination of being a close group of friends and future business partners.
Why did you choose to tackle homelessness?
Maria Ensesa (Spanish): We brainstormed a lot in the beginning since there are so many issues facing the world. But passing by so many people experiencing homelessness in London and feeling so powerless to help them due to not really carrying cash anymore, we realized there was a big problem right in front of us.
How exactly does Donate Smart enable spontaneous donations without the need for cash?
Geraldine Hellmann (German): Thinking about different solutions, we came up with the Smartlet, an RFID bracelet, that enables cashless donations. A donor can simply tap their phone onto the person's bracelet and choose the amount they wish to donate. Then the person experiencing homelessness can use the same bracelet as a prepaid card and purchase any essential products, paying contactless in stores and hostels. By coming up with this solution and realizing the impact it could have on homeless people and the way donations are made, we all agreed it was a good decision to pursue this further.
How are things changing currently in terms of rough sleepers?
Hannah Reim (German): There are around 170,000 homeless people in London. The number of people experiencing homelessness and rough sleeping is increasing. Since the economy is quite weak now globally, the chances of those people being left behind are higher than ever. We visit day centers and talk to people experiencing homelessness on a regular basis to have a clear first-hand perspective of the current situation. Our aim is that the Smartlet will not only be a short-term solution covering essential needs but also a long-term way of finding a path out of homelessness.
What's the most frustrating part of the work you do?
Clara Cacoub (French): Starting a company might sound easy sometimes, as the solution seems to be right in front of you. But it takes a lot of time and effort to do the correct research, talk to the right people, find out about regulations, providers, etc. The most frustrating part of our work is that Donate Smart relies a lot on different partners. Our biggest challenges have come from trying to get answers and meetings with the right people. It's quite frustrating to reach out to people and not get answers or get turned down right away due to them not having enough time. But, over time, you learn how you should contact different people: some over the phone, others via email … and sometimes you just have to show up on their doorstep!
We have a great team, and we're working toward what we believe is a great purpose, so work does not feel like work anymore. It's about learning, trying, brainstorming together, talking to a lot of people, and listening to all feedback, good and bad. Also, since we are a group of friends and already know each other well, the work atmosphere is great, and we have a lot of fun working together.
What's next for Donate Smart?
Sophie: The next step is to start our pilot project with 10 people experiencing homelessness. We hope to gather insights regarding the feasibility of registering them on our platform, the donation process, and the payment in stores. Also, it's very important for us to gather feedback from donors and from the people experiencing homelessness that will test our product. Feedback is the most important thing for us. Our top priority is that everyone feels comfortable giving and receiving donations with the infrastructure provided by Donate Smart. We're launching the pilot in the first week of November, so if you see anyone on the street with our logo, please test it out and donate!
What would you like to see from your Hult community?
Geraldine: We rely a lot on awareness, so please tell your friends and family about Donate Smart. We believe we're doing something that can change many people's lives, so don't be shy to share our content or talk to people about us.
We've been self-funded until now and have just started taking donations through our website. We'd appreciate any amount you can donate! As we say, Open Your Heart and Donate Smart! Use this link: https://donatesmart.co.uk/make-a-donation/
Thank you!

Mel Cloney
Mel is a staff blogger working in London, and is passionate about the Hult journey. Her writing focuses on faculty, academics, and student and alumni experiences. She's a food, scuba, and running junkie with a penchant for all things French.
Related posts