What does it take for women to succeed in business, and how can we support them in achieving their goals? As we celebrate International Women's Day, we sat down with Hult professor Katherine Angell to discuss these pressing questions. With her expertise in gender studies and leadership, she offers insights into the challenges women face in today's working world, the key skills and mindsets needed for effective leadership, and the impact of having more women in leadership roles.
What does this year's International Women's Day theme #EmbraceEquity mean to you? 
For me, embracing equity means promoting the most effective route to fairness. Women need more than access to the same resources and opportunities as men to succeed. They need a tailored allocation of resources and opportunities starting in education, continuing through to employment, and including healthcare.
Anything less won't create meaningful change. It is also vital for everyone to understand that equal opportunities do not always lead to equal success. To make progress on fairness, we need to understand that women need support in all aspects of their life and that this support will differ depending on each woman's need.
For me, embracing equity means promoting the most effective route to fairness.
What advice do you have for young women and underrepresented groups who aspire to succeed in business and make an impact that matters?  
The only way to be successful in business is to be authentic and do it on your own terms. Never compromise on your values or undervalue your talent to please others, and never be afraid to say no. And remember to use your success to make room for other underrepresented groups.
Share an experience that empowered you and helped you embrace your identity as a woman in your field
Never underestimate the importance of role models—my mum is mine. She was born in England in the 1950s into a working-class family in a small port town. With few career options available for women at the time (and none for married women), she was encouraged to leave education early. She was expected to marry, have children, and be content with that, but my mum was intelligent and ambitious.
She got married and had children (lucky for me!) and raised my brothers and me in a house of books, music, and culture—telling us that we must be everything we wish to be. It took twenty years for the local college to start running business courses in the evening, and mum signed up immediately.
She graduated with a Bachelor of Business Administration (Honors) at 45 years old and retired as the director of operations at a multi-million-pound company when she was 60. My mum was born when working-class women had few choices and had to wait for society to catch up with their ambition. Every woman should have a role model like my mum.
What would you consider your primary motivations for entering a business school?
I want my teaching to have an impact in the real world. To give the leaders of tomorrow the tools they require to eliminate the systemic and structural barriers that stop them from succeeding. A business school is the best place to do that! 
I want to provide the leaders of tomorrow with the tools they require to eliminate the systemic and structural barriers that stop them from succeeding
What key challenges do you think women face in today's working world? 
Women are still the majority of carers in our society for children, parents, and partners. This work is important to society and yet remains undervalued by it. By not sharing this work equally between all genders, our global culture is holding women back in the workplace and denying men much-needed emotional opportunities at home. 
How do you think we can get more women into leadership roles? Is there anything that needs to change?  
We need to change our cultural understanding of what effective leadership is. Research shows that the best leadership style is not aggressive, inflexible, and exploitative but is supportive, encouraging, and person-centered. Due to the social construction of their gender, women are uniquely qualified to be great leaders. We need society to embrace what effective leadership is.
We need society to embrace what effective leadership is
Is there an inspirational woman in business you'd like to give a shoutout to?
Nil Neale—interim CEO and CFO of the EY Foundation. She's an authentic leader and one of my favorite people. Her bravery, intelligence, loyalty, and grit inspire me every day.
---
Dr. Katherine Angell is an associate professor of humanities at Hult International Business School. She teaches gender, leadership, and communications courses. Professor Angell serves as a DEIB ambassador on the London undergraduate campus and undertakes roles offering academic support to university students. Her upcoming publication examines the impact of gender on the effectiveness of remote learning.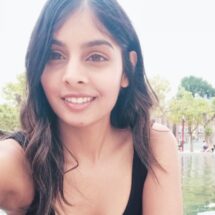 Ulisha Singh
Ulisha is a copywriter and contributor to the Hult blog. With her experience writing for various industries, from software to yoga, she has gained invaluable insights that allow her to create specialized content for her clients. In her free time, Ulisha likes to travel, work out, and eat her way through London.
Related posts