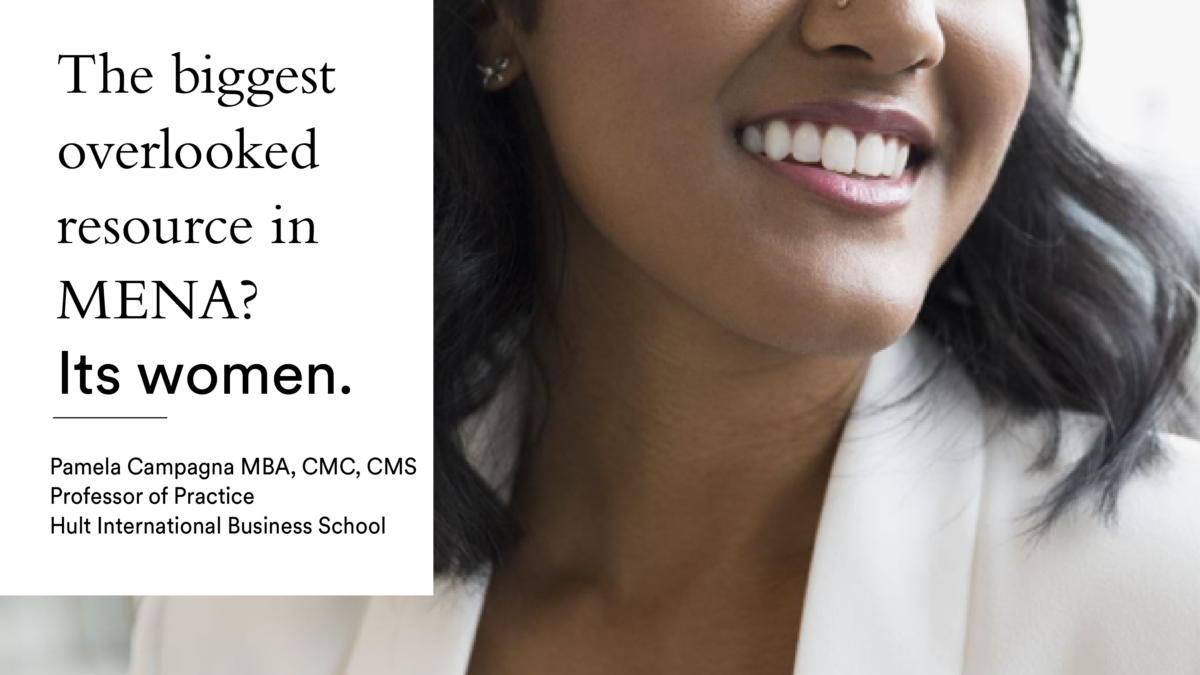 A new report highlights

the

need for

more

attention to be paid to the

business education,

entrepreneurial ambitions, and financial inclusion of women in the Middle East and North Africa

.
The report "Women and Investing: Voices from MENA," uncovers fascinating insights about women's relationship with wealth and business within countries in the MENA (Middle East and North Africa) region. Hult professor Pamela Campagna developed the report with UBS in partnership with Women in Business Arabia, based on research the team conducted in the region. 
Data was gathered from several hundred respondents across industries, countries, and socio-economic backgrounds in eleven markets: Egypt, Israel, Jordan, Kuwait, Lebanon, Oman, Palestine, Qatar, Saudi Arabia, Syria, and the United Arab Emirates. Research participants enthusiastically supported this work by sharing rich conversations and firsthand experience. 
Results show that women offer tremendous opportunity for economic growth in the region, not just in terms of building individual wealth but also in their potential to contribute to the region's economic strength. There is a trend towards female empowerment with women wanting and taking control of their finances, and a move to support these efforts with information and education about financing and investing. Using a 'gender lens' allows for analysis of the dynamics and challenges of women in their roles as wealth owners, founders, leaders, investors, asset managers, and consumers.
Key findings show: 
Women want to play a role in business leadership, taking their place in executive and board positions and overseeing key departments, but social norms have been an obstacle to this in the past. Access to business education, mentorship, and networking are required to progress women's ambitions and create value through scale. 
There is a powerful desire among those who participated in the study to be entrepreneurs and business builders, which can be achieved through investment, business knowledge, experience, and a "supportive ecosystem for personal growth" that includes a network of partners that elevates women-owned businesses. 
Women stand to be a powerful engine of growth as investors and creators of wealth, though often face cultural barriers to financial decision-making. Accelerating their access to resources and information would bridge the gap. 
Paying more focused attention to the gender dynamics of how businesses are created, and the unique challenges faced by women founders is critical. Providing financial literacy and early education around business and investing from an early age and recognizing regional religious and cultural contexts can ensure that women are prepared to become strong business leaders, successful founders, and overseers of generational wealth.
"I think being a woman should not be a stumbling block, or that we should change the way we act just because we feel there's bias. Education is essential, no matter in which form it comes along. Whether it is research, training, or actual degrees, I arm myself with education … my mom has always told us that education is the one thing no one can take away from you."  

– Millennial business leader and fintech founder, Jordan
The report finds that women entrepreneurs across MENA have unlimited potential but need the education and support. Such support would counter existing societal and cultural norms that have created barriers to women's success. With guidance, discussion, and increased access to industry and financial information, there is opportunity to be had – especially regarding family businesses. 
"The industry needs to make strides with clear intentions, mentorship, encouragement, and continuity, to help improve the accessibility of information and unlock the economic opportunities that diversity and inclusion bring to all," according to Emma Wheeler, head of women's wealth at UBS Global Wealth Management.
The report "Women and Investing: Voices from MENA" can be found here.
Related posts