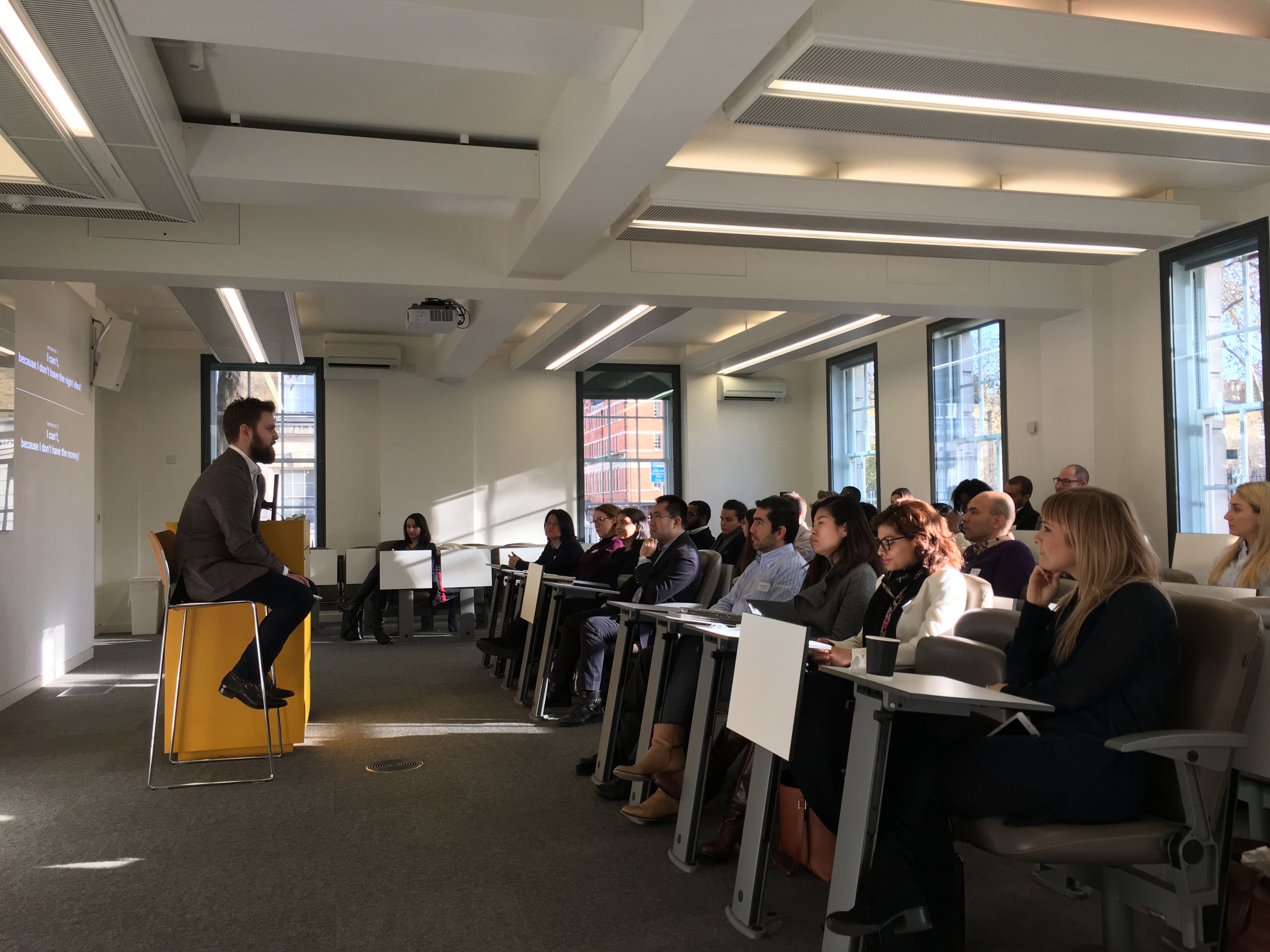 Our alumni are our biggest asset. From attending networking events, to recruiting students, to collaborating on projects and running workshops – our alumni play a central role on campus.
Entrepreneurial spirit is part of the Hult DNA and we have a growing reputation as the school for global entrepreneurs with 10% of graduates going on to start their own businesses. This Saturday Hult welcomed over 30 prospective EMBA, MBA and Masters students at the London campus, for an interactive workshop on Entrepreneurialism.
The workshop was led by Hult alumni and entrepreneur Jimmy Bach. Jimmy is the CEO and co-founder of LittleConcert.com and recently co-founded ENA, an artisanal Peruvian soda brand he's aiming to take global. He is an incredibly motivated, ambitious, humble and inspiring figure on London's start-up scene.
Jimmy started Little Concert alongside Hult alumni Ricardo Presa, who thought of the idea for the business during an entrepreneurship seminar at Hult. Fellow Hult student, Giacomo Carloni, also joined the project and they founded the company in January 2016. "We're developing the Airbnb of live music, our website helps people and workplaces to explore and book local musicians."
Little Concert was specifically influenced by case studies about the sharing economy that the group of entrepreneurs had reviewed during their time at Hult and the platform is already gaining international traction.
"The basic business model is making it easier for people and companies to book musicians, and getting gigs for those unsigned musicians, 60% of whom play for free in London. We also take a much smaller cut of the booking fee than other agencies." The platform is already gaining international traction.
Jimmy came back to Hult to present his session, as he is passionate about sharing with students what he has learnt about entrepreneurship both during his time as a student and also whilst working in the real world developing his business innovative ideas.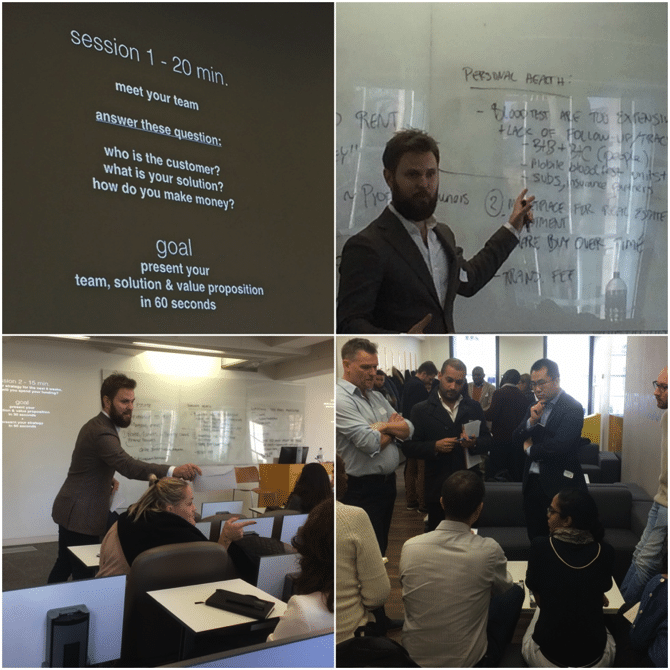 Jimmy's aim for the highly interactive session was to demystify entrepreneurship. It was also a great opportunity for prospective students to gain insight into Hult's unique and practical approach to business education:
 "As my professor at Hult said; You can't teach entrepreneurialism. It's a mindset. So today you're going to create some viable business ideas to walk away with."
During the session Jimmy split the group into 4 teams. They were then taken through a step-by-step process of creating business ideas. Jimmy first highlighted how industries such as food waste, real estate, tax, weddings, airline travel and healthcare are all areas ripe for disruption, as there are identifiable problems in these areas with a consumer need that needs to be solved.
The teams were then asked to pick one industry to focus on and split off into teams and list out exactly what needs there are waiting to be solved, related to the industry, by asking themselves to complete this sentence: 'It sucks that…'.
Once the teams had agreed on their specific business idea, they had another 15 minutes to develop the idea by answering: Who is the customer? What is the solution? How do you make money? Then once they were back in the classroom they were given 60 seconds to present their team, solution and value proposition in 60 seconds.
Jimmy then gave each team a 'funding' pot and asked the teams to decide how they were going to spend the money to get the business off the ground. Jimmy made a lasting impression with his final point:
"To get these businesses off the ground, you don't actually need the money – you could get them off the ground now, with zero funds. It's simple– You just need to start."
From the new connections made and the ideas generated, it will be interesting see how many of the four businesses do actually become a new Hult generated start-up, joining the 10% of Hult graduates who go on to start their own businesses.
Read more about the success stories of Hult's entrepreneurs:
Global alumni entrepreneurs
Entrepreneurship at the executive education level is alive and well at Hult
Hult's entrepreneurial ecosystem generates a new wave of startups
MBA Entrepreneur Bites Into App Sector With Dallas Deals Start-Up [BusinessBecause]
MBA Entrepreneur Smells The Coffee With Luxury Brand Start-Up [BusinessBecause]
Dubai entrepreneur makes cosmetic change to career path [The National]
Find out more about our up-coming prospective student events.
Hult offers a range of highly skills-focused and employability-driven business school programs including a range of MBA options and a comprehensive one year Masters in International Business. To find out more, take a look at our blog Opportunities and entrepreneurial spirit: Looking at Africa's role in the global economy. Download a brochure or get in touch today to find out how Hult can help you to learn about the business world, the future, and yourself.
Related posts