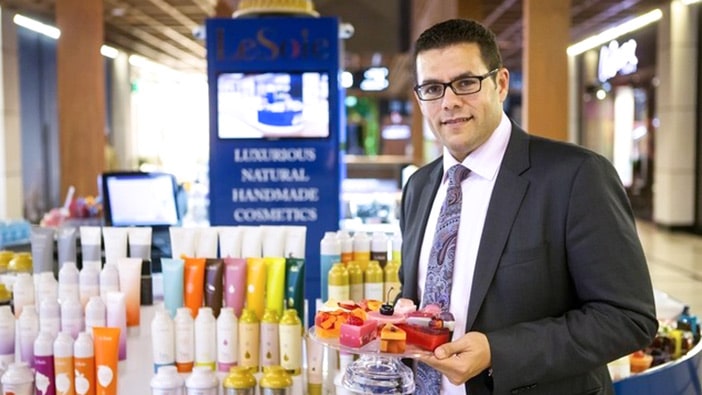 This article was originally published by The National on May 13th, 2015, Dubai entrepreneur makes cosmetic change to career path. 
When Mohamed Abd El Azeem quit his job after more than 10 years in the marine engineering business, you can hardly say he took the obvious next step.
Having worked at companies including the National Marine Dredging Company in Abu Dhabi, the 36-year-old Dubai resident changed tack entirely – and went into the cosmetics business.
But while that may seem like a tidal shift in his career, the Belgian-Egyptian entrepreneur says that, in terms of management skills, it doesn't really matter what sector you are in.
For him, the principles of running a business remain the same whether you're dredging canals or designing cosmetics.
"A business is a business," he says. "All the criteria, the angles and the way you do it has to be done in a very similar way. It doesn't really matter what products or services you are selling, or how big you are. At the end of the day it's the same thing."
Mr El Azeem worked as a finance manager for his former company in Abu Dhabi for three years, but during much of his spare time was also setting up LeSoie, which sells personal care items including hair products and facial creams – but not make-up.
It has three branded stores in the UAE and ambitious expansion plans globally. LeSoie stores all run under franchise and Mr El Azeem aims to open 25 outlets a year, concentrating on the Middle East, eastern Europe, and countries such as China, Japan, Indonesia, Malaysia and India.
While working at his former job in Abu Dhabi, Mr El Azeem was also studying a part-time Global Executive MBA course at Hult International Business School – something he says prepared him for work in any sector.
"After you do an MBA, you are really up to the standard to operate any business, to be in any corporate or a family business, or be an entrepreneur," he says.
After he graduated from the two-year course he immediately quit his day job, and started working full time as chief executive of LeSoie in August 2014.
The business handles everything from the formulas for the cosmetics – which are manufactured in Belgium before being shipped to Dubai – to the design of the packaging.
"It's something that I had been planning to do for a very long time, but I had never been able to do it or I never had the guts to do it, Mr El Azeem says.
LeSoie currently has two franchises open in Abu Dhabi, and one in Dubai. It plans additional branches in Dubai, Al Ain, Saudi Arabia, Kuwait and Jordan in June and July; it also sells products in Japan and Tanzania.
His broader aim is for LeSoie to be "mentioned next to L'Occitane and The Body Shop" when consumers talk about cosmetics or personal care products.
The entrepreneur says he was introduced to the opportunity by a contact, and thoroughly studied the cosmetics sector and local markets before taking the plunge.
"We found that this industry is still lacking lots of products – especially the natural and organic products with [an] artistic touch and quality," he says. "When you start by studying every aspect in the business well, you are taking a well-calculated risk and there is nothing to be scared of."
Management experts agreed that some of the skills required to run a venture are universal – but said specific contacts and industry knowledge are also vital to success.
"Just to take a stab in the dark in a different industry that you know nothing about is a bit random," says Kai Peters, chief executive of Ashridge Business School in the UK.
"Good management is transferable. But it's the context which defines the people, the product and all of those things," he adds.
"Research does indicate that most entrepreneurship happens in areas that you know about … where you know the people, you know the market, and you know that there's a gap."
But for Mr El Azeem, there's nothing strange about his radical change of career.
"When it comes to specific industry knowledge, you may always use the service of other experienced people within the industry," he says.
"I was looking for a real opportunity to be an entrepreneur. So it didn't really matter to me what kind of work I would do, or which kind of business I would open. It's just the idea to have my own thing, to make my footprint before I leave this world."
Discover how Hult's Global Executive MBA is specially designed to help you thrive as an entrepreneur.
Kickstart your career in a state-of-the-art innovation hub by studying at Hult's Dubai business school. To find out more, take a look at our blog 3 Things a business person should know about Dubai. Download a brochure or get in touch today to find out how Hult can help you to learn about the business world, the future, and yourself.
Related posts