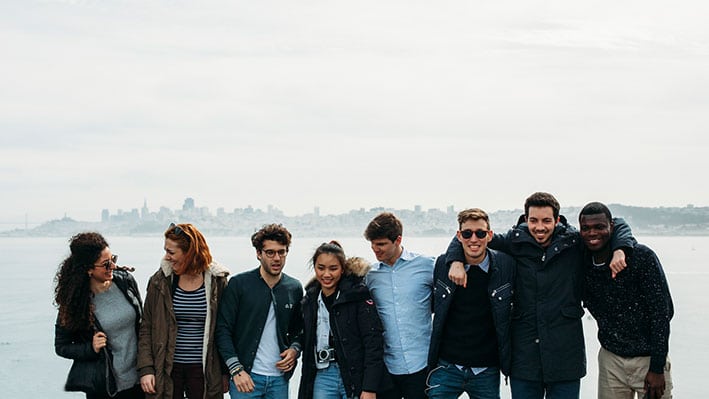 Adjusting to a new environment can be tough, especially when you're a new student. Juggling the changes in your life—being away from home, living in a city, and attending a new school—can be a daunting task.
Thankfully, our Student Services teams at our undergraduate campuses in San Francisco, London, and from September 2017 Boston, are experts in making our undergrads feel welcome and right at home.
Here are their top tips on how you can adjust to your new city and ace this exciting chapter of your life: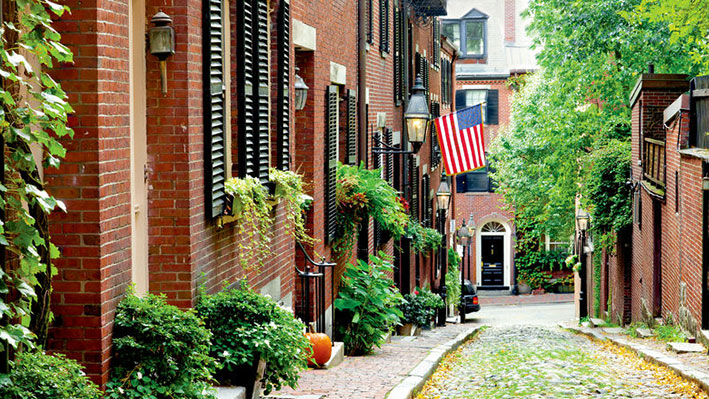 Boston 
Walk the Freedom Trail
The 2.5 mile-long Freedom Trail is one of the best ways to get acquainted with the city. The trail is bookmarked by the Boston Commons, America's oldest park and Bunker Hill Monument in Charlestown, on opposite ends. Mapped out in red bricks set into the pavement, the trail will lead you to 16 historic sites all conveniently located in and around the heart of the city. Along the way, you can also make food pitstops at Faneiul Hall Marketplace, Boston Public Market, and The North End, Boston's very own Little Italy.
Cheer on the runners during the Boston Marathon
Join the ranks of over 500,000 spectators in what is easily the best sporting event in the annual roster of Boston sporting events (unless someone makes the playoffs). The Boston Marathon is a world-class —and also the world's oldest!— marathon. Traditionally held every year on Patriots' Day, the third Monday of April, this 26-mile long race attracts elite competitors, many of whom are running for a good cause, but also for a love of the city. Fun fact: since 1903, the Boston Red Sox play a home game at Fenway Park, promptly starting at 11:05 am so that when the game ends, all attendees can cheer on the runners entering the final mile of the race in nearby Kenmore Square.
Visit Museums on the Free Days
Boston is home to a number of museums and because it welcomes a large student population every September, the museums are apt to giving students discounted tickets. There are even specific days in the week where museums are free to the public. Most people know of the Museum of Fine Arts, the largest art collection in Boston, but just up the street is a hidden gem: The Isabella Stewart Gardner Museum, where visitors can enjoy the private collection of this 19th-century socialite in her own palatial home. For a full schedule of museums that are free, please click here.
Enjoy the Charles River in all shapes and forms
Every major city is situated by a body of water, and for Boston, we have The Charles. The Charles River cuts through Cambridge and runs northward past Back Bay, providing sweeping scenery of the city. You can kayak and sail on the Charles during the summer to stay active, or take a more relaxed approach and join a sightseeing cruise that docks at the nearby CambridgeSide Galleria. In October, The Charles River is the site of The Head of the Regatta, the world's largest two-day rowing competition.
Find your sport
Boston is undeniably America's sports capital. In the last decade, every major sporting team in Boston has secured a championship—The Red Sox in 2004, The Celtics in 2008, The Bruins in 2011, and the New England Patriots in 2002. As the oldest ballpark in the country, a visit to Fenway Park is an absolute must and tickets start as low as $35 in the bleacher seats. The Celtics and The Bruins both play their respective basketball/hockey games at TD Garden right in downtown Boston. Basketball games are usually cheaper than hockey games. The Patriots, however, play a good hour outside of Boston in Foxborough at Gillette Stadium and tickets are not cheap, so do keep that in mind if you don't mind if you are thinking of going to see them play.
Tips shared by Izzy Pulido, Student Services, Boston campus.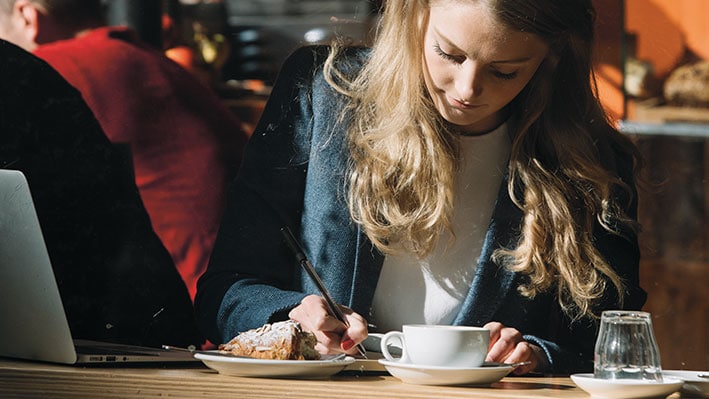 London
Download London based apps
To get acquainted with London we can't think of any better way than downloading the most popular apps. Take a look at Citymapper and Santander Cycles for all your travel needs and to find out about all the latest happenings in London be sure to download Time Out London.
Enjoy the best of theatre
One of the best things about being in London is that you get to experience the Westend with some of the best shows on the planet like Les Miserables, The Lion King, Phantom of the Opera and more. From historic venues to small independent quirky venues, London theatre really does have it all.
Travel the world with your taste buds
With the Undergraduate campus being based in one of the most culturally varied cities in the world you don't want to miss an opportunity to discover some unique food experiences. From rainbow bagels on Brick Lane to the unique sensory experience of dining in complete darkness at Dans Le Noir, there is something for everyone here.
Get acquainted with the art scene
London boasts some of the most famous museums in the world but if you would like to see a more modern take on art, Shoreditch is renowned for its Street Art. With contributors such as Banksy and Stik, the Street Art Walking tours are always popular. Whitechapel Gallery is also just 5 minutes walk from campus, next to Aldgate East tube. Fun fact: you can also see some of Stik's original artwork on display at the Hult campus.
Spend your weekend at a choice of parks
Take in two unique London skylines from Primrose Hill and Greenwich Park. Take a picnic or simply just admire the view from two of the best free parks London has to offer. The beautiful Hyde Park always has something to offer from Winter Wonderland to the Diwali festival, located near Buckingham Palace is a must whilst you are exploring London. There are lots of green spaces to be found in London, find out more.
Tips shared by Michelle Coles, Student Services, London.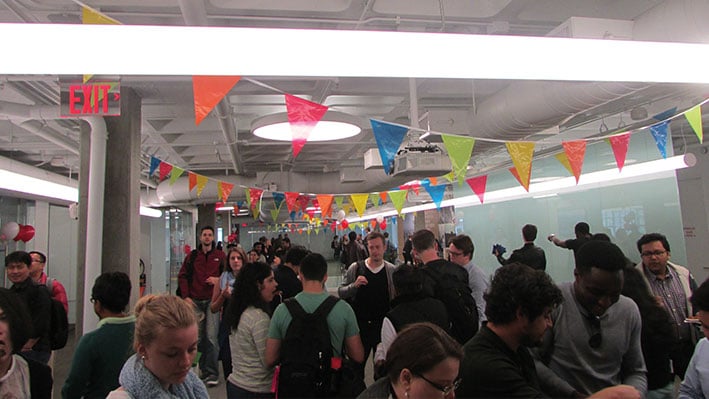 San Francisco
Be a tourist for a day
One of the best ways to get acquainted with your new city is through cycling! Ride through the city on your bike and make your way across the Golden Gate Bridge and into Sausalito. We promise you, the numerous up-hill pedals is worth it!
Explore hidden food gems
Go beyond the typical restaurants and explore the different farmers market and food market in San Francisco. Go to Ferry Building on Saturday and discover the "secret breakfast" at Humphrey Slocombe. The weekend markets can get busy with locals and tourists so make sure to go early. For other food spots in the city, read this article from our Hult San Francisco alumnus.
Support your city's sports team
There is no better way to unite a city than through sports. Make sure to watch at least one San Francisco Giants baseball game in your 3 or 4 years time at Hult. You would not be disappointed at the impressive AT&T stadium! That alone is worth it.
Express your love for science
Located just a few minutes from the Hult San Francisco campus, the Exploratorium is your go-to place to learn and discover all things related to science. It's a great way to spend a free day with your friends and experience a fun, and at times silly, approach to learning.
Discover California's beauty
One of the best things about studying and living in San Francisco is its proximity to picturesque places like the Napa Valley and Lake Tahoe. In just 2 to 3 hours driving you'll already find yourself surrounded by nature and experiencing the best of the Californian lifestyle.
---
To find out more about our undergraduate programs and global campuses, download a brochure. 
---
Hult offers a range of highly skills-focused and employability-driven business school programs including a range of MBA options and a comprehensive one year Masters in International Business. To find out more, take a look at our blog Student perspective: Adjusting to life abroad and how I knew Hult was right for me. Download a brochure or get in touch today to find out how Hult can help you to learn about the business world, the future, and yourself.

DebbieGacutan
Written by Hult staff blogger Debbie Gacutan. Originally from the Philippines and now based in the UK, she has worked and traveled in numerous countries around the world. Her writing focuses on the student experience in higher education.
Related posts