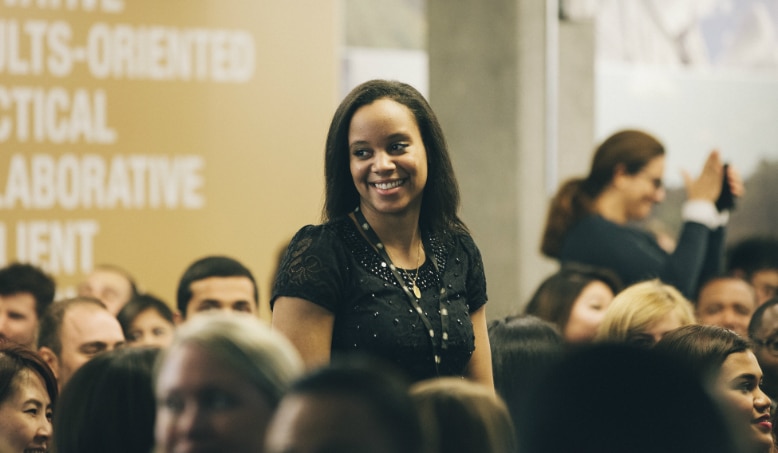 #FearlessFemales: Hult women in business (and sports) clubs
Selam Ibrahim, 6 years ago
0
6 min

read
A natural, and yet differentiating, element of Hult International Business School is our global unity towards diversity and female empowerment. This can be seen at any of our campuses, both in and outside of the classroom. Clubs and societies are one of the examples in which students from all walks of life get to connect and channel their mutual passions–whether that be in technology, entrepreneurship, investment or women in business!
Hear from the Hult Women in Business, Femtrepreneurs, and Hult Women's Football club to hear about their motivations, activities, and what being a #fearlessfemale means to them.
---
Hult Women in Business Club, Boston by Karolina Vasconcellos

Karolina: Prior to attending Hult, I was managing an initiative which supported the growth of women-owned businesses in Portugal. Therefore when I came to campus, I wanted to continue my contribution to the awareness of female leaders in the business environment within both the Hult and Boston community.
The Hult Women in Business Club's goal is to raise awareness and give both men and women the necessary tools to tackle obstacles, for the purpose of personal and professional betterment. The club hosts several fundraising events, featuring guest speakers, to discuss achievements and challenges encountered on the way to becoming a female boss. 
On the 8th of March, the Women in Business Club will be distributing purple ribbons (the official color) to celebrate the social, economic, cultural and political achievement of women. Furthermore, on the 12th of March, the Vice President of Education First, Ashely Wayman will be speaking for the club.
Can you tell us about three female figures that inspire you, and why?
1. Kim Sawyer, Found and President of The Locator Services Group LTD: Despite several challenges throughout her educational and professional life, Kim never gave up and went on to build her own financial services company which was recently sold to PwC.
When her husband was assigned US Ambassador to Portugal, despite many obstacles, Kim went on to create Connect to Success, a program which supported the growth women-owned businesses in Portugal. She continues to pay it forward to the Portuguese community in business and social aspects and isn't afraid to talk about her failures on the road to success.
2. Michelle Obama, Former First Lady of the United States: As a non-US resident perspective, Michelle Obama became a leader outside her country and a reference to many girls around the world. Her efforts on education gained reach beyond borders as she inspired girls around the world to become fearless leaders.
3. Malala Yousafzai, Pakistani Activist: Malala is the personification of the phrase "Be the change you want to see in the world". Despite Taliban efforts to ban girls attending school, Malala stood by her beliefs and has become an activist for female education and the youngest Nobel Prize laureate. She is an inspiration and has led a movement to make a change in the world. A true #FearlessLeader.
What does being a #FearlessFemale mean to you?
To me, being a #FearlessFemale means having no fear of failure. Failure is part of the learning process on the road to becoming successful, as it is one step closer to the right answer. A #FearlessFemale also pays it forward and inspires other future female leaders.
---
Hult Women's Football Team, London Postgraduate by Beatriz Amezquita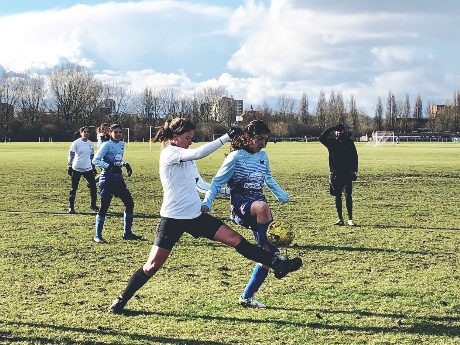 As an established sports team representing the university, Hult Women's Football Team competes in football matches amongst various universities based in London. The club mainly engages in organized matches and practices, occasionally in fundraising activities and supports events that raise awareness relevant to the members and the community.
Our motivations come from a love for the sport as well as the opportunity to be advocates and show the importance of women in sports to inspire greater diversity and respect.
The club provides an easy yet fulfilling opportunity to connect with students from different backgrounds, majors and year groups that may be more difficult in traditional academic settings. Being part of a team also creates a strong sense of responsibility, belonging and cooperation, you learn how to be a leader by inspiring others and become accountable for a team outcome.
For International Women's Day, we are planning to co-host a short viewing, featuring a compilation of footage from the various female sports teams at the Hult London campus. The videos will include snippets from training, matches and other gatherings to present a visual representation of "women empowerment" in sports.
What does being #FearlessFemale mean to you?
Someone who is courageous, unapologetic, and inspires others with her voice. Someone who believes they can and do. Someone who is strong, tough and still wears eyeliner
Please name 3 female figures that inspire you, and why:
Serena Williams, Angela Merkel, and Ellen DeGeneres. All respected and successful women in various male-dominated fields: athletics, politics, and entertainment; who all show fine qualities of a leader and are prime examples for all women and young girls in the world to look up to.
---
Femtrepreneurs, London Undergraduate by Leonie Aurora Heim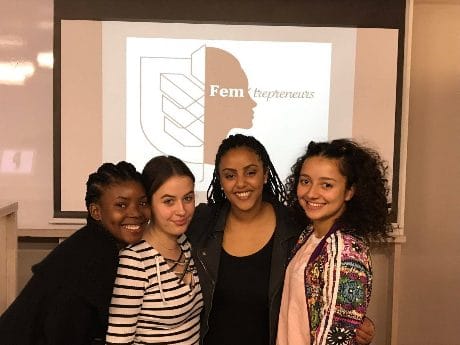 We started the Hult Femtrepreneurs club because we wanted to create a platform to support fellow female students pursuing their degree and career in business. We also want to bring more female speakers to campus to inspire students as they see more female role models succeeding in the fields they want to go into.
The club is helping me achieve both personal and professional goals. Being part of a club gives you the opportunity of managing something on your own and being completely responsible for it. It basically becomes your baby. We're planning events in cooperation with Hult's Student Services and also starting to collaborate with other business schools and universities in London.
What does being a #FearlessFemale mean to you?
Being able to express yourself, your feelings and your views without the fear of judgment or mistreatment. Basically being able to be yourself with confidence.
Which female figure inspires you and why?
For me personally, my Mom is my greatest role model.
---
Selam Ibrahim
Lami is a global marketing and project management professional with experience across the Education, Music, FinTech and International Development sectors. Currently working for payments and tech giant PayPal, Lami works within the Growth Marketing division. She's committed to social impact and also leads several non-profits initiatives here in the UK and overseas: Together For Her x Femme International, PayPal GIVES and Amplify, Black Employees @ PayPal.
Related posts