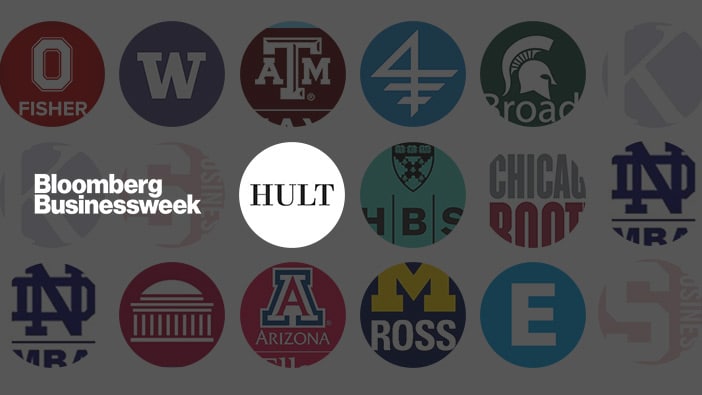 Bloomberg Businessweek announced their 2014 rankings of the best full-time MBA programs today. Hult International Business School placed in these rankings for the first time, debuting at #21 in the international category. Businessweek ranked 112 business schools: 85 U.S. schools and 27 international schools. Hult is now ranked by three of the global ranking bodies in 2014: the Financial Times, The Economist, and Bloomberg Businessweek.
We placed in the top ten for employer satisfaction, adding momentum to our mission to provide the most globally relevant business education. We believe the key to achieving this is to work as closely as possible with employers to determine the needs of the modern workplace, and continuously evolve our programs to meet those needs.
Hult's President Stephen Hodges says of the school's placement in these global MBA rankings: "We're particularly pleased to feature in these prestigious rankings as they are 90% determined by student and employer satisfaction. These are also the key criteria we use to judge how successful and effective we are as a school."
According to their rankings methodology, Businessweek asked recruiters hiring MBAs from the ranked schools to rate graduates' performance on specific qualities important to them, and rate how effective they were once they were hired. Both the quality and reach of the graduates were considered, and Businessweek called out the employer score as a key differentiator:
"The employer score was based equally on two components: its average rating by employers (a measure of the school's quality); and the number of good ratings it received (a measure of the school's reach). Student survey scores are more closely bunched among top schools—the differences are small—while employer scores are more widely distributed, so a good employer score serves better to differentiate a school than a good student score does."
We know from employer recommendations that our graduates are well-regarded in the workplace. Top employers, such as Johnson & Johnson and Deloitte, are returning year after year to recruit at all our global locations and hire more of our graduates. To better address the needs of top employers, we launched a unique headhunting service in 2013, allowing us to match students and alumni to the most suitable openings employers have worldwide.
Businessweek uses three measures to determine the rankings:
"A survey of student satisfaction (45 percent of the ranking); a survey of employers who hire those graduates (45 percent); and the expertise of each school's faculty, measured by faculty research in esteemed journals (10 percent)."
Student satisfaction is another key metric we monitor closely internally. We use student evaluations to measure our performance across all our services and take student feedback extremely seriously. Last year, students from across our global locations gave our courses an average rating in excess of 4.0 on a 5-point scale.
Questions in the Businessweek student survey examine the quality of academic and career development offerings at the school, what the student body and school culture is like, and an evaluation of the students' own skill sets.
Anchoring from previous years' rankings is worth bearing in mind. Anchoring means that school's scores from previous years are carried forward and bear weight when calculating this year's score. This means that schools new to the rankings don't benefit from anchoring.
Despite their role as a rankings provider, Businessweek urges those weighing up different business schools and MBA programs not to use rankings as the sole differentiator.
"Finally, a note to prospective students: Don't let rankings alone make your school decision for you. Our rankings and school profiles offer a thorough picture of the current landscape of full-time MBA programs, but deciding where to go to school is a personal decision. A school that is right for one student may be wrong for another."
Hult's review by Businessweek follows the recent recognition of our innovative One-Year MBA program which won the 2014 MBA Innovation Award from accrediting body AMBA on October 30th.

Additional Hult rankings:
More reading:
---
If you would like to find out more about Hult's business programs, download a brochure here.
Hult offers a range of highly skills-focused and employability-driven business school programs including a range of MBA options and a comprehensive one year Masters in International Business. To find out more, take a look at our blog 6 ways a Hult enrollment advisor can help with your application. Download a brochure or get in touch today to find out how Hult can help you to learn about the business world, the future, and yourself.
---
Related posts