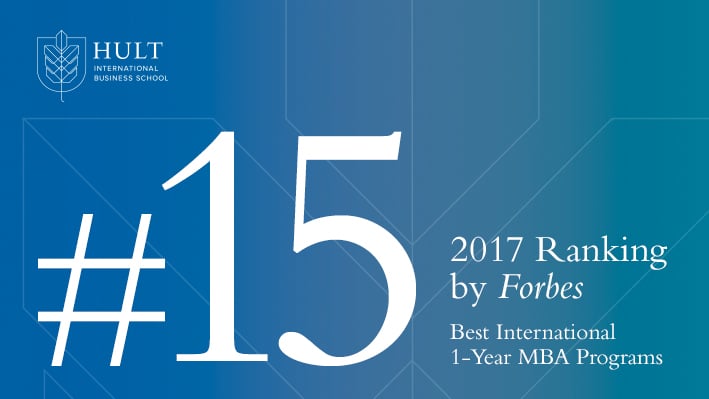 Hult International Business School's Global One-Year MBA program has placed 15th in Forbes' ranking of the Best International 1-year MBA Programs.
Hult's review by Forbes looked at graduates' return on investment five years after their program by comparing salaries pre- and post- MBA. You can review the methodology used by Forbes here.
This is Forbes' 10th rankings of MBA programs that seeks to answer whether or not an MBA is worth the investment and schools are ranked solely on their "5 year MBA gain" i.e. the net cumulative amount the typical alumni would have earned after five years by getting their MBA versus staying in their pre-MBA career. Forbes have calculated that Hult graduates from the Class of 2012 have made an average 5 year gain of $53,700.
One-year MBA programs like Hult's have grown in popularity in recent years, as they allow students to return to work more quickly and spend less money on accommodation while studying versus two year programs.
Hult's President, Dr. Stephen Hodges, said:
"We're thrilled that the Hult MBA has been reviewed so favorably by Forbes. The one-year program offers students a uniquely global business education across three cities, and this ranking is a testament to the lasting career results our graduates enjoy after their studies."
This latest ranking adds to a growing list of publications who have reviewed Hult's programs and ranked them among the best in the world, including:
About Hult International Business School
Hult is a new kind of business school for the global generation. With campuses in Boston, San Francisco, London, Dubai, Shanghai, and New York, students can study in up to three of these cities during their one-year graduate program. The school's student body is made up of more than 150 nationalities with students speaking 105 languages between them.
Hult's alumni network of more than 19,000 graduates work in 170+ countries across the globe and there are 70 clubs and chapters active in over 60 countries worldwide. Employers value Hult graduates' international outlook and entrepreneurial flair which has yielded impressive employment statistics for the Class of 2016.
---
To find out more about Hult's programs, visit their website or contact the school directly.
---
More reading:
Hult offers a range of highly skills-focused and employability-driven business school programs including a range of MBA options and a comprehensive one year Masters in International Business. To find out more, take a look at our blog Kavita Naik: Finding clarity through my Global One-Year MBA. Download a brochure or get in touch today to find out how Hult can help you to learn about the business world, the future, and yourself.
Related posts