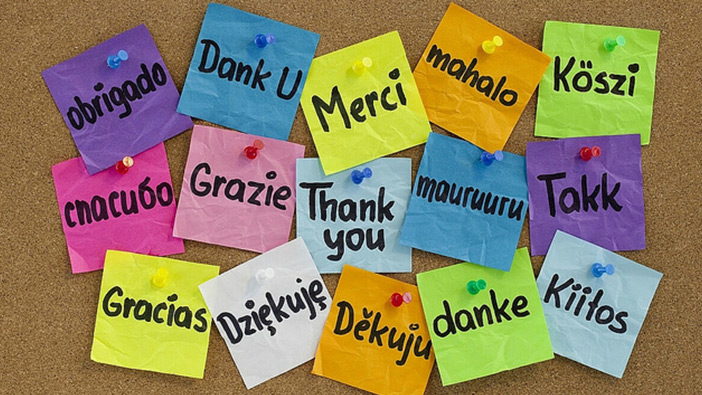 "Develop an attitude of gratitude, and give thanks for everything that happens to you, knowing that every step forward is a step toward achieving something bigger and better than your current situation." –Brian Tracy
There are two words in the English language that I recommend you use together and often: thank you. In fact, learn the phrase in as many languages as you can. It will come in handy—I promise. And it will make more of a difference than you will ever know.
In your job search you will come across people who open doors for you (literally and figuratively), go out of their way for you, and make the decision to take a chance on you, especially when you are in the beginning stages of your career.
Every time someone gives you a professional helping hand, it is imperative to express your gratitude, either verbally, on paper, or in an email—whatever form is most appropriate. In doing so you are acknowledging that you are one small part of the larger world around you, and that your career does not exist in a vacuum. No one creates a successful career on his or her own.
Over the course of my career, for each job I've held, there are many to whom I owe thanks. After graduate school, I landed my first job through an alumna who connected me with an entrepreneur. He was willing to take a big chance on me. Thank you Karen Smith. Thank you Dan Feshbach.
I began my teaching career (something I had always wanted to do) at the Kauffman Foundation through a connection with a consultant who knew of my work with the executive team of a large tech company. Thank you Bill Tobin. Thank you Phil Myers.
My first teaching job at Hult came to me from my colleague, Dr. Keith Merron, who told me: "If you want to be part of an innovative teaching program, run, not walk, to work at Hult!"  With Keith's strong praise and referral to the dean at the time, Luis Timms, I was offered a job on the spot. Thank you Keith Merron. Thank you Luis Timms.
 "At times our own light goes out and is rekindled by a spark from another person. Each of us has cause to think with deep gratitude of those who have lighted the flame within us." –Albert Schweitzer
The job search is a roller coaster, with highs and lows, but it doesn't have to be terrifying. Yes, there will be some great days, and there will be a bad day—sometimes more than a few of them strung together—that may lower your spirits and leach the bright colors from your outlook. But if you keep going, navigating the highs and lows, defying gravity just as a roller coast does, you will see gestures of helpfulness and kindness around you. Behind those acts of goodness you will see people who want to help, who see your potential, and who take the time to share words of encouragement. Thank them.
During the job search, and especially when it's over, make sure you pay the kindness and generosity you receive forward. Be a strong link in your network; contribute to other peoples' success. There is no such thing as a "success drought"—there is always plenty of it to go around.
 "Feeling gratitude and not expressing it is like wrapping a present and not giving it." –William Arthur Ward
 This week, Americans will celebrate Thanksgiving. Perhaps for you it is a day filled with a multitude of family traditions, or maybe you will be experiencing the holiday and its culinary delights for the first time. Whatever your day holds, I recommend you take a moment to step back and think about all the folks who have helped you on your professional journey this year.
If there's anyone you have been meaning to thank, do it. Don't keep your gratitude locked up—spread it around. It's a free and incredibly easy way to elevate someone's spirits, along with your own. It is literally the gift that keeps on giving. And as you proceed along your professional path, it's those unexpected gifts you receive that will boost your career in unanticipated ways. Don't forget to give your own.
Related Content:
See Katharine Boshkoff's LinkedIn profile
Befriend Rejection and Reflection—They Will Help Your Career by Katharine Boshkoff
Hot Job Markets in the U.S.—Going Off the Beaten Track to Find Your Career Path by Katharine Boshkoff
Photo courtesy of Willard.
Make the most of what your career has to offer with a Masters in International Business from Hult. To learn more, take a look at our blog Hult scores in top 20 in The Economist's Which MBA? ranking for 2019, or give your employability a huge boost with an MBA in international business. Download a brochure or get in touch today to find out how Hult can help you to explore everything about the business world, the future, and yourself.
Related posts