Bringing innovation from the Hult classroom to Pirelli

Hult News, 6 years ago
0
8 min

read
Written by Vanessa Rosenthal, Hult Alumna Class of 2017.
Wow! There is a new mail in my inbox saying "Re: Available to join me for a session at Pirelli in Milan October 10?". Sender: Mike Grandinetti.
Three weeks later, I arrived with my hand luggage at Milan Bergamo airport, equipped with two power banks, my MacBook and lots of enthusiasm. I was super excited to be part of Prof. Mike's Innovation workshop with Pirelli and to see how he brings innovation from the classroom to top managers and corporate structures.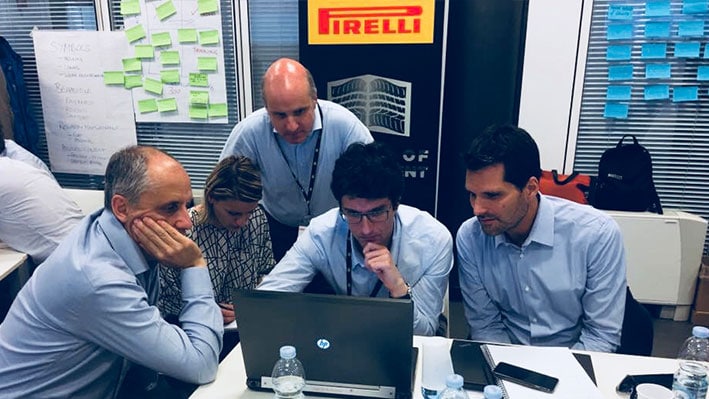 Welcome to Pirelli
Pirelli is one of Italy's heritage luxury brands, founded in 1872. The multinational tire company is not only famous for the Pirelli calendar. With more than 37 000 employees, and a presence in over 160 countries, they produce more than 60 million tires a year and their R&D is one of the best in the industry.
"It is not easy for a heritage brand to change. But we want to thank these young people. We really see that this is the way to the future, and we have to react."

– Pirelli Manager
I was a bit nervous about whether my preparation about the brand and company could really add value to these world-class managers. I arrived at 9.30 am at the Piero Pirelli Academy and met the other Alumni at the coffee corner, where we were welcomed with a great Italian espresso. "Mille grazie" – Italian hospitality is great! Among the alumni, I was the only London home-campus student, but I knew Lisette, Claudia, Matteo, Francesco, and Johan from my rotations to Boston and San Francisco. Pauline is a recent student and had been flown in for the workshop from Boston. Lida had graduated a few years before us in San Francisco. Five different nationalities and together we lived in 20+ countries – what an international come-together! This #GlobalGeneration is a real Hult feeling and one more good reason to give you a brief introduction about everyone: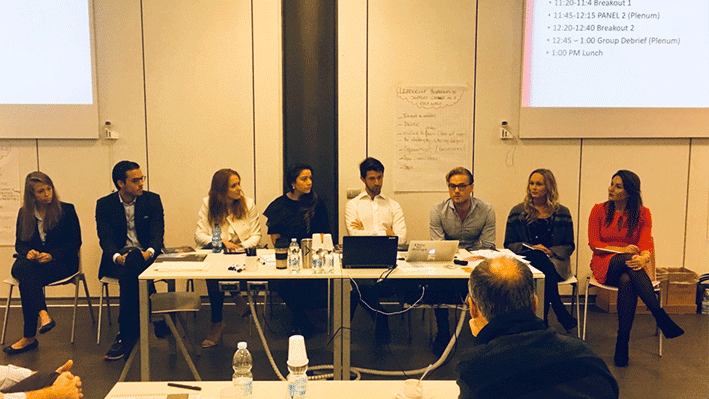 The global 'consulting team' from Hult:
● Lisette Bakker, Netherlands (MIB Boston, Shanghai, SF): global citizen, innovative strategist, and enthusiastic ski instructor, with automotive experience at Audi AG, striving for personal impact through a consulting career.
● Lida-Maria Lottko, Germany (MIB SF, Shanghai, Boston): Design Thinker and Doer has spent her post-Hult years consulting big brands on how to create innovative products and services.
● Matteo Meana, Italy (MIM Boston, SF): former musician living an eternal contrast between his creativity in marketing and his analytical mindset for management. Outdoor and adventure fanatic, working on creating his own disruptive social network on the matter.
● Claudia Baldowé, Germany (MIM Boston, London): sports fanatic and constantly on-the-go, started her post-HULT career at GREY, part of the WPP group and one of the leading marketing agencies worldwide.
● Pauline Blethon, France (MIB Dual Degree in Marketing, Boston): student and world citizen, has lived in six different countries and is an avid sports fan as well. Has a big interest in market research and is aiming for an international corporate career in the sports industry.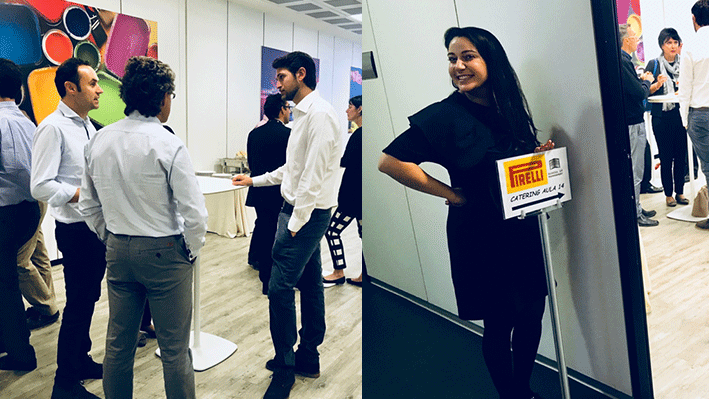 ● Johan Forseke, Sweden (MIM Boston): studied Digital Media Management in Barcelona and Bangkok before studying International Marketing at Hult. Currently working at a startup in the InsurTech industry.
● Francesco Carugati, Italy (MIB Boston): strong passion for the Luxury industry. Worked for Ermenegildo Zegna in Milan. Currently looking for an opportunity in the US within merchandising.
● And me, Vanessa Rosenthal, Germany (MIB London, Boston, SF): having worked 5+ years as a project manager in a digital agency, I became a design lover with lots of entrepreneurial drive to create solutions that change businesses and societies for good. Currently working on my second startup (The Nxt Chapter), I am looking into strategy roles at innovation and design consulting firms like Ideo, Designit, Frog and Fjord to bring game-changing ideas to life.
One thing all of us had in common: we'd all taken one of  Prof. Mike's innovation-related courses. What makes it unique? It brings innovation into the classroom. In this case, we brought the classroom into the real world! We conducted a class. We conducted a workshop. What was amazing was that this time we were the teachers. In front of us 40 Pirelli executives, equipped with pencils and notebooks to write down every word we said and idea concept we proposed. There was this extra level of connection in the room – the way Prof. Mike asked questions created an environment of inspiration and engagement, where change seemed to be tangible.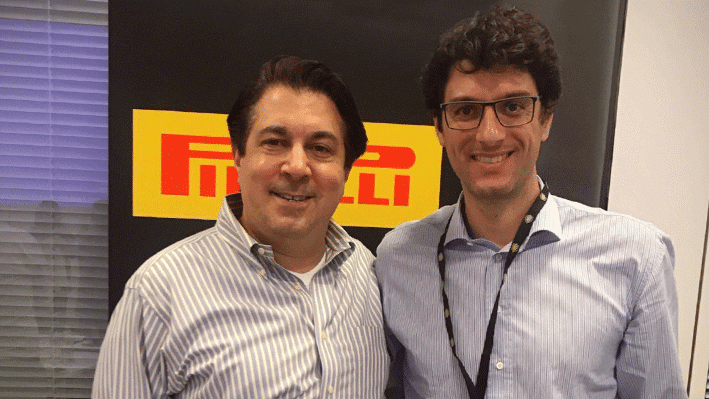 After the break, an older manager stood up and everyone was silent when he started speaking: "It is not easy for such a heritage brand to drive change. But we want to thank these young people. We really see that this is the way to the future! And we have to react." For a few seconds, there was a bit of magic we'd created as a group: Prof. Mike, the Pirelli executives and us, the Hult Alumni. It becomes clear how hard change is when we talk about resistance to change and these words meant a lot.
Prof. Mike explained to us why the outcome of a young generation sharing their perspectives is so valuable. Behind this is a very big trend called "reverse-mentoring". At the beginning, managers may ask themselves what young professionals are going to tell them and why this can't be done by young people from within the company. But as a matter of fact, a very honest and different perspective more likely comes from external and neutral people. In our workshop, we as Hult Alumni also represented a very global perspective.
Our day at Pirelli ended with more fabulous coffee, cake, great conversations(!) – from international Sales Directors, HR, Marketing, and Engineers to the head of Formula One team and the Marketing Manager of their start-up, P-zero velo, which recently launched their first bicycle tire product line.
"Professor Mike brings the innovation into the classroom, and in this case, we brought the classroom into the real world."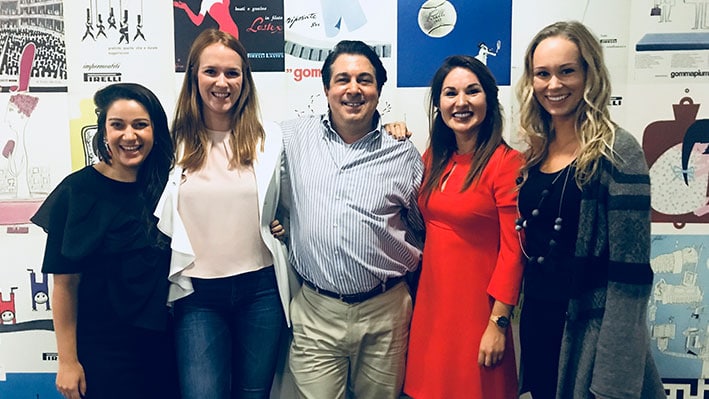 Culture drives innovation. Hult inspires change!
The next day, on my way back to the airport, I was still full of excitement! This very intense day has been all about the things I enjoyed so much during my Hult time: to be surrounded by diverse people, who yet share the same energetic attitude in an environment where culture is an inspiration instead of a barrier and this culture mixed up with innovation is a driver for change – in business and societies.
At Hult, you'll connect with people that are sharing the same passion and enable you to bring your dreams on the road(map) and to life! It all starts with the students and ends with various events and keynotes, the campus team and the professors. At which other business schools is it common for your professor to take you to his client? There should definitely be more of them!
I am very happy to share this experience and am always willing to help prospective new students who have questions about the Hult experience. The best way is to say "hi" via LinkedIn and message to let me know how I can help – I'd love to hear from you.
Book recommendations: Innovation & startups
If you are interested in Innovation, Strategy and Entrepreneurship, here are the recommendations Professor Grandinetti shared with the Pirelli management team:
Drive, Daniel H. Pink
The Innovator, Walter Isaacson
Leonardo da Vinci, Walter Isaacson: What We Can Learn About Innovation from Leonardo da Vinci.
The Lean Start-Up, Eric Ries
Watch Victors and Spoils: Power to the brand. Power to the people.
HAPPY READING! 🙂
About Mike Grandinetti
Mike Grandinetti is Global Professor of Innovation, Entrepreneurship & Marketing at Hult International Business School, former McKinsey consultant, and has served as a chief marketing officer at eight enterprise technology startups. Besides Hult, Prof. Mike teaches at the Technical University of Denmark, MIT and, advised hundreds of global start-ups and numerous early-stage venture capital firms.
I had the pleasure to be in Prof. Mike's course for disruptive innovation and took part in his startup pitch workshop in San Francisco. With a mix of hands-on-learning, latest strategy models, diverse industry insights and expert talks, he brings innovation into the classroom. Prof. Mike's course was my absolute favorite! These experiences helped me bring our startup forward, as well as develop my personal career plans to a next level.
Read Professor Mike Grandinetti's account of this experience here.
---
If you would like to find out more about Hult's Masters programs, please download a brochure.
---

Written by Vanessa Rosenthal 2017 graduate from the Hult Masters in International Business Program. While at Hult, Vanessa co-founded a start-up called The NXT Chapter and was also the president of the Marketing Club. As an entrepreneur, Vanessa is driven by her passion for digital designs and disruptive innovation. Get in touch with Vanessa through her website or LinkedIn.
Explore the complexities and challenges of the marketing world with Hult's Masters in International Marketing. To learn more, take a look at our blog 7 careers you can pursue with a marketing degree in 2017, or get into broader business with a Masters in International Business instead. Download a brochure or get in touch today to find out how Hult can help you to explore everything about the business world, the future, and yourself.
Related posts