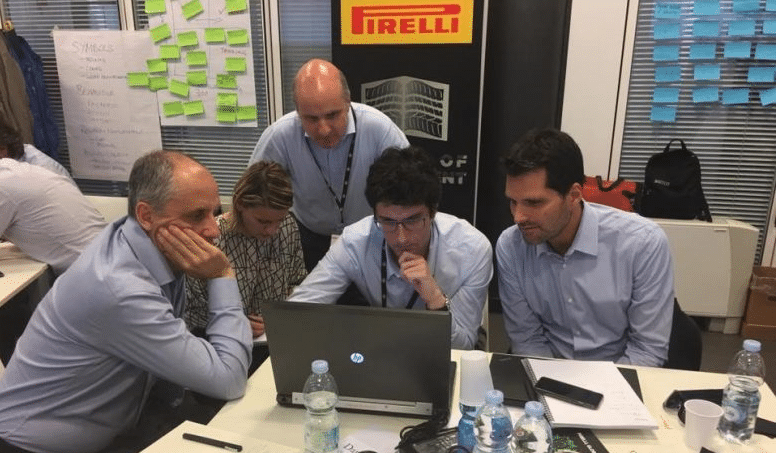 Earlier this year I wrote a guest faculty contribution for Hult News, detailing my experience leading 25 Hult Boston students to the Nestle SKIN Shield Hackathon in New York City, at which I keynoted and coached. One of the Hult student teams won this event, making it through to the finals and receiving a $5K USD cash prize. At Hult, we emphasize experiential learning through a practical curriculum, for example by bringing the real world into the classroom with simulations and case challenges. This was an opportunity to "flip the classroom"—and take it into the real world. My students loved it—many telling me it was a formative experience of their time at Hult.
Looking to build on this successful experience of bringing Hult students into the innovation process at Nestle, I was looking for an opportunity to take it to the next level. Pirelli, the iconic global tire company headquartered in Milan, Italy, provided me with that opportunity.
Two weeks ago, at the Piero Pirelli Management Institute in Milan, Italy, I was joined by seven of my recently graduated Hult students and one 2nd year Dual Degree student from across our Boston, San Francisco, and London campuses to participate in my Executive Education workshop for approximately 40 Pirelli executives. The course—Change Agility—focused on building an adaptive culture conducive to consistent innovation.
A heritage brand adjusting to a radically new key demographic
You might be wondering why I would target eight early-career, European-passport carrying, late "Generation Y" professionals, just one month removed from their masters degree programs, to an executive workshop with a 145-year old global tire company of Italian heritage? That's exactly what Pirelli wanted to know when I first proposed it.
Let's start at the beginning. Pirelli is a proud Italian heritage brand, founded in 1872. It employs nearly 40,000 people globally, operating in 160+ countries around the world. Its high-end tires are found on luxury cars like Audi, BMW, and Mercedes, and on motorcycles from Ducati and BMW. Most notably, Pirelli tires are the gold standard for the FIA Formula One; after an extensive evaluation and highly competitive process, all Formula One teams use Pirelli as part of a four-year contractual agreement. In addition, Pirelli has been the main sponsor of the Italian Football Club Inter Milan (Internazionale Milano F.C.), since 1995.
A few years ago, Pirelli was acquired by ChemChina. Recently, a decision was made by ChemChina to retain the Pirelli industrial business (mostly truck tires) and spin out the consumer business.
The bifurcation of the general tire business into separate industrial- and consumer-focused businesses requires a new mindset, and a more adaptive culture for the new Pirelli. While they have always been a proud brand, manufacturing the highest quality tires, they now aspire to create a super-premium, luxury position for the company in the minds of the consumer. This is an important reason why they just floated their shares on the Milan stock exchange (AKA the Borso Italiano).  It is chock-full of luxury, fashion and style icons including Ferrari, Luxxotica (makers of eyeware brands including Ray-Ban, Oakley and Persol as well as Armani, Burberry, Chanel, Dolce & Gabbana, Prada, Tory Burch, and Versace), Moncler, Net-a-Porter, Salvatore Ferragamo, Moleskin, and Tod's. This is the same rarified luxury universe that Pirelli now aspires to occupy, and they aim to achieve similar mystique and multiples as these iconic brands.
According to global strategic consulting firm Bain, in the last 12 months Generation Y (those born 1982-1995) generated 30% of all spending and, together with Generation Z (born 1995-2010), 85% of luxury growth in the last 12 months. Further, with this shift to a younger demographic, online luxury sales jumped by 24%. Bain estimates that online sales of personal luxury goods will make up 25% of the market by 2025.
Claudia D'Arpizio, a partner at Bain who specializes in the luxury and fashion industries, says: "This power shift between generations, away from the baby boomers towards younger shoppers, means the latter are now the growth engine of the market in every region globally. Brands have to strategically reposition themselves towards this new demographic and their state of mind and distinct product and shopping tastes. But what has proven particularly interesting is how those habits and preferences are now shaping those of other generations, too."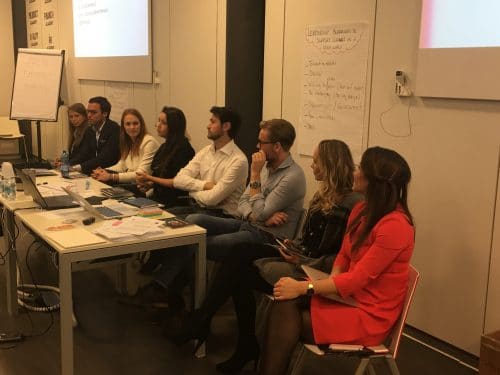 In anticipation of this public flotation, I was asked by my business development colleague at Ashridge Executive Education at Hult, to join her in discussing with Pirelli how we might help it navigate its exciting new future challenges. I traveled to Pirelli's Milan HQ last January to meet the key players and understand their challenges more precisely. Our proposal was chosen in a competitive process against a number of other iconic European graduate management schools. Once selected, we collaborated closely with Pirelli to create a 3-day custom program for a diverse group of executives from Italy, Germany, Argentina, Brazil, the US, and China, representing not only the auto, motorbike and Formula One tire businesses, but also new internal startups focused on Pirelli's high-end bicycle tire business and its nascent digital business.
The program's "Change Agility" theme is an important component of the 4-pillar Korn Ferry Learning Agility program that Pirelli has selected as its standard internal employee training program. It was designed to both complement other existing Pirelli Talent management programs, and to help Pirelli move forward more confidently and effectively in the permanent, fast-forward digital economy. As the great management thinker Peter Drucker wrote, "Culture Eats Strategy for Breakfast". While true in Drucker's prime, it is even more so today—as the average longevity of S&P 500 companies has declined from 72 years to 15. Most company cultures are holdovers from a long-gone era, and are no longer effective in enabling rapid, consistent innovation to emerge from within their four walls. In the Innovation Economy, Corporate Culture is a key defensible competitive advantage when properly crafted.
Understanding the challenges ahead requires an in-depth understanding of the consumer
A dedicated and passionate design thinker, I am committed to the belief that every successful innovation project begins with a deep understanding of the target customer persona. Increasingly for Pirelli, this is becoming the Millennials (Generation Y), and soon Generation Z.
These are digital natives, and, as a result, they think and act differently than previous generations.  They have different values, different priorities, different aspirations, and consume differently than those of us who have come before. From a transportation–specific perspective, many prefer ride-hailing (Uber, Didi, Gett, Croove from Daimler), ride-sharing / carpooling (Blah Blah Car, Scoop, UberPool), and car sharing (Zip Car, car2go, ReachNow, Getaround, Maven) and are largely indifferent to auto ownership. This takes them further away from having any interest in the tire brand of the vehicle they are riding in or driving. For a company like Pirelli, this represents an inflection point in its 145 year old core business.
Adapting to disruption through "Reverse-mentoring"
In the past, Pirelli's long-standing advertising campaign slogan was, "Without control there is no power." It's interesting to reflect on how much this fact, once true, has changed in the business world. In fact, the opposite is now true. In the digital / social world, the "power" has shifted to the consumer, and many large global brands have lost control. Today, the more brands grasp for control, the more they lose power. The only way for these brands to ensure that they remain relevant and connected is to approach this new generation of consumers with a deep amount of genuine empathy, curiosity and commitment to providing significant value. This was the basis for my proposed "Voice of the Customer" workshop to Pirelli, where I would hand-pick a small group of my top European-passport carrying students who fall squarely in the target Pirelli demographic. While Pirelli was originally somewhat skeptical, I helped them see the benefit of executives getting independent, objective feedback from non-employees, on average at least 15-20 years younger than the executives participating in our program. It is a unique form of "reverse mentoring," an increasingly popular approach used on a formal basis by global companies as diverse as MasterCard, Cisco Systems, Deutsche Bank, Lloyd's of London, Mars, and SoulCycle. It was pioneered by none other than the extraordinary, long-standing GE CEO, Jack Welch, a management pioneer who was decades ahead of his time, and who as far back as the 1990's, required 500 of his top managers to pair up with junior employees to understand the use of new technologies.
As a full-time Global Professor of Innovation, Entrepreneurship & Marketing at Hult for the past seven years, I am privileged to meet at least 750 new Masters students each year, and see them in action not only in the classroom, but at many extra-curricular events I host both on- and off-campus, like hackathons, prototype scrambles, pitch feedback sessions, panel discussions, "serious play" workshops, internships with my tech startup, etc. By the end of the academic year, I have gotten to know the students quite well, and it was relatively easy for me to "curate" the experience, knowing I wanted to achieve diversity across gender, country of origin, degree program, pre-Hult experience and interest in automobiles and / or motorbikes.
One of my students, Vanessa Rosenthal, who participated, has written a companion piece here from the student's  perspective. She  details the background of each student in her post.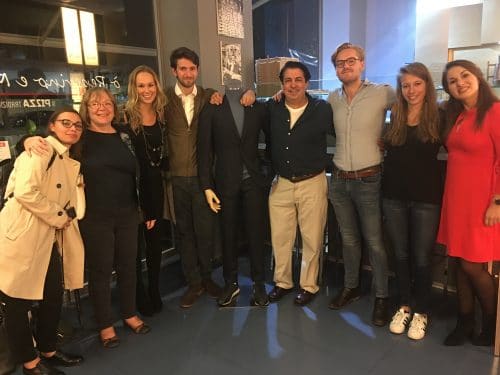 Key takeaways: The importance of bridging the gap
On the morning of day two of the three-day program, for over 2.5 hours, I facilitated a panel discussion with our eight Hult alumni and the Pirelli executives. I was struck by the:
Intense curiosity and relentless questioning by the Pirelli executives.
Sincerity, clarity, and consistency of the Hult alumni responses, especially as it related to issues such as brand aspirations, consumption habits, sustainability, etc.
Scope of the digital "gap" between the Pirelli execs and the Hult alums, especially with relatively new, highly visual social networks such as Instagram and Snapchat.
Limited understanding of the Pirelli execs on how to create, curate, and deliver meaningful, persona-relevant content on relatively new social platforms like Instagram and Snapchat as well as mature platforms like Facebook, YouTube, and the web. (While Pirelli has plenty of content, it is of the wrong type, tone, form, length, etc., to appeal to this target group.)
The fundamental changes that need to be made to assure relevance to this young but increasingly important target customer audience in order to address their changing values and habits as they transform themselves from simply a tire company into a "lifestyle" company.
Even after the intensive session, the students were all actively engaged during the lunch hour and mid-afternoon break by the Pirelli execs, being peppered by yet more questions while they dined on the incredibly well-catered food (as only the Italians can do.)
In summary, it was a great success. Our Pirelli client told us it was a very "powerful experience" for the executives, and represented a shift in understanding by the executive group of what lies ahead and what is required to meet the challenges.
The Hult students also reacted very positively. They enjoyed being listened to by executives of this great heritage brand, and felt they learned first-hand about the inherent challenges that companies and executives face when changing a proud, iconic brand's culture, built on a century-and-a-half of tradition, in a very large and stable corporate structure in the midst of changing consumer habits and massive technical disruption occurring in the industry. Unlike a Harvard case study, this became very real for them—they felt it in their DNA. It's not a lesson they will soon forget.
"This was a great learning experience for me, which forced me out of my comfort zone to speak in front of all those senior executives. Totally worth it!"

-Pauline Blethon, Masters in International Business Class of 2017
See a video of Mike in action at the Pirelli workshop
---
Download a brochure for more information on Hult's Masters programs
---
Mike Grandinetti is Global Professor of Innovation, Entrepreneurship & Marketing at Hult International Business School. He teaches to EMBA, MBA, and Masters students across Hult's London, Boston, San Francisco, Dubai, and New York campus locations as well as being Chief Marketing and Strategy Officer of Reduxio, a venture-capital backed advanced technology startup. He has an MBA from Yale School of Management and a Bachelor in Mechanical and Aerospace Engineering from Rutgers.
---
Hult offers a range of highly skills-focused and employability-driven business school programs including a range of MBA options and a comprehensive one year Masters in International Business. To find out more, take a look at our blog My Masters in International Business: Looking back on a life-changing year. Download a brochure or get in touch today to find out how Hult can help you to learn about the business world, the future, and yourself.
Related posts