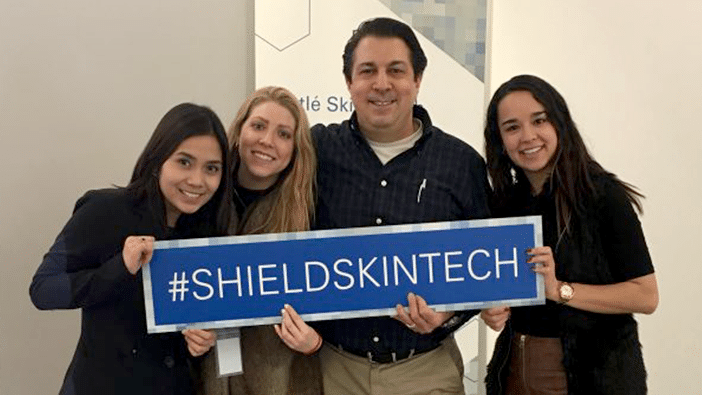 By Mike Grandinetti, Global Professor of Innovation, Entrepreneurship & Marketing at Hult International Business School (MBA, Yale)
Through my experiences as a professor, former McKinsey consultant, and 8-time successful tech entrepreneur, I have always loved bringing the real world into my classroom. However, it is equally important to do the reverse as well: to bring the classroom into the real world. This is where the most intensive learning experiences most often happen.
Nestlé's latest mission
Recently, I had the opportunity to invite over 20 of my students from Hult's Boston Campus, as well as several alumni, to join me for Nestlé's first ever hackathon. The event was held by Nestlé SHIELD – the Skin Health Investigation, Education & Longevity Development business within this global giant. Nestlé is the world's largest Consumer Package Goods Company by market capitalization, and is considered by Fortune Magazine as the Most Admired Company in the Consumer Foods category, ahead of Pepsi (ranked 2nd) and Danone (ranked 3rd). They are now seeking to improve their global position in Skin Care, Cosmetics and Soaps (Unilever is ranked the #1 World's Most Admired Company by Fortune, L'Oréal is ranked #2, and Colgate-Palmolive is ranked #3).
Nestlé Skin Health SA has decided to invest heavily in this new market category. They recently opened up 35 thousand square feet of beautiful working space on the East River, with great views of Manhattan, Brooklyn and the other boroughs of NYC. They have also opened a SHIELD center in Shanghai, China, and are opening ten more global centers across five continents soon.
Breakthrough innovation often comes from outside
Nestlé chose to use Open Innovation—essentially tapping into the broader innovation community—to help them accelerate their thinking and advance their position against industry leaders. As part of this effort, they hosted a hackathon on March 10 and 11 to address four key challenges: Skin Health Literacy; Nutrition and Skin Health; Engaging Acne; and Skin Health Tech for the Aging Population.
Hackathons are where powerful epiphanies and breakthroughs inevitably happen, fueled by a mix of (mostly) youthful optimism and generous doses of caffeine, under an intense, high-pressure deadline. They have become a key "tool" to accelerate innovation by startups and global brands alike. I have been an active hackathon leader for many years, and never fail to be impressed at the power of humanity to create, when properly guided and incentivized.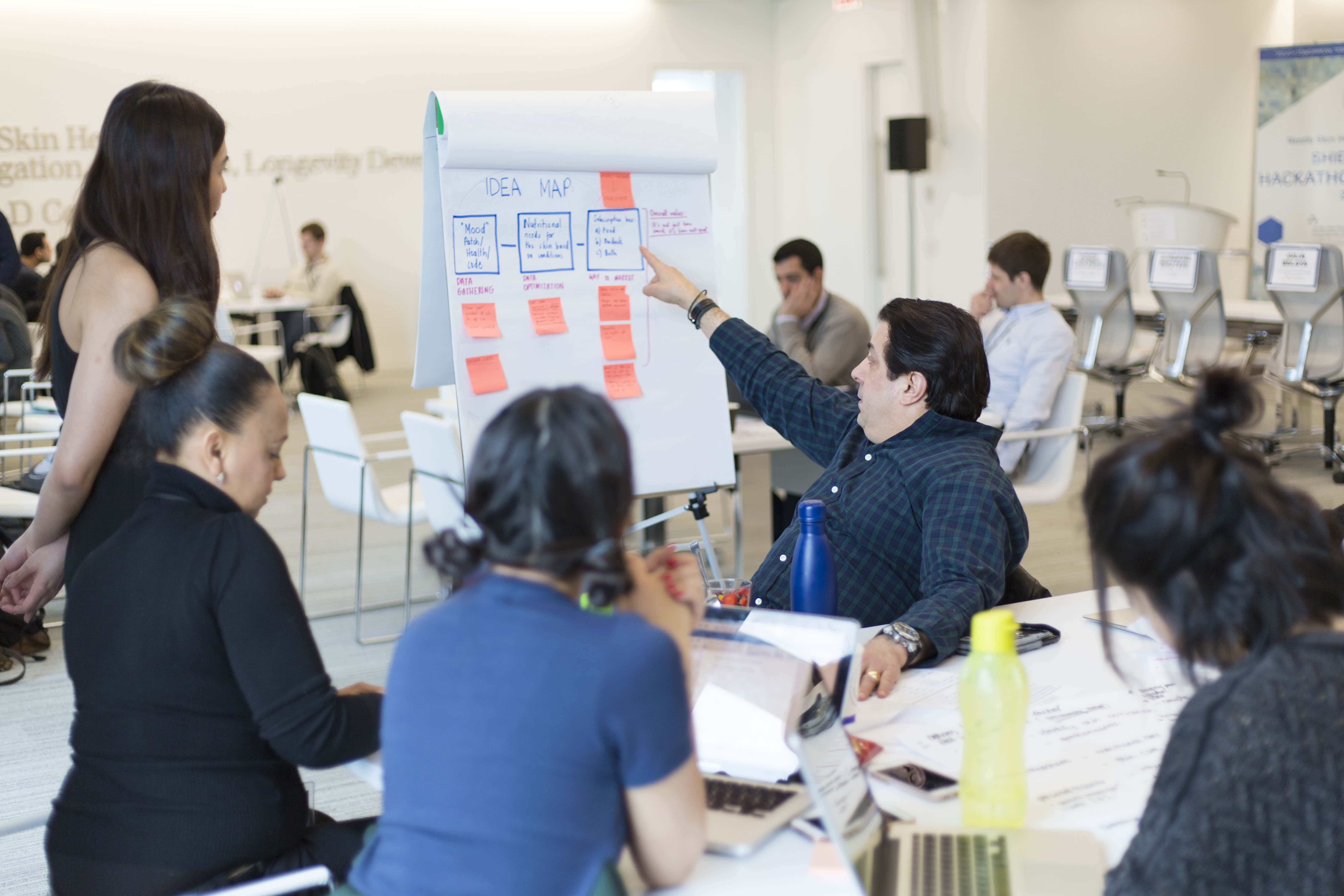 Innovative, disruptive environments are perfectly suited to Hult students, who are themselves driven and entrepreneurial, and from very diverse backgrounds. Hult's ethos is to offer a practical, relevant learning environment and students are constantly challenged to defy the status quo. 10% of Hult graduates go on to launch their own company after graduation, so naturally these kinds of events are very popular with my students.
Hult students formed teams and competed in all four challenge categories, going head–to-head against other strong teams from Columbia University, NYU, and many teams comprising mid-career professionals, some with MDs and PhDs. Despite this intense competition, a team of three current Hult Master of International Marketing students, who named themselves International Solutions, won in the Nutrition and Skin Health Category. They became one of four finalist teams who now have the opportunity to compete for a $20,000 grand prize, access to working space in SHIELD's NYC offices, as well as a year-long partnership with Nestlé SHIELD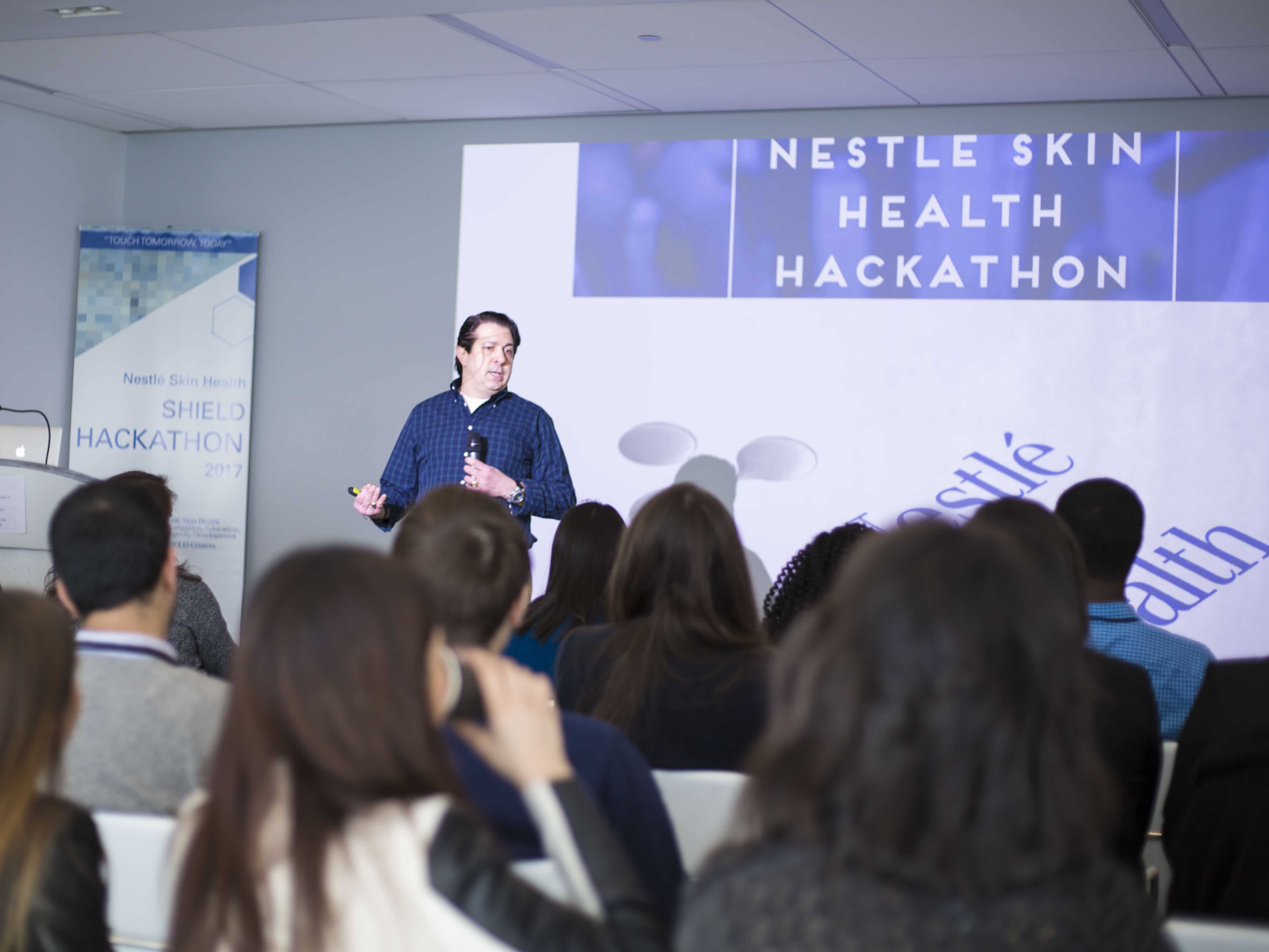 The power of networking
I had been invited by Nestlé SHIELD's Senior Manager of Medical Innovation to be their keynote speaker. The timing could not have been better as I was planning my second annual marketing and tech hackathon at Hult for my own tech startup, Reduxio, and there were many more students in my New Product Development course who wanted to participate than I had room for. Nestlé said that Hult students would be welcome to join their hackathon, meaning another 25 of my students would have the opportunity to participate in a transformative hackathon experience.
Students were then invited to select the competition better-suited to their career goals. For the Nestlé hackathon, I prioritized students with prior professional experience or who were currently engaged in the Skin Health, Wellness, and Cosmetics category, and invited them to join me in NYC for the 2-day Nestlé event. The students were very enthusiastic about being chosen, as many were also planning careers in this domain, and some already writing their own beauty and fashion blogs. When the selected students were told they were "going to New York", the energy and anticipation were palpable
Preparing for the hackathon
Once again, timing is so important. The key Learning Outcomes in my New Product Development course are ideally suited to innovation–related events like hackathons, design sprints, and prototype scrambles. I have been teaching my students about powerful methodologies like Design Thinking, Lean Startup, Value Proposition Design, and rapid Prototyping- exactly the kinds of skills needed to excel in a hackathon. As an experienced global hackathon leader, I see consistent proof of this, whether I am facilitating these events in the US, Canada, Israel, or Europe.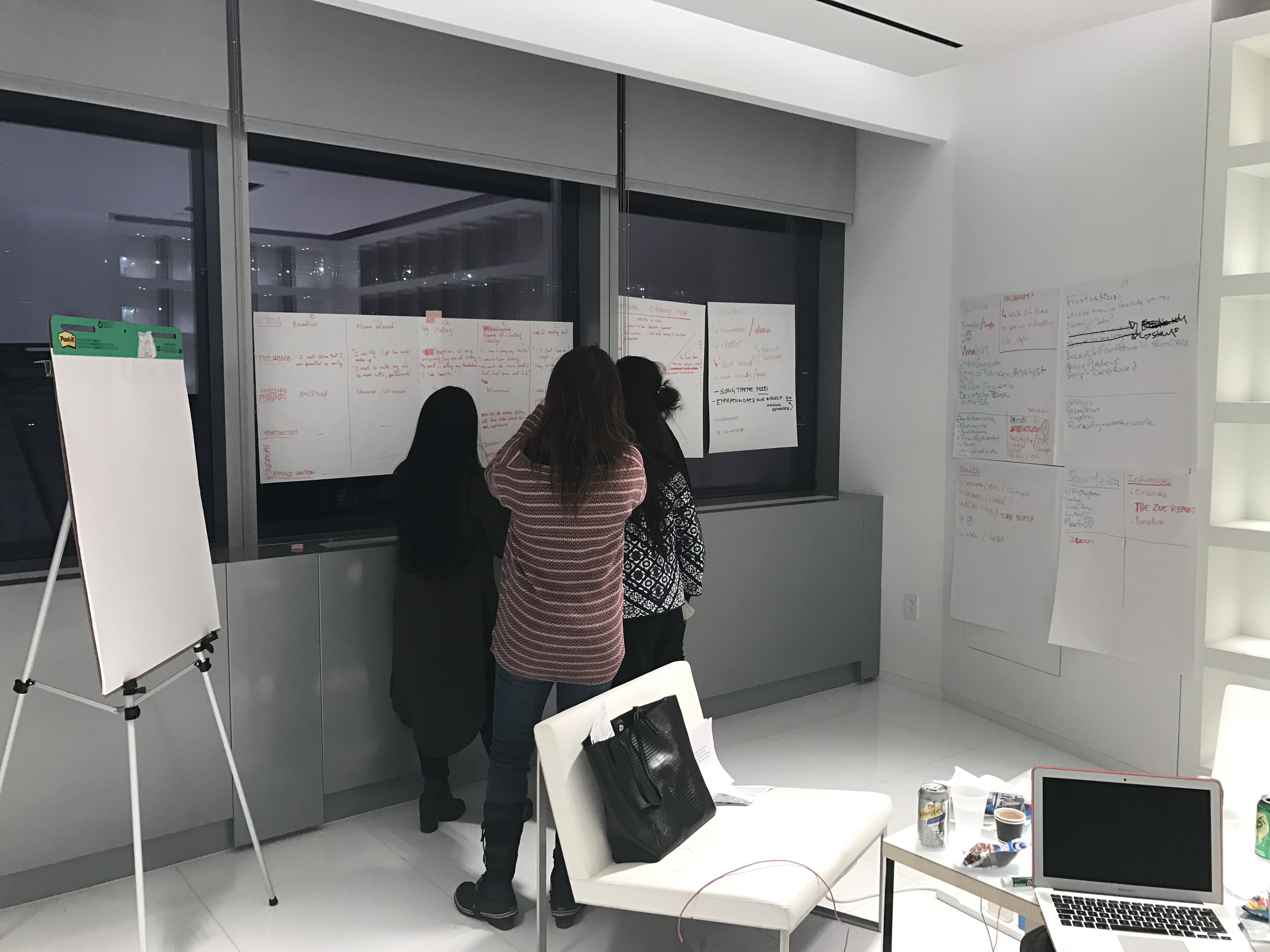 In my 10-session New Product Development course at Hult, students learn by doing. In the very first session, the teams start with a product that they feel has the ability to disrupt their chosen industry, and then we go through the same steps to create this new product. It's done in the same way as you would if you were working for a Fortune 500 company or a startup, culminating in the development of a digital prototype and presenting to a group of world-class product design and development experts.
The methodologies that I teach are regarded as hyper-current global best practices ideally suited to the iterative, non-linear challenge of creating disruptive new products in highly dynamic and competitive categories.
Students chosen for the Nestlé hackathon selected one of the four challenges and got started with some pre-reading and research to be able to hit the ground running in NYC.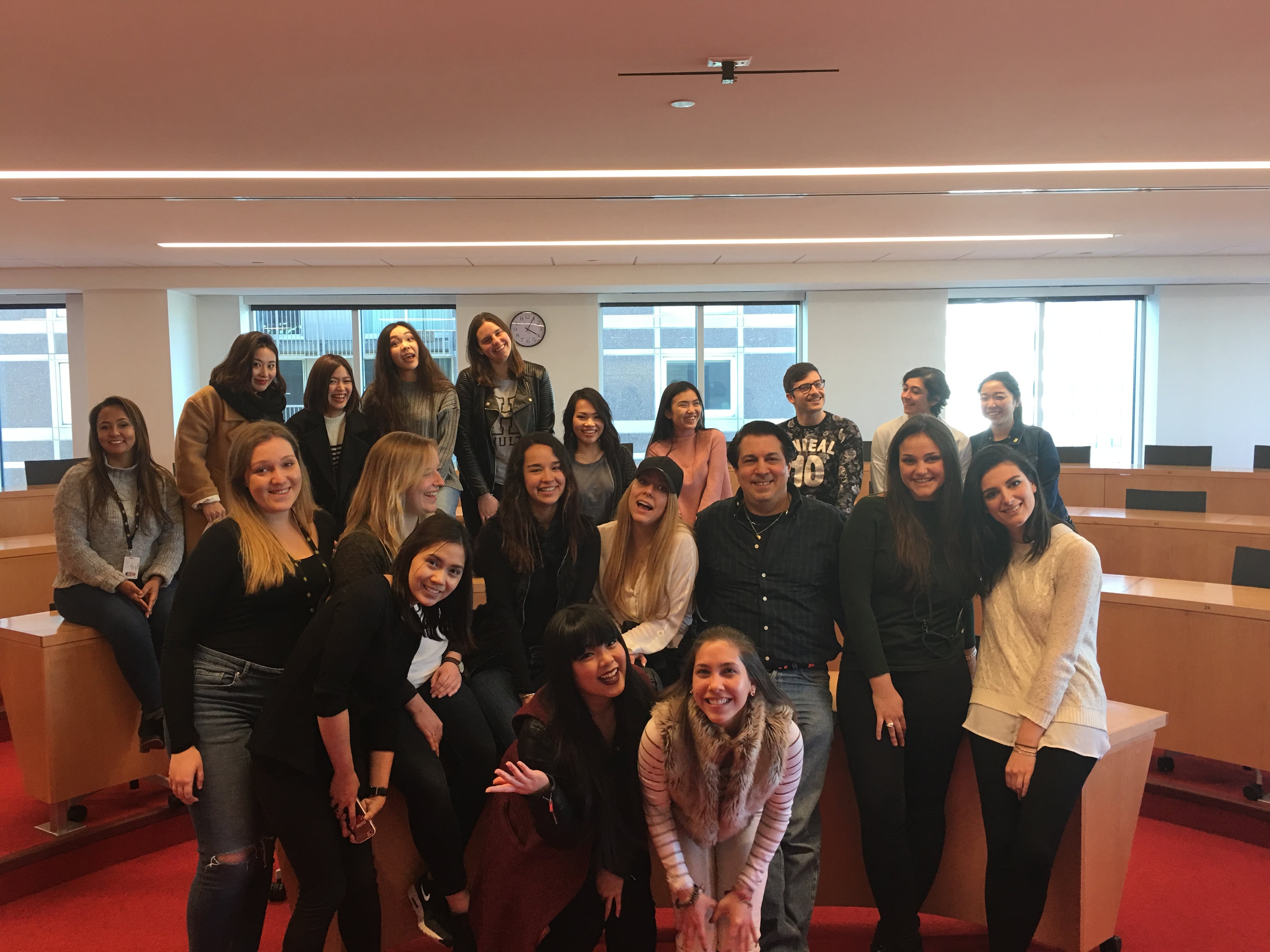 Arriving in NYC – Friday, March 10
After a rather challenging journey from Boston to NYC to join my students, who had mostly gone together as a group by bus right after my class, I was reminded once again that it is still very much winter in the Northeastern U.S. Snow called my own agility into action, as I went from a planned flight that was severely delayed to the Amtrak Acela train – only to have the train literally strand me by dying on the track – in need of a "rescue" train.
Eventually, I did make it to NYC, and my students were just starting their work. I made the rounds and spent time guiding each team, making sure that they were off to a good solid start, and in some cases, meeting new team-members that they had partnered with from the NY community, bringing new skills and experiences to the team.
As is common with hackathon newbies, many teams needed to rein in their focus, tighten the definition of their personas, and streamline the problem domain they were trying to address. These are classic challenges that I see constantly in my travels as a hackathon leader and mentor. Having gotten everyone set, we began preparing for the intensive next day.

Competition day – Saturday, March 11
Saturday began as a bitterly cold and windy day in NYC, but inside the Alexandria Center for Life Sciences, right next to the NYU Medical Center, you'd never know. The atmosphere was electric as I stepped to the podium to deliver my keynote address.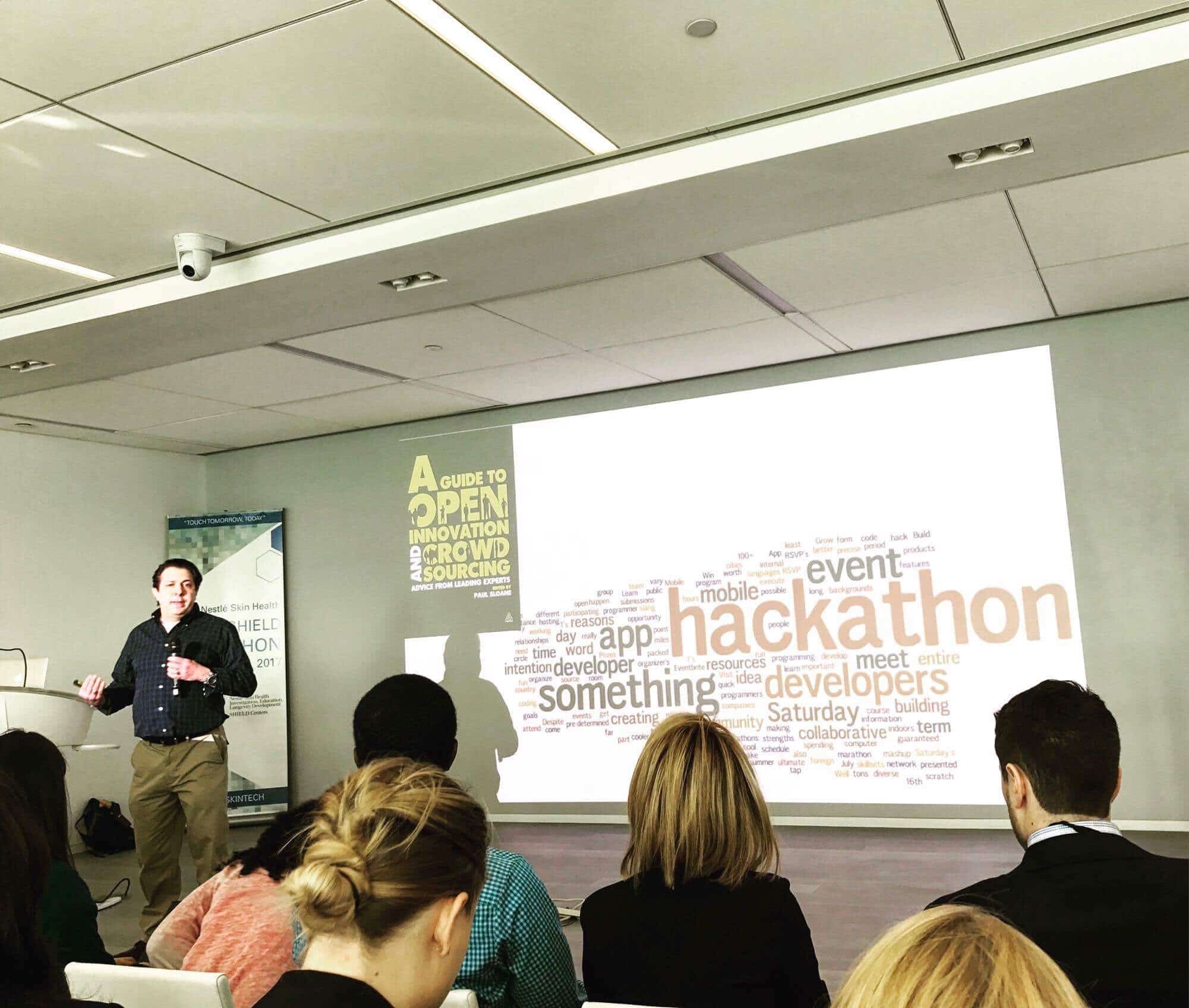 Many in the room were first-time hackers, which is always an exciting experience to share for a self-confessed and incurable hackathon junkie like myself. After an overview on what exactly is a hackathon, why Design Thinking methodology is so critical to success, and how to apply it in this context, it was time to hack.
22 teams found their way to their working spaces, and the real work began. A group of mentors, including myself, worked with the teams all day – from 10AM until they had to turn in their pitches at around 4:30PM. Our job was to provide feedback, challenge their approach, get them re-focused, and help prepare for questions that they might be asked by the judges.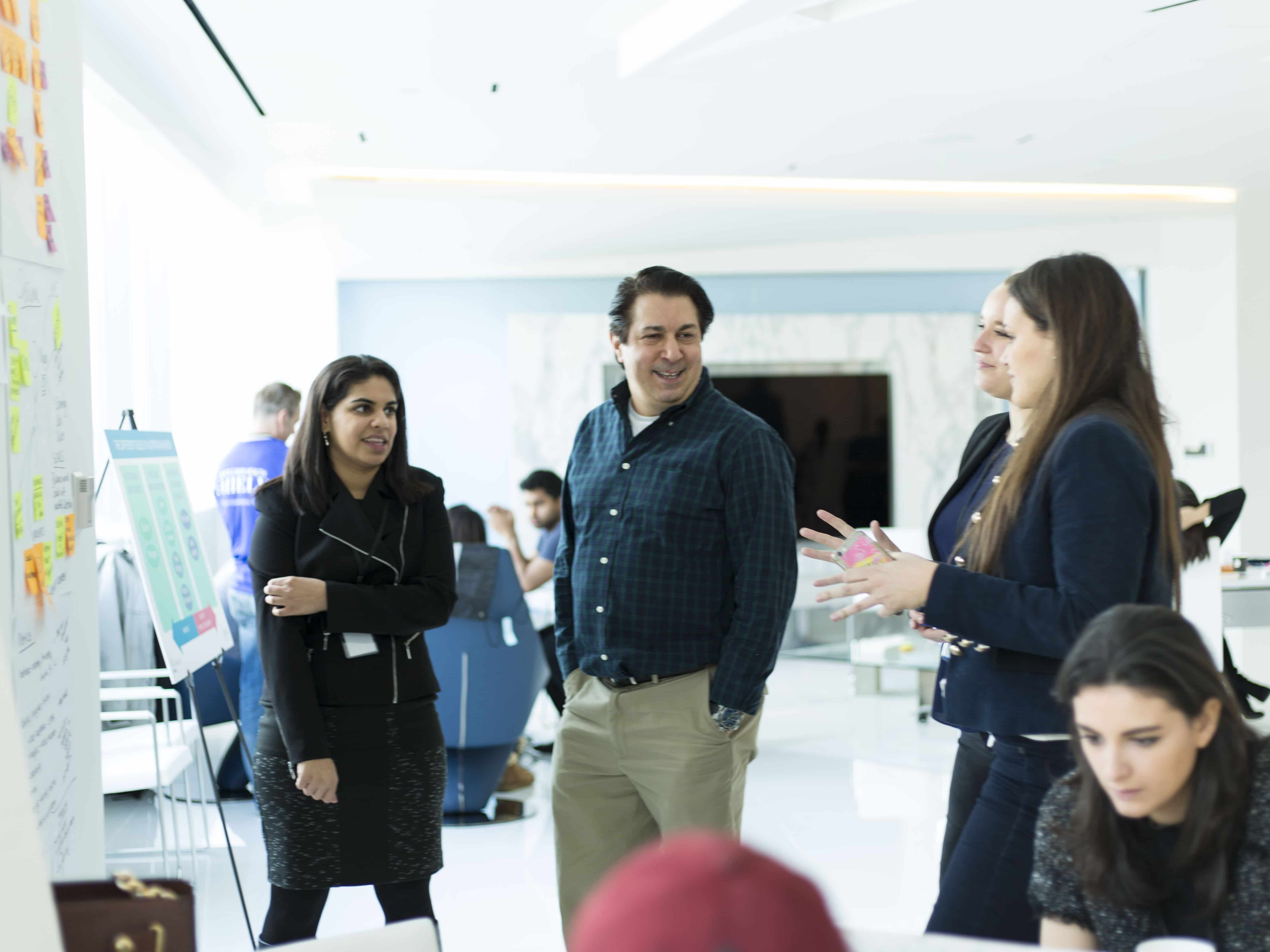 The pitches
There were many memorable ideas, including one pitched by a Hult alum, Moon Jerin, who is my Teaching Assistant, mentee, and former Hult MBA student, on how to use existing digital technology combined with a newly developed algorithm to easily gauge and prevent the likelihood of developing skin cancer.  Moon, from Bangladesh, partnered with two members of the NY community, with her as commercial lead and the two other teammates holding down the technology role.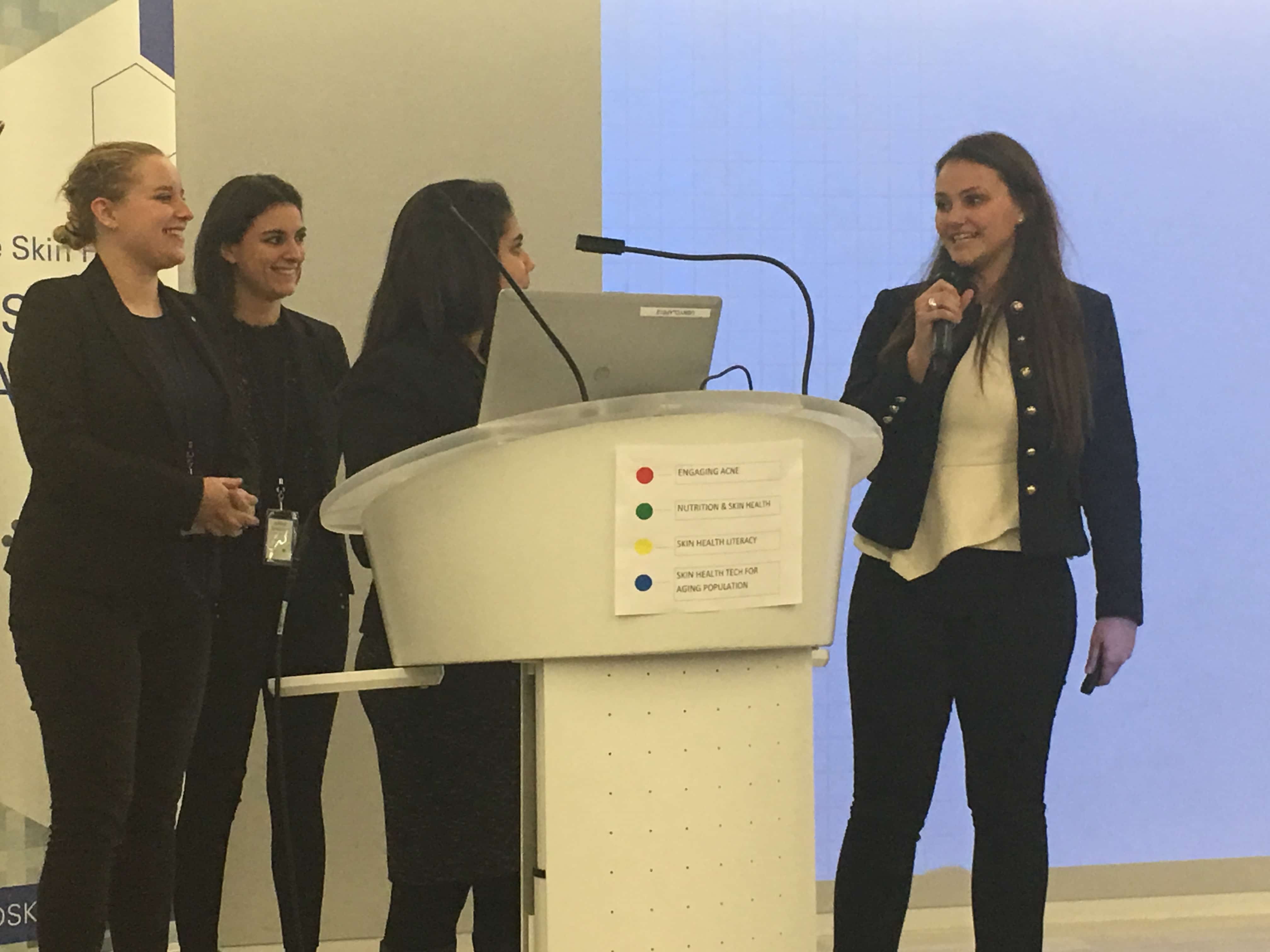 Another memorable idea came from two current Hult Master of International Marketing students, who partnered with a PhD in Chemical Engineering from the University of Connecticut. This team of three Chinese women focused on the surprisingly strong effect of skin aging caused by our near constant use of smart phones, laptops, and TVs. The team proposed the use of a nano-material smartphone screen cover that would both filter out harmful UVA rays as well as store the energy to create a 3D effect for the screen.
The Hult teams made their professor very proud, clearly demonstrating that they:
Took away the key Learning Outcomes form our New Product Development course: they had internalized the methods and approaches
Were very coachable: incorporating my feedback into their plans and pitches
Were comfortable presenting to a large group in a competitive environment
Were both great teammates AND classmates highly supportive of one another
Were "appropriately competitive": they wanted to win, but not at any cost.
 
The winning team
One of the members of the winning team had recently participated in my Reduxio hackathon on 17 February, and therefore had very recent and first-hand experience on what to expect, which is invaluable. The team proactively sought out mentoring more assertively than many of the other teams, and I had at least four occasions to visit them at critical times during their journey.
On each occasion, they were feeling stuck, and, most importantly, were willing to admit it. They were not too emotionally attached to their idea, as some teams may be, and were open to refining and simplifying their approach. Ultimately, we eliminated their original idea to manufacture a "smart bracelet", which would have resulted in an overly complex supply chain and business model with inadequate time to analyze and quantify.
We also focused our persona only on active pre-teens who were sports enthusiasts and targeted one simple but a big idea: creating a connection through a mother and her active, sports-oriented pre-teen to ensure that they are properly hydrated. The idea behind the game is to create a habit by gamifying the intake of healthy liquids (e.g. water, which Nestlé sells in mass quantities on a global basis, providing an opportunity for them to tie in with an existing product) through their mobile app.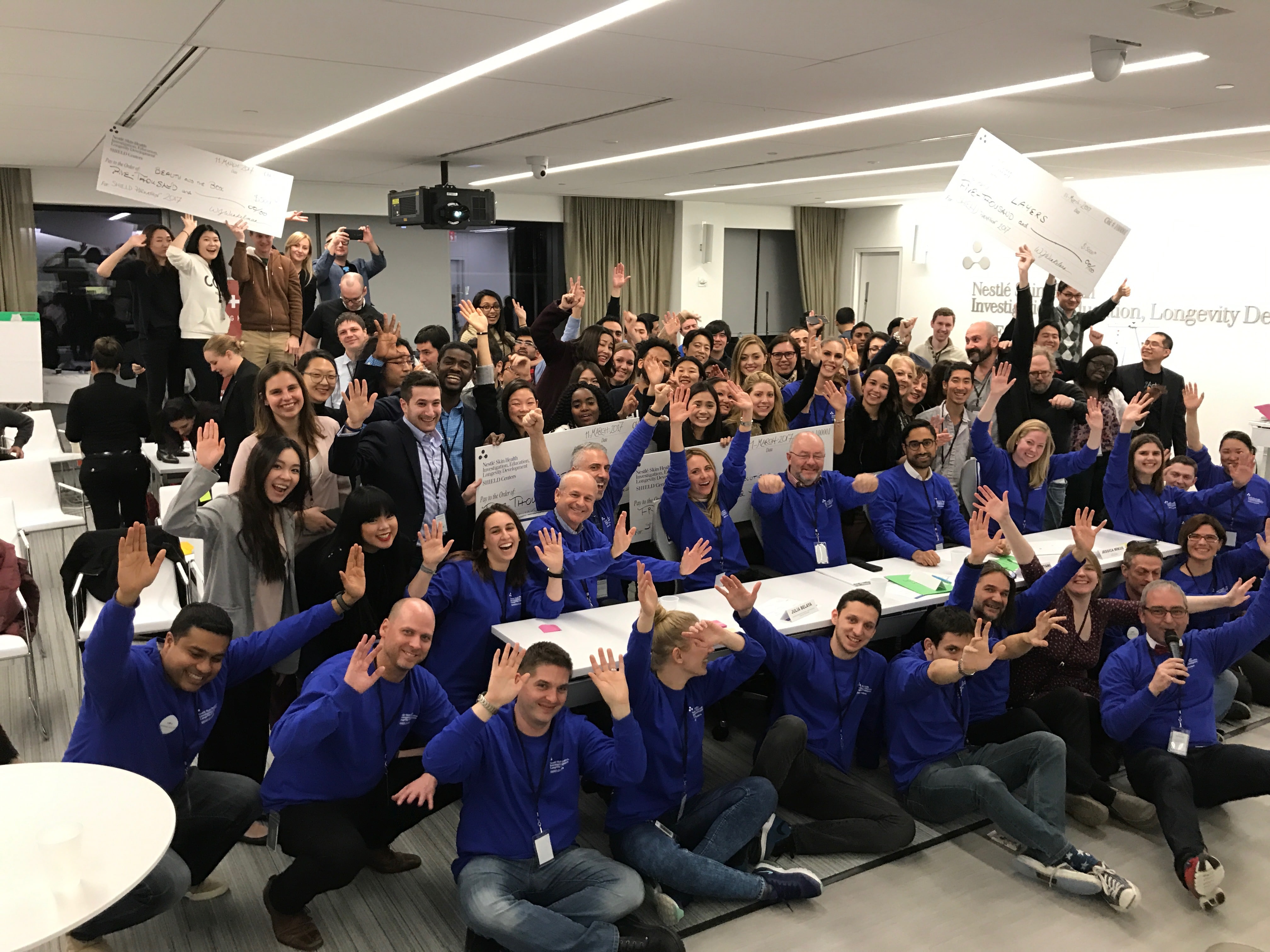 In summary, congratulations to ALL 25 of my students and former students who joined me in New York City. Your dedication, growth mindset, and willingness to engage in challenging new learning experiences will serve you well in your professional careers. You are ALL winners and I am proud to be your professor.

The next round
Special congratulations to my students Mariana Macias, Kimber Joi De Castro, and Ana Maria Franco for winning their Skin Health and Nutrition challenge track and being named one of four finalist teams. I look forward to continuing to mentor and support them as we further validate, mature and advance their project in preparation for the all-important pitch in New York City in May. While the competition is certain to be tough, we wouldn't want it any other way. While the large prize award is certainly interesting, the potential partnership with Nestlé SHIELD and access to their amazing work space is priceless. To have the opportunity to really validate their idea in the global market, with Nestlé's and my support, is the real reward. This kind of opportunity is truly unique, and I am glad I could help provide it for each of them.
Watch the Reduxio Growth Hack video on Hult's Boston campus
Watch an excerpt of Mike's keynote speech and the history of the hackathon
---
If you would like to find out more about Hult's global business programs, download a brochure here.
---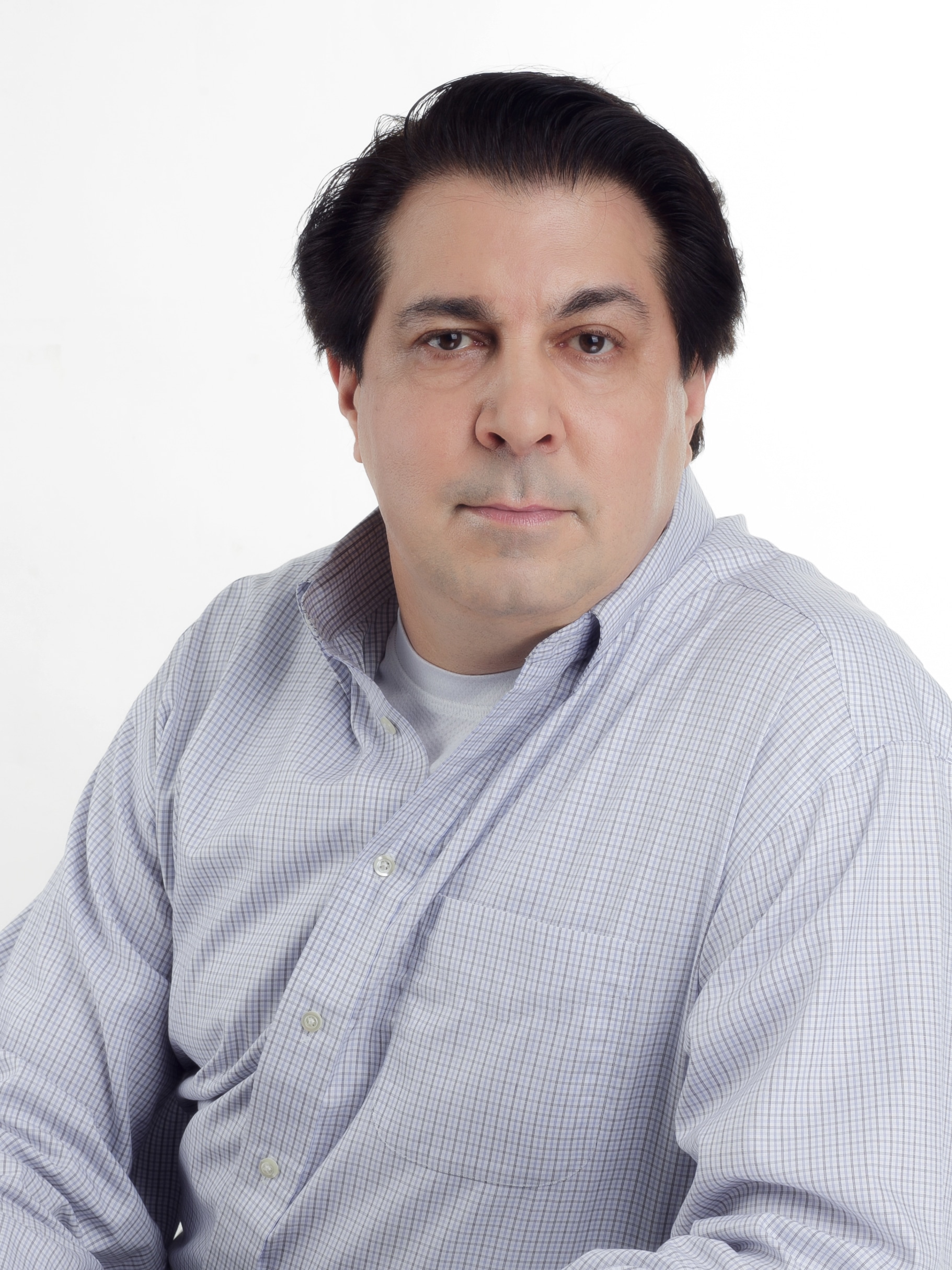 Mike Grandinetti is Global Professor of Innovation, Entrepreneurship & Marketing at Hult International Business School. He teaches to EMBA, MBA, and Masters students across Hult's London, Boston, San Francisco, Dubai, and New York campus locations as well as being Chief Marketing and Strategy Officer of Reduxio, a venture-capital backed advanced technology startup. He has an MBA from Yale School of Management and a Bachelor in Mechanical and Aerospace Engineering from Rutgers.
---
Kickstart your career in this education and innovation hotspot by studying at Hult's Boston business school. To find out more, take a look at our blog Life in Boston: Introducing Hult House. Download a brochure or get in touch today to find out how Hult can help you to learn about the business world, the future, and yourself.
Related posts