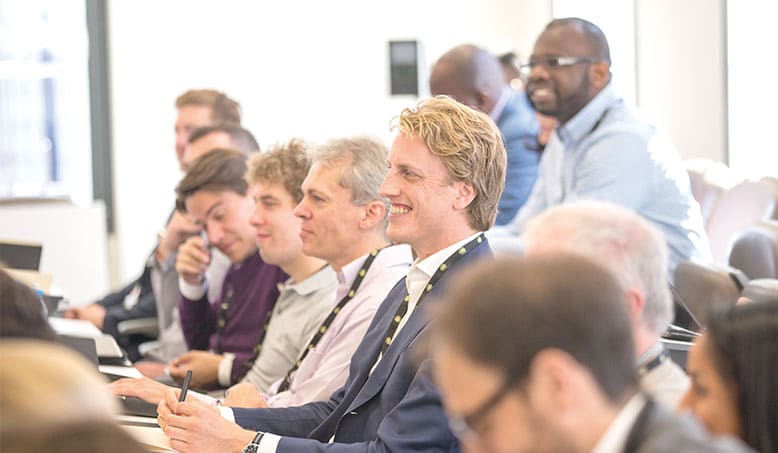 If you're thinking about applying for an Executive MBA, you've probably considered the challenges of balancing your studies with your personal and professional obligations. Flexibility is key. At Hult, we've created a rigorous and rewarding Global EMBA curriculum that allows you to study over long weekends and earn your degree in as little as 18 months.
Why apply now? Applying ASAP can make all the difference, and our supportive application process is designed to take the stress out of applying. A successful early application buys you valuable time to plan your studies and strike the balance you need to excel. With our next application deadline approaching, here are the key reasons to get your EMBA application in sooner rather than later.
1. Stand out from the crowd–show your initiative and commitment
Getting your application in early can send a strong, positive message to admissions committees. It suggests a proactive, organized, and serious candidate from the start—even before they've reviewed your application.
An early application can also help you to stand out from the crowd—literally. Applying early usually means you'll be competing with fewer candidates for the greatest number of seats. But remember, early applicants often tend to be among the strongest. If you're applying early, don't forget to invest the time you need to make your application and personal statement a true reflection of your value as a candidate.
2. Gain extra time to get your employer on board
As a part-time Executive MBA student, you'll need to fit your studies alongside your full-time career commitments. An early application gives you more time to prepare your employer and ensure you have their support. Getting buy-in from your manager and team early can ensure a more stress-free balance between your studies and professional responsibilities.
Making a successful early application and securing an official offer of admission puts you in a stronger position to have a serious discussion about the value your degree will bring to the business. This can help when it comes to negotiating your next career move. Perhaps you're looking to upskill in a new area, allowing you to transition to a more senior role or new function within the company. Mapping this in advance means you can start your studies with added purpose, confidence, and peace of mind.
 3. Secure your study weekends in advance
Part of having your company on board with your studies means giving them a good amount of notice when you'll need to take leave. At Hult, our EMBA classes take place over one four-day weekend each month. A successful early application means that you'll have your academic calendar in place sooner. This allows you to plan these weekends well in advance, with less disruption to work or family commitments.
EMBA students at Hult also have the option of studying at any of our six global campuses, located in London, Dubai, Shanghai, Boston, San Francisco, and New York. Early acceptance puts you at an advantage when it comes to securing a seat at your chosen home campus, and gives you time to decide in advance if you'd like to rotate to a different campus for your elective courses. Once you've been accepted, you'll be able to start making travel plans and take advantage of the benefits of a truly global degree.
4. Get early access to scholarship and funding options
Funding your course is another big consideration, and a successful early application means extra time to arrange your finances. Many EMBA candidates choose to partially or fully self-fund their studies. Applying early can give you valuable extra time for saving or seeing if you're eligible for loan or grant opportunities.
You may also be negotiating with your company to help fund your degree. Having an offer of admission in hand early gives you more credibility when it comes to asking your employer to invest in your studies. And having the conversation about funding sooner rather than later will help your employer to factor your request into their budgets.
A successful early application can also give you better access to scholarship opportunities. At Hult, we offer scholarships to help us find the best global talent and promote diversity in the classroom. If you're eligible, you'll need to apply for Hult scholarships as part of your general EMBA application. Competition for scholarships increases with each application deadline round, which is another big reason to apply early.
Curious about applying?
If you want to learn more about our EMBA admissions process and scholarship opportunities, download our brochure. Already decided Hult is for you? Apply online here.
Make the most of what your career has to offer with a Masters in International Business from Hult. To learn more, take a look at our blog Hult scores in top 20 in The Economist's Which MBA? ranking for 2019, or give your employability a huge boost with an MBA in international business. Download a brochure or get in touch today to find out how Hult can help you to explore everything about the business world, the future, and yourself.
Related posts