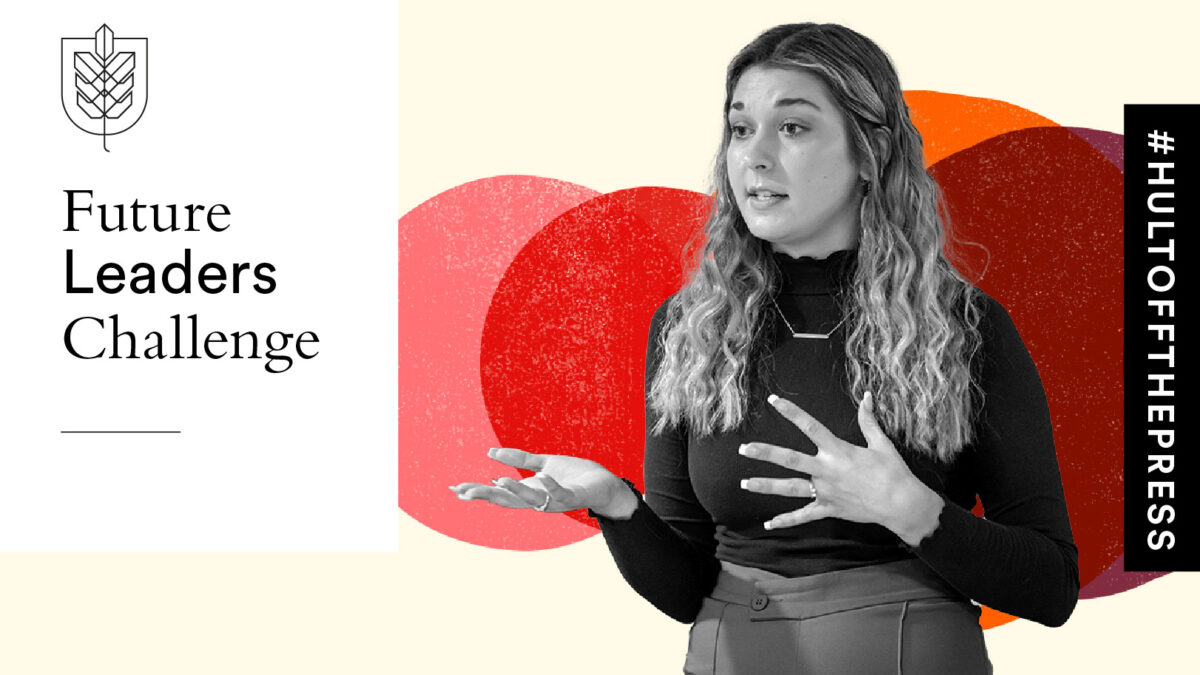 2023 Hult Future Leaders Challenge

Hult News, 10 months ago
3 min

read
Hult Future Leaders Challenge Brings Experiential Learning to High School Students Worldwide
Annual Competition Teaches the Value of Challenge-Based Learning
Boston & London — High school students across the globe have the chance to solve real-world business challenges by entering the 2023 Hult Future Leaders Challenge, a free and innovative competition that connects students with multinational organizations to teach actionable skills. This Hult International Business School contest reimagines practical learning in an online setting, combining Hult's interactive virtual skills labs and professor masterclasses with a current brief from a global organization. Young contestants compete to find solutions and win scholarship funding, all while gaining highly relevant business experience.
"At its core, the Hult Future Leaders Challenge reflects our educational philosophy as a business school: putting doing at the center of learning," said Mona Dhillon, Executive Vice President and Provost at Hult International Business School. "This exciting global challenge is getting increasingly popular each year, and it is fun for us to reimagine how we create experiences and opportunities for students worldwide and to offer a glimpse of the impact they can make."
Hult Future Leaders Challenge reflects our educational philosophy as a business school: putting doing at the center of learning.
In 2022, Hult launched challenges from campuses in London and Boston with industry-leading FMCG company Unilever. Nearly 600 students in more than 30 countries took part in the live online competition, tasked with creating multimedia marketing campaigns to promote Clear Hair, a Unilever brand, to Gen Z audiences. Teams tuned in to weekly live virtual masterclasses hosted by Hult professors; and over the course of ten weeks, 115 teams were narrowed to ten finalist teams via immersion sessions with Hult professors and Unilever executives. The 2022 winning teams each received 10,000 GBP or $5,000 USD. In London, that was Team Saigonese of the Canadian International School of Vietnam. The 2022 Boston challenge winner was Team Nous Consultants from Blue Valley School, Costa Rica.
Submissions for the 2023 Challenge will open in April 2023; the contest will then be held from September to December 2023. For competition inquiries and submission details, please contact Mike Montgomery, Strategic Partnerships Director at Hult, at UK +44 7940 419964 or via email at Mike.Montgomery@hult.edu.
About Hult International Business School
Hult is the business school for those made to do. We believe that theory is good, but practice is better. Hult strives to create a better future for all by inspiring and challenging everyone in our community to make an impact that matters.
With a program offering from undergraduate through to doctorate level and a global campus network that spans six cities across three continents, Hult has pioneered learning-by-doing since its foundation. Home to a multicultural community of forward-thinking business talent and top-ranked by the Financial Times, the Economist, Forbes, and Bloomberg Businessweek, Hult gives students the knowledge and skills to become thriving business leaders and entrepreneurs.
Founded by one of Europe's most successful entrepreneurs, Bertil Hult, we believe in the universal truth that to master a skill—from riding a bike to leading a team—it must be practiced. This belief is the guiding force behind every program we provide, every course we create, every class we run. Through immersive, challenge-centered learning, Hult provides an educational experience that transforms the lives and careers of our students.
Related posts