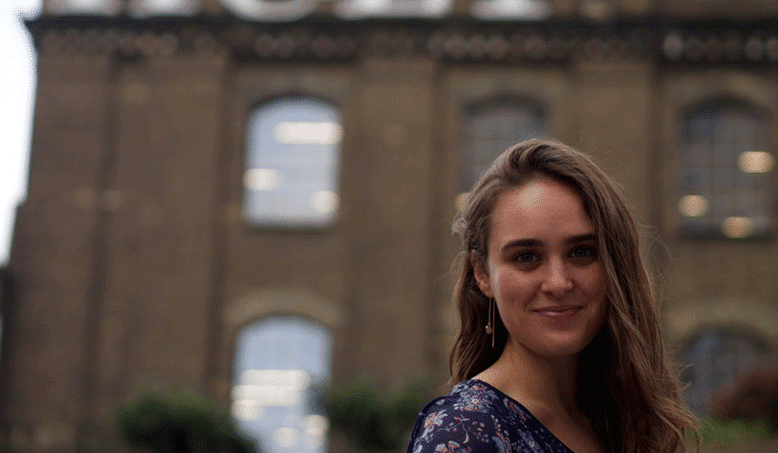 The 'Why' to 'Why Hult London?'

Hult News, 6 years ago
0
6 min

read
Written by Christina Connell, Hult Global Ambassador and Undergraduate student.
When the time comes to start making important decisions about your future, think of your dreams. Think big and without limitations. Think of what motivates you, what you want to do, and embrace it with all your might. Do not think of what could stop you from getting there. Don't build boundaries to your own potential,  just think of your goals and aim for them. Once you've done that, you will be one step closer to achieving whatever it is you have set out to achieve.
…and now I'm enjoying having taken the best decision of my life.
This is exactly the thought process that I followed when that time came for me, and I had to decide which University was going to be the platform for my future. I thought about my own personality, researched the different possibilities, and embraced the one that seemed – and now has proven – to be the best fit for me.
Back then, various cards were on the table. I had the option to stay in Spain and attend one of the most prestigious Universities in the country, or I could fly all the way to London and make one of my dreams become a reality: studying abroad. Embracing the world and letting the world embrace me. So I did. I confirmed my place at Hult International Business School and now I'm reaping the benefits of having made the best decision of my life. To be honest, the decision was really easy to make. Hult was offering me exactly everything I could have asked a university to provide me with. It was giving me the full experience. How could I say 'no' to that?
Hult is about inspiring people to become better versions of themselves.
An experience beyond the textbook
Hult is not just about the knowledge. Hult has mastered what should be at the core of any education, and that is letting the students find the joy of learning, creating values by themselves, and providing them with the tools to conquer the world. Hult is about inspiring people to become better versions of themselves and transmitting those values to the world, in whatever form they want. It offers a well-rounded education on business knowledge, but also provides students with the tools and skills that apply to every aspect of life. It helps and guides you through the discovery of yourself, never leaving you to fight alone. This captivated me.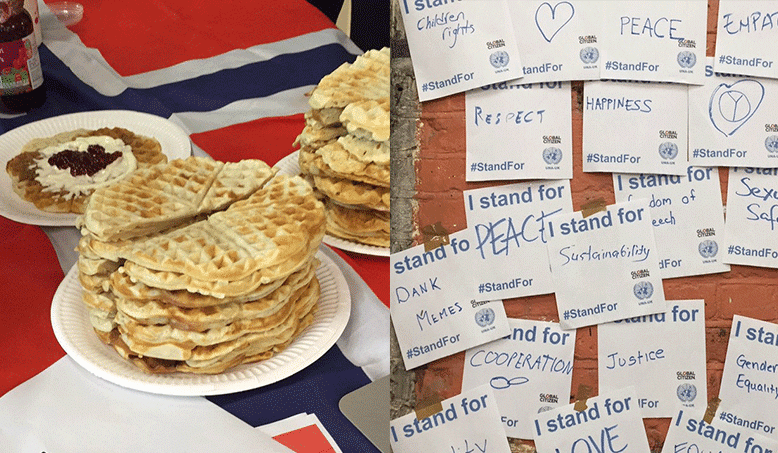 You can find this every day on campus through meetings with the Student Services, or by joining one of the multiple and diverse clubs and societies on offer, such as Gaming Club, Surf Club, Banking Society or Management Consulting Club. There are also opportunities to attend on-going career events, workshops, and guest speaker events. You will never get bored at Hult as there is always something going on.
In addition to that, there are other exciting events on campus: National Dumpling Day, a Health and Well-being Fair, the Canadian Thanksgiving Day, and Halloween. Probably the best event for me so far has been the 'Global Village' event in which Hult celebrates the multiculturalism and diversity of our community. It's like traveling around the world as you walk through the stands which each represent a different country, allowing you to experience a wide range of cultures and taste food delicacies all in one day!
Not the typical business school
Hult is much more than just a Business School. Hult is a big family. Hult is a little piece of the world put together. It is a place to share ideas, dream big, conquer goals, find true friends, open your mind, and discover the undiscovered.
When I looked at Hult as the next step in my education, it fulfilled all my expectations of what a school should be. A place of inspiration and a place to grow. A place that I can now call my home.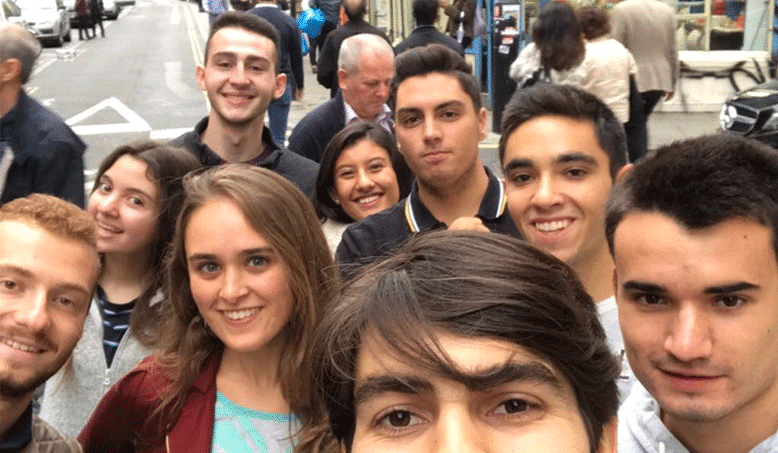 It is home because of its welcoming environment that makes you feel safe and allows you to be yourself. You know you always have people behind you to help you out whenever you need it—whether it be your academic advisor, the student services, your professors, your closest friends or the campus staff. In the few floors that the building has, there is a micro-world that you enter that is made up of people who are just like you, Hultians that make a big family. I love spending my time at Hult, whether it is to study, to attend class, to relax on the terrace, to play music in the basement, to watch my classmates play ping pong, or to drink the countless number of cups of tea! Something about this place just feels great. And I'm not lying when I say that when I spent one Saturday away from Hult, I missed the school a lot. In just the two months I have been here I have established a really tight bond with the school.
Talking to a friend of mine who came all the way from Egypt, also a first-year student, we came to agree on this micro-world that Hult is. He said: "Something I wasn't expecting to like was the small community that Hult is. Everywhere I go I see familiar faces. I like this more than being in a big University where you don't know the people and you just stick to one group. Here I'm more open and I have the ability to talk to everyone I want because everyone is so open to diversity at Hult."
The 'why'
Its ideals, its philosophy, its way of doing things, its way of teaching, its location, its multiculturalism, its big family, the possibility of exploring a new city… all of these reasons are the 'why' to the question, 'why Hult?'.
So, if you are at that point in which you have to make decisions about your next big step, think. Read the first paragraph of this blog again. You may find Hult popping into your mind as you read through the lines once more. And if next year you happen to be on a plane flying to London (or San Francisco or Boston) just as I did, remember: it is not just taking off, it's stepping forwards.
---
If you would like to find out more about our business programs, download a brochure here.
---

Christina Connell is a Hult Global Ambassador and current Undergraduate student from Spain. She is passionate about traveling, music, and the latest trends in the world today. She is an active member of the Music and Jamming Club, Management Consulting Club, Surf Club, Model United Nations, and Femtrepeneur.
Kickstart your career in Europe's biggest startup cluster by studying at Hult's London business school. To find out more, take a look at our blog A day in the life of a Hult London MBA student. Download a brochure or get in touch today to find out how Hult can help you to learn about the business world, the future, and yourself.
Related posts