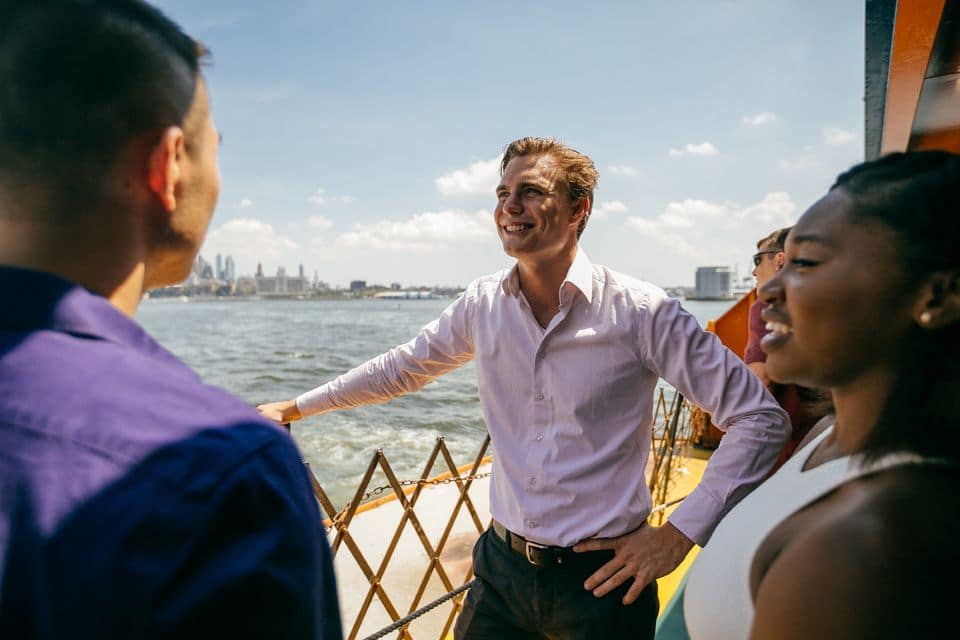 If you've ever considered the benefits of starting your own business, you're not alone. According to the Global Entrepreneurship Monitor, two-thirds of adults worldwide think entrepreneurship is a good career choice, and many are pursuing this path. In 2015, an impressive 15 million workers were reported to be self-employed in the US alone.
From the appeal of being your own boss to the satisfaction of bringing a new business idea to life, it can be tempting to make the leap straight from employee to entrepreneur. However, having seen hundreds of enterprising students pass through our classrooms at Hult, we've found many compelling reasons why an MBA for an entrepreneur might be the best first step towards self-employed success.
The structured curriculum of an MBA will give you essential business knowledge and insight
Many aspiring entrepreneurs are full of creative and innovative ideas but lack the fundamental business knowledge needed to thrive in a competitive marketplace. That's where an MBA comes in. As an MBA student, your course will give you invaluable context to help shape your ideas and essential practical insight into business administration.
Moreover, getting down to the basics of businesses doesn't mean you have to lose sight of your entrepreneurial aspirations. At Hult, our Global One-Year MBA students can specialize in Entrepreneurship, giving them access to a wide range of core courses and electives specifically designed to equip them with the knowledge to successfully launch their own ventures. Electives like Disruptive Business Models and Big Data Analytics are offered to help refine your own business concepts and develop key skills of analysis, giving you an edge when bringing your ideas to the market.
If you follow the entrepreneurship route, you'll also have the opportunity to apply your classroom knowledge through practical experience and case studies that demonstrate how successful ventures overcome international business issues and thrive. The insight and experience you'll gain as a student will better prepare you for the international business challenges you're likely to encounter in the real world.
The demands of your course will hone your leadership skills and develop your resilience
To excel as an entrepreneur, you'll need to learn to communicate effectively and persuasively. For many people, these skills don't come naturally, but now more than ever, business schools have come to realize how critical it is for their students to graduate with the personal skills required for effective leadership.
At Hult, leadership development is core to our curriculum and especially relevant to how our MBA helps in entrepreneurship. As an MBA student, you will learn the art of adaptive thinking, collaboration, interpersonal influence, and other important soft skills. Entrepreneurs are leaders by definition, and developing the mental toughness and resilience needed to turn trials into triumphs is key for enterprising students.
A true test of mental toughness can be found when undertaking the entrepreneurial track of the Hult Business Challenge. This intensive, long-term project requires student teams to work together to develop and pitch startup ideas to a panel of today's top entrepreneurs and global executives. With the coaching of expert faculty, their ideas are evaluated on real-world criteria for a viable startup, such as innovation, business model, and strength of underpinning analysis. Many Hult students use this capstone project as a way to test and validate new business ideas and go on to pursue their venture after graduation.
You'll earn eye-catching academic credentials and international experience to impress potential partners and investors
With entrepreneurship becoming an ever more popular career choice, an MBA can help you prove to prospective partners and investors that you're genuinely invested in making yourself and your business venture a success.
On a practical level, the knowledge you gain during your MBA studies will help you to create a more comprehensive business plan and persuasive pitch, while the added academic credentials on your resume can help to give weight to your ideas.
Choosing to study abroad as part of your MBA studies is yet another way to validate your ideas on an international stage and add credibility to your business pitch. Potential investors will value the global market insight you will have gained while studying overseas.  At Hult, we understand the importance of global exposure for entrepreneurs. That's why our MBA students have the option of learning across six global campuses, including San Francisco—arguably the startup capital of the world. Our students find exposure to this fast-paced, innovative atmosphere transformative and inspiring.
"Hult is the world's most global MBA program, offering one-of-a-kind global rotation. When selecting schools, I researched thoroughly by talking to several Hult alumni, and they all loved their experience. Hult offers a unique one-year program and fast-track to our dream positions."

Fanny Yu
MBA Class of 2017
Your peers will become invaluable advisors, collaborators, or future customers
During your studies, you'll become part of a cohort of ambitious students from different cultures and backgrounds. Their diverse range of skills, experience, and knowledge will make them an ideal sounding board to test your concept and get invaluable market insight. You'll find that your peers from other parts of the world will offer different ways of looking at business concepts, offering a valuable new perspective when it comes to shaping your startup ideas.
You may even discover that like-minded classmates could make excellent business partners or collaborators, whether they're skilled IT developers, savvy marketers, or entrepreneurs themselves. One thing is certain—the contacts you'll make on your MBA studies will add huge value to you professional network when it comes to launching your future business idea.
You'll learn from the brightest minds in business and your professors can become mentors to make your idea a success
At the MBA level, your professors will bring decades of insight and expertise into the classroom. At Hult, our faculty is made up of hundreds of highly knowledgeable and experienced business people, many of whom have been consultants, investors, or have launched successful business ventures themselves. Take advantage of this incredible opportunity for advice, mentorship, and constructive criticism.
You might find yourself learning from leading-edge business theorists who can help to inform your approach and shape your thinking. Among the faculty at Hult, Dr. Ted Ladd, Associate Professor of Entrepreneurship, has been examining the use and benefits of the Lean Startup Method. Along with a recent article in the Harvard Business Review, his findings have informed his teaching, to the benefit the aspiring entrepreneurs who pass through his classroom.
Beyond the full-time faculty, as an MBA student you are likely to have the opportunity to hear from a range of thought-leading guest speakers from across global industries. Exposure to the brightest minds in the world of business is an enormous perk of your student experience and a big argument as to how an MBA helps in entrepreneurship.
Ready to make your business idea a success?
Discover how Hult's Global One Year MBA is specially designed to help you thrive as an entrepreneur.
Read more about the success stories of Hult's entrepreneurs:
Hult's Entrepreneurial Ecosystem Generates a New Wave of StartUps
Global Alumni Entrepreneurs
Entrepreneurship at the executive education level is alive and well at Hult
Step up your game with executive education at Ashridge agile business school. To find out more, take a look at our blog Entrepreneurship at the executive education level is alive and well at Hult, or firm up your exec career footing with a Masters in International Business from Hult. Download a brochure or get in touch today to find out how Hult can help you learn everything about the business world, the future, and yourself.
Related posts