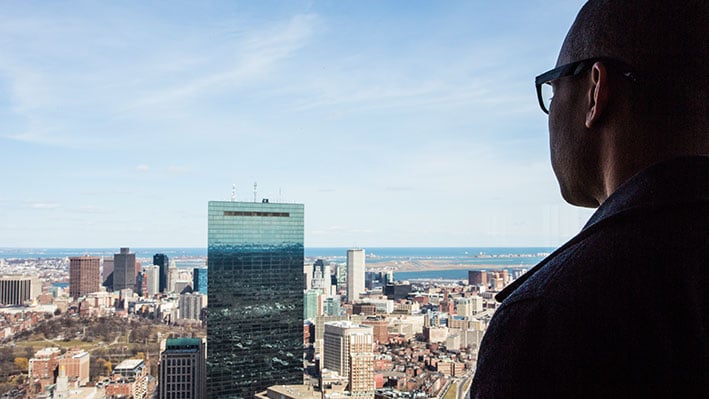 Written by Emily Vondrak, Global Ambassador and Masters student. Hult Boston Class of 2017.  
"Life moves pretty fast. If you don't stop and look around once in a while, you could miss it" –Ferris Bueller's Day Off
In what feels like the blink of an eye, my journey through the Masters in International Business program at Hult International Business School has come to an end. As I look back on my time over the past year living in three different cities in two different countries, I am so thankful for the amazing opportunities this institution has provided me. From the people I've met, to the things I've learned, I am extremely proud to be part of the Hult Class of 2017 and the Global Generation.
First, I am so appreciative of my classmates. Thinking back to my first day of Immersion, I sat in a room surrounded by strangers from all over the world who grew to be my teammates, friends, and family. I cannot begin to thank each and every one of you for the unique perspective, experience, and background you bring to the Hult community. It is because of all of you that I have learned so much this past year, and not just in the classroom.
"If you walk the footsteps of a stranger, you'll learn things you never knew, you never knew" –Pocahontas, Colors of the Wind
But, where would we be without the growth mindset our Deans and Professors have worked so hard to instill within us? My second thank-you is to them and all the time and energy they have put into teaching us what it means to work i an international business with international teams.
We have been told time and again that we are part of the global generation. At first, this was something that I only thought about literally. We are global because we have 7 campuses on 3 continents in 4 different countries. We are global because our students come from more than 150 countries and speak more than 100 languages. We are global because our curriculum looks at business on an international scale and we rotate campuses. But, as I continued through my Hult journey, I have come to realize that the word "global" means more than a passport stamp.
To me, being part of the global generation has become a mindset that transcends physical location. This new wave of thinking is accepting, diverse, creative, and thirsty to learn new things and travel new places. It is not considering borders or geography lines, but sees the world as a whole. Having a global mindset is the belief that anyone, from anywhere, can teach you something new because of the unique life experience they have had. It is appreciating diversity and differences, but, at the end of the day, realizing we are all more alike than not. The Global Generation is the new age of problem-solvers, communicators, and businesspeople and it is part of what makes Hult such an amazing place.
Case studies and exams taught us the hard skills of finance, operations, and marketing, but team projects and interacting with my amazing classmates taught me different cultures and gave me a new lens with which to see the world. So, my final thank-you goes to Hult, for bringing all of us together and giving us the skills and opportunity to grow both in our field and as people. Salud, prost, santé, and cheers to the class of 2017!
"Don't cry because it's over. Smile because it happened!" –Dr. Seuss
---

Emily is student from the U.S. pursuing her Master of International Business program in the Hult Boston campus. She has an experience in sales, human resources, and various aspects of marketing from social media and blog-writing to public relations. Emily is passionate about traveling and helping people, which led her to Hult. Upon graduation, she hopes to work in corporate social responsibility (CSR).
Hult offers a range of highly skills-focused and employability-driven business school programs including a range of MBA options and a comprehensive one year Masters in International Business. To find out more, take a look at our blog Student perspective: Adjusting to life abroad and how I knew Hult was right for me. Download a brochure or get in touch today to find out how Hult can help you to learn about the business world, the future, and yourself.
Related posts