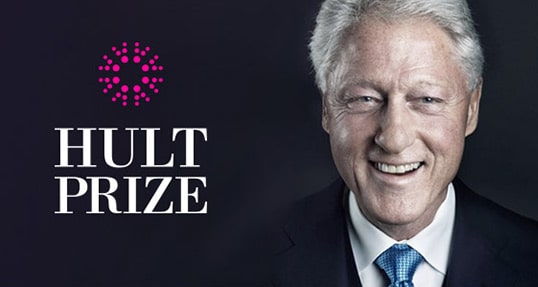 LONDON, March 14, 2014 — The Hult Prize today announced the six finalists for its annual start-up challenge. Thousands of PhD, MD, MBA, Master's, and undergraduate students pitched startup enterprises aimed at tackling non-communicable-diseases (NCD) in urban slums.  
This year's Hult Prize challenge topic, selected by President Clinton, asked participants to build sustainable and scalable social enterprises to address NCDs in slums, where nearly a billion people live today. Teams from University of Pennsylvania, Massachusetts Institute of Technology, HEC Paris, ESADE Business School, Indian School of Business, and York University will now advance to a two-month accelerator boot camp in Boston where they will be mentored by world leaders as they look to refine and scale their startups and prep for their final pitch, hosted at the Clinton Global Initiative Annual Meeting this September in New York. The winning team will receive $1 million in startup seed funding.
With nearly 11,000 annual participants, the Prize is the world's largest millennial movement for social good. President Clinton, who wrote in TIME that the Prize is one of the top five ideas changing the world, has supported the competition since 2011.
"The Hult Prize is a wonderful example of the creative cooperation needed to build a world with shared opportunity, shared responsibility, and shared prosperity, and each year I look forward to seeing the many outstanding ideas the competition produces," said President Clinton.
Hult International Business School, the Prize's lead sponsor, hosted regional final competitions at its campuses in Boston, San Francisco, London, Dubai and Shanghai (with São Paulo hosted by Rio Branco University in Brazil). Students from more than 150 countries representing more than 300 higher education institutions presented their ideas for this year's challenge, which was judged by leading executives from businesses like Unilever, Coke, and McKinsey. His Excellency Sheikh Nahyan bin Mubarak Al Nahyan, ruling member of the UAE Royal Family, also judged the Dubai competition.
"The Hult Prize continues to deliver multiple disruptive ideas each year around a challenge topic critical to millions of under served people around the world," said Dr. Stephen Hodges, President of Hult International Business School. "We are honored to host these young social entrepreneurs each year and support them as their ideas come to life."
For more information about the Hult Prize visit http://www.hultprize.org.
For more information about Hult International Business School visit https://www.hult.edu
Make the most of what your career has to offer with a Masters in International Business from Hult. To learn more, take a look at our blog Role of the global MBA in the technology sector, or give your employability a huge boost with an MBA in international business. Download a brochure or get in touch today to find out how Hult can help you to explore everything about the business world, the future, and yourself.
Related posts