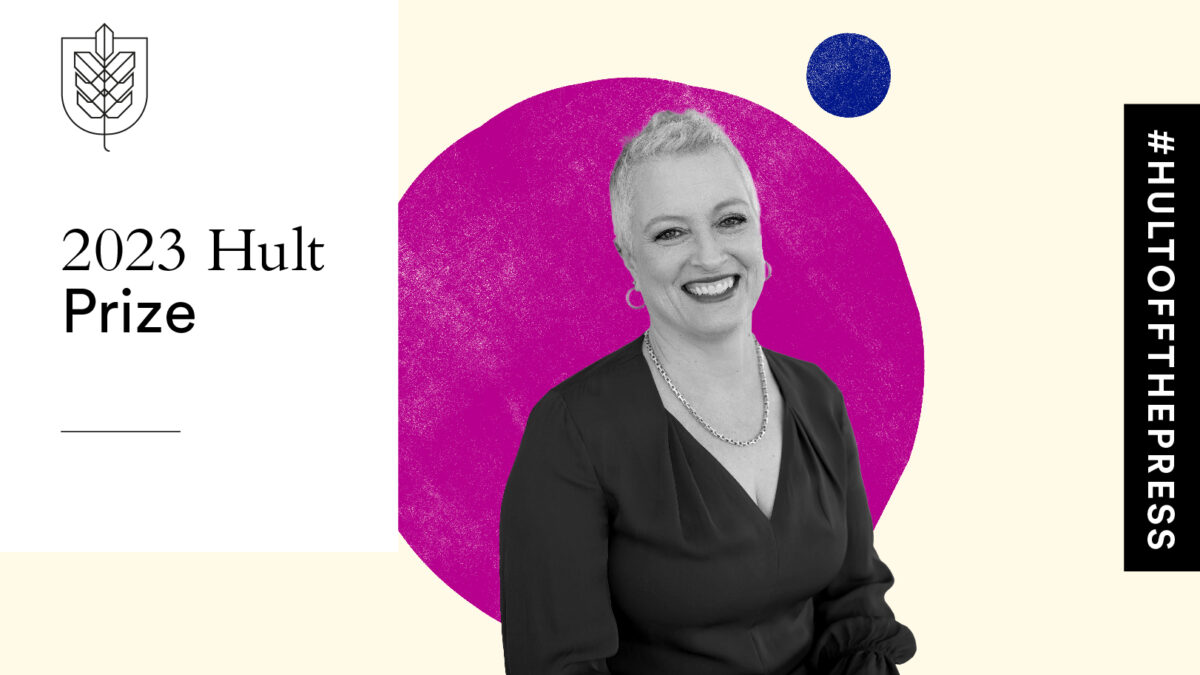 In June, student teams from around the world will take the next step in the 2023 Hult Prize, the annual contest started at Hult International Business School that asks young social entrepreneurs to propose solutions to the planet's most pressing issues. For this year's contest, students are asked to "redesign fashion" by creating a social venture in the clothing and fashion industry to make it more sustainable. June's Global Summits will be held in 12 cities and will narrow teams to a handful of semifinalists. The 2023 Hult Prize will be awarded to one winning team this September in Paris, France.
In this interview, Hult Prize CEO, Lori van Dam, talks more about the Prize, its continued connection to Hult International Business School, and why student ideas are the best hope for the future.
"Many people don't realize that the fashion and apparel industry is responsible for 10% of greenhouse gas production worldwide, so creating sustainable solutions can have a huge impact." – Lori van Dam, Hult Prize Foundation CEO
How and why was the Hult Prize started?
The Hult Prize was launched in 2009 by a group of Hult International Business School students with the support of the Hult family, founders and owners of EF Education First, and benefactors of the Hult International Business School. The students were inspired by a presentation from a non-profit organization to crowdsource ideas to solve the challenges they were facing. Over the years, what was originally called the Hult Prize Case Challenge expanded beyond the walls of Hult to also include students from across the globe.
Why social entrepreneurism?
We feel strongly that the solutions to the world's biggest challenges will come from students who have a real stake in the future. While NGOs and non-profits are engaged in critically important work, we believe that in many cases, for-profit businesses can be more efficient and better positioned for innovation.
I like to share with our participants that Bertil Hult—EF's founder, for whom the Hult International Business School is named—did exactly what we're asking students to do. Bertil started EF from his college dorm room in the late 1960s. Focused on language and cultural immersion, he was a pioneer in experiential learning because he knew from personal experience that not everyone learned effectively from books and traditional classroom methods. He went on to build a vibrant and far-reaching for-profit business whose core mission is to open the world through education.
What is the significance of this year's Hult Prize theme, Redesigning Fashion? What do you hope to achieve?
We thought this topic would appeal to a broad range of entrepreneurs because everyone wears clothing, but many people don't realize that the fashion and apparel industry is responsible for 10% of greenhouse gas production worldwide, so creating sustainable solutions can have a huge impact.
How many students have enrolled in the 2023 contest?
About 40,000 student entrepreneurs, representing some 11,000 startups, entered the competition this year. In addition to student teams, the Hult Prize includes student organizers, volunteers, experts, judges, and other constituents globally. In total, there have been an estimated 170,000 participants involved with the Hult Prize during the 2023 cycle.
What are some the ways that the Hult Prize Foundation helps student teams prepare for the annual challenge?
Each year we write up the challenge document which is posted to our website. This document outlines the problem and some solutions that entrepreneurs have already developed to inspire our students. We then provide webinars and other training materials throughout the early stages of the competition. We also make experts and mentors available to teams throughout the competition to give personalized support.
In June, you'll hold semifinal "Global Summits" in a dozen cities across the globe. What happens at these summits, and what's next for those who excel through them?
Our summits are our entrepreneurs' first opportunity to compete against teams from other countries. These events last two to three days and include up to 60 startups from around the world. Each team will pitch their idea to a panel of distinguished judges and the winners are invited to participate in our online Accelerator. From the Accelerator participants we will select the six Global Finalists.
Let's look back at past winners. Tell us about a few companies that have won the Hult Prize in the past?
One of the companies whose story I like to share is our 2019 winner, Rutopia, based in Mexico. The idea of Rutopia is to provide tourism opportunities that give back to the local communities, providing employment while teaching participants about the rich cultural heritage they are visiting. In 2022, TripAdvisor gave Rutopia the Travellers' Choice award for being among the 10% of the most popular attractions in the world. The award celebrates companies that have received excellent reviews from travelers worldwide on TripAdvisor over the past 12 months.
How have you seen these organizations use Hult Prize award money to foster and grow their businesses?
For most of our winners, the grant money allows them to launch their business. They can go from idea and prototypes to actual execution. Each startup accesses the funds according to their own needs and schedule—manufacturing businesses might be using the grant to purchase equipment, whereas service providers might use it for staff or marketing. We customize the program for the needs of each startup.
This year, you have expanded the number of startups that will receive funding. What was the thinking behind this?
The Hult family very generously decided that they wanted to support more entrepreneurs to create bigger impact. We are very excited about expanding our opportunities to really move the needle on these huge challenges. So, for the first time, in addition to the 1M USD grand prize awarded to the final winner, each runner up will receive 100,000 USD, as well. The grand total from the Hult family this year is 1.5M USD.
Tell us about the finals in Paris in September. What happens that week?
Whereas our Global Finals have been held in New York City in previous years, this year—with fashion as the topic—we couldn't resist the opportunity to be in Paris! In fact, our event happens just days before the start of Paris Fashion Week. During the event we will both recognize the very best student organizers from around the world and have a final live pitching event, where our six Global Finalists will compete to win the 1M USD prize.
We're excited to have many distinguished judges for Global Finals, including Ada Udechukwu of the International Finance Corporation in Nigeria, Camila Farani of Shark Tank Brazil, Olivier Gabet who heads the Department of Objets d'Art at the Louvre, Tawn C. of Project Runway Thailand, and many others.
So many people are looking for positivity today—what is the message the Hult Prize Foundation hopes to send by continuing to support student entrepreneurs across the globe?
It's impossible not to be inspired by our student entrepreneurs! These young people are actively engaged in creating practical, profitable solutions to our biggest global challenges. For many of our participants, being a part of Hult Prize also opens their minds to new possibilities for their own futures. We help them envision themselves as social entrepreneurs, and then help them achieve their goals.
Thank you, Lori.
Related posts