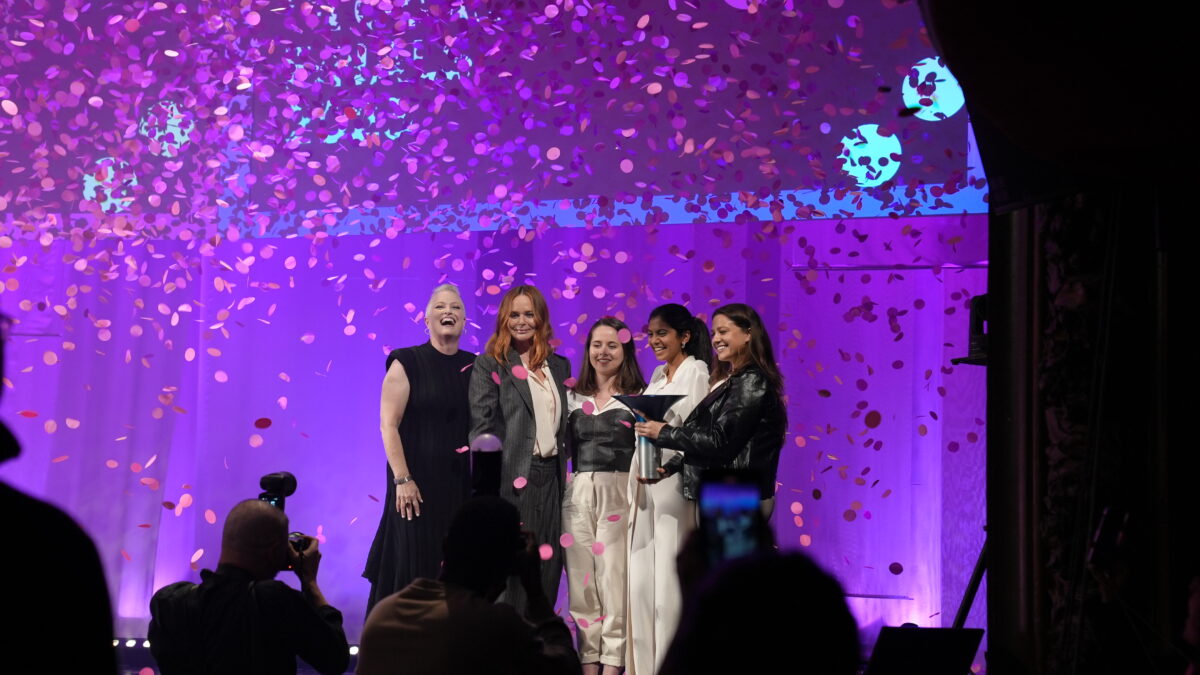 Hult Boston Campus Team GRAFF Inc. Receives $100,000 as Hult Prize Finalist
Banofi Leather, started by student entrepreneurs from Yale University, has won the prestigious $1 million Hult Prize. Banofi converts banana crop waste into vegan, sustainable, and cruelty-free leather as a way to bring more sustainability to the clothing and fashion industry, which was the theme of the 2023 Hult Prize. That industry is the world's third-largest manufacturing sector, employs a sixth of the world's workforce, and is responsible for up to eight percent of global greenhouse gas emissions.
The Hult Prize Foundation awarded this year's Prize on September 22, 2023 at Le Trianon et L'Élysée Montmartre in Paris, France. Five runners-up, including startup GRAFF Inc., which was founded by students on the Hult International Business School Boston campus, each will receive $100,000 to continue development of their social enterprises. The Hult Prize started at Hult International Business School in 2010 and the school's pedagogy and commitment to experiential learning remain embedded in how the competition works. The annual Prize is funded by the Hult family, founders and owners of EF Education First.
The annual Hult Prize challenges student social entrepreneurs from around the world to create and launch businesses aimed at tackling some of society's most pressing issues. Ideas must create measurable positive impact on people and the planet and support the United Nations in meeting the Sustainable Development Goals (SDGs). Each year, different challenges are posed to student participants and past themes have included how to address healthcare, food insecurity, early childhood education, and water access issues.
Impressive Finalist Group
Banofi Leather was one of six student teams invited to Paris for the Global Finals. The finalist group also included:
EFFCT (Alexandria University, Egypt): Repurposing textile waste to develop board panels for use in furniture, construction, and packaging.
GRAFF INC. (Hult International Business School, United States): Manufacturing sustainable material made from textile waste for applications in the fashion industry.
INNOVIOUS (Cranfield University, England): Making sustainable and scalable inner packaging, such as hangers and tags, from the leaf sheaths of areca trees.
LABWEAR STUDIOS (ETH Zurich – Swiss Federal Institute of Technology, Switzerland): Using on-demand manufacturing and circular product design to minimize overproduction and reduce fashion waste.
RIIVERSE (National Taiwan University, Taiwan): Recycling textile waste and repurposing it into raw materials for other industries.
The esteemed judging panel at this year's event included Olivier Gabet, Director of the Department of Objects of Art at the Louvre, Sweaty Betty Founder Tamara Hill-Norton, fashion environmentalist and interdisciplinary designer Runa Ray, and several others. Sustainable fashion pioneer and designer Stella McCartney announced the 2023 Prize winner on stage, and former U.S. President Bill Clinton announced the theme of next year's competition via pre-recorded video: "Hult Prize Unlimited." The 2024 challenge will be open to any student team aiming to tackle challenges outlined in the UN SDGs.
Lori van Dam, Hult Prize CEO
"The Hult Prize Finals are the culmination of so much hard work by so many student entrepreneurs working to drive social change. This year, it has been a pleasure for everyone involved at Hult Prize to experience the evolution of our finalist businesses and their growth during this journey," said Lori van Dam, CEO of the Hult Prize Foundation.
"I'm so happy for Banofi Leather and all the runners-up, but I'm just as excited about the impact the entire Hult Prize community will continue to have on the fashion industry, and other industries in the future.

The ingenuity and optimism that is representative of the tens of thousands of students who have engaged in this process is nothing short of inspirational – and should encourage all of us to find ways to positively impact our world."

– Lori van Dam, CEO, Hult Prize Foundation
Related posts