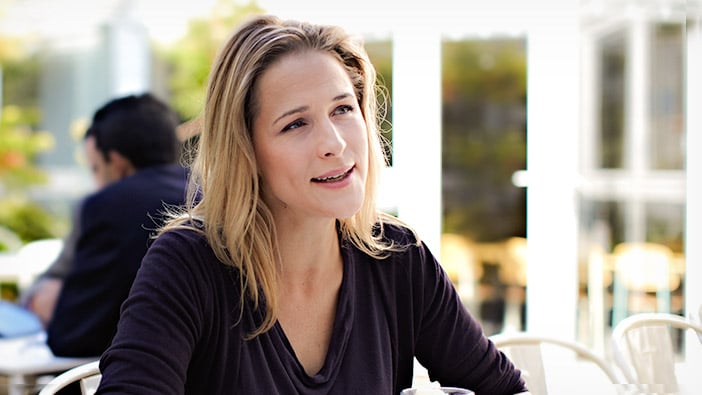 International Women's Day: celebrating women in business

Hult News, 9 years ago
0
5 min

read
To mark International Women's Day taking place on Sunday, we take a look back at some of the inspirational women who have graced Hult's campuses in recent years. From the founder of one of the world's biggest media sites, to India's self-made Biotech queen, and our own alumni making waves with social entrepreneurial ventures – we celebrate women in business and just some of their amazing achievements.
Arianna Huffington – Founder, The Huffington Post Media Group
Arianna Huffington joined us in Boston to share her experiences of revolutionizing the way we consume news, and how she is redefining success to mean health and happiness, not just wealth. Something that should resonate even more with women pursuing careers at the top of their profession, as Arianna pointed out: "Women in stressful jobs have a 40% greater risk of heart disease and a 60% greater risk of diabetes."
Not content with taking her organization from a U.S. start-up with a team of five people, to global phenomenon, with 850 employees in 11 countries, and 95 million unique visitors – Arianna called for a revolution in the way we think about business and society saying:
"I'm calling for a third women's revolution. The first one was to give us the vote, the second one was to give us access to all jobs and the top of every field, the third one is going to be for women to say: 'we don't just want to be on top of the world – we want to change the world.' Because the way the world is right now is not working – it's not working for women, it's not working for men, and it's not working for polar bears." [Tweet "Women don't just want to be on top of the world – we want to change the world."]
Kiran Mazumdar Shaw – Chairperson and MD, Biocon
Having gone from a determined 25 year-old entrepreneur to India's most successful self-made woman, the story Kiran Mazumdar Shaw told at our Dubai campus was truly inspiring. With no background in business, from a starting point of USD200 in capital, and working out of her garage – she went on to build a one of the largest biotech companies in Asia, with a 7,000-plus globally recognized team, which is listed as a billion-dollar market cap company.
Her meteoric rise is even more remarkable considering she never intended to start her own business:
"I never planned to be an entrepreneur, I wanted to become a brewmaster but I was told that as a woman I didn't have a place in this industry. Then a chance encounter with an Irish entrepreneur led me to set up my own company. I was determined to show the people that didn't think I could manage a brewery that I could in fact run an entire company."
Peggy Liu – Chairperson of JUCCCE (Joint U.S.-China Collaboration on Clean Energy)
Peggy Liu was TIME magazine's "Hero of the Environment" in 2008, and was named one of China's top 50 innovative business leaders by China Business News Weekly in 2012. In her speech at our Shanghai campus, Peggy said that she sees a shift today towards a 'purpose economy' – an economy in which doing something meaningful will be the main driver. As Peggy says: "Today it's not just about jobs, it's about how we can have passion in our jobs."
Dedicating ten years of her life to volunteer as the Chairperson of JUCCCE and help bring about a greener China in which sustainability takes priority, Peggy demonstrates the great heights that passion and integrity can take you to. [Tweet "Today it's not just about jobs, it's about how we can have passion in our jobs."]
Robin Chase – Founder and former CEO, Zipcar
Serial entrepreneur, and founder of the world's largest car sharing company, Zipcar, Robin Chase has repeatedly shown how technology can be used to completely reinvent an industry. Speaking at our San Francisco campus, Robin showed how tech-driven businesses can transform our lifestyles, and in turn, the world. But how did she turn that vision into a reality? As she said:
"Through a lot of hard work! There is a nice expression that I once heard: 'Luck is where preparation meets opportunity.' It is said that success is 1% down to inspiration and 99% down to execution." [Tweet "Success is 1% down to inspiration and 99% down to execution."]
Christine Souffrant – Founder, Vendedy, and Hult alumnus
Christine Souffrant graduated from Hult's Master of International Business program in 2014. In the same year, her social enterprise, Vendedy, was selected by the Clinton Global Initiative as a Poverty Alleviation Commitment, and partnered with IBM to scale the technology across 150 countries.
Using an online platform and mobile technology to enable street vendors and artisans anywhere in the world to sell their products globally, Vendedy was born out of Christine's own experiences growing up and selling products on the streets of New York with her artisan mother.
Having used her time at Hult in Dubai to build a truly global network of peers and influencers, Christine has gone on to take the world of social entrepreneurship by storm.
Women's Leadership Trends for 2015
Cari Guittard, Professor of Women's Leadership, Corporate Diplomacy and International Negotiations, is hosting a webinar on March 25th on 'Women's Leadership Trends for 2015'. She is a thought leader on women in business and regular columnist at The Huffington Post. The webinar will touch on how to make the most of the women's leadership trends for 2015, how to leverage the strengths of both men and women to work more effectively, and finding best practices in communicating.
Grow your leadership capabilities with an MBA in international business at Hult. To learn more, take a look at our blog 4 steps to becoming a more influential woman: Focus areas for female leaders, or give your career a boost with our Masters in International Business. Download a brochure or get in touch today to find out how Hult can help you to learn about the business world, the future, and yourself.
Related posts