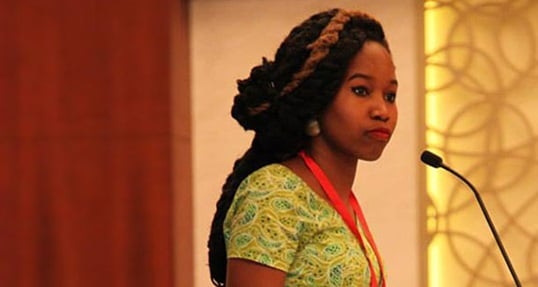 The world of social entrepreneurship requires dreamers and realists. Master of International Business student Christine Souffrant has both qualities—in spades.
Haitian-American Souffrant, grew up working for her family business, helping her mother sell products from Haitian street vendors in New York. She experienced the life of street vending firsthand, living and breathing the dreams, needs and struggles of an occupation that is all about hustle and hard work.
A born entrepreneur, Souffrant has combined her background and business savvy to launch a first-of-its-kind startup, Vendedy. Dubbed the 'eBay for street vendors' and the 'Etsy of the Caribbean', her goal is to give vendors from all over the world greater exposure to a global marketplace via a smartphone app. Souffrant has received funding from the Clinton Global Initiative, and IBM has expressed interest in helping build the app.
The road to launching Vendedy hasn't always been easy. After the devastating earthquake in Haiti in 2010, the vendors who supplied the family business with goods were either "missing or presumed dead". Her mother had to close the shop she had run for 12 years, after years of selling on the street, and the family returned to Haiti. Souffrant remained behind, taking on multiple jobs to help support her family—all while a full-time student at the prestigious Dartmouth College where she had won a scholarship to study.
In September of last year, Souffrant joined Hult's Master of International Business program in Dubai and she credits the startup ecosystem in Dubai with providing the inspiration and networking support to launch Vended International. Though the idea of social entrepreneurship is fairly new in Middle East, it has been attracting more attention from the government and investors, and is home to organizations like Grameen-Jameel and Pi Slice.
Souffrant is currently on a one-month leave from her program at Hult to work on pilots for Vendedy. First stop: Brazil. She's working with vendors from favelas in Rio de Janeiro and Bahia, and tracking their progress during the World Cup. During this "mega-event", as Souffrant calls it, vendors are hoping to capitalize on the influx of tourists. Increased sales translate into a higher quality of life for vendors, their families, and the communities in which they live.
Ultimately, Souffrant believes Vendedy can provide a comprehensive online platform for handmade artisans from the developing world, including some of the poorest, most remote villages and slums. The way she sees it, "eBay disrupted conventional business by creating an online platform for individuals, and Etsy disrupted the conventional economy by creating an online platform for handmade artisans from the developed western world—25 million, with 400,000 shops and counting."
But Vendedy is poised to do something no one else has managed to do in the digital economy: "Providing technological access to rural villages is extremely difficult, and providing one unified platform is even harder. But if we succeed, we have the potential to bring two billion street vendors out of poverty within five years." Souffrant is dreaming big, but her feet are firmly planted in reality.
Read the coverage of Christine's story on The National, "Street cred for vendors online".
Read about Hult's Master of International Business and the Hult Prize, the biggest student entrepreneurship competition in the world and movement for social good.
Kickstart your career with Hult's undergraduate business school. To find out more, take a look at our blog Meet Hult's incoming undergraduate Class of 2019. Download a brochure or get in touch today to find out how Hult can help you to learn about the business world, the future, and yourself.
Related posts