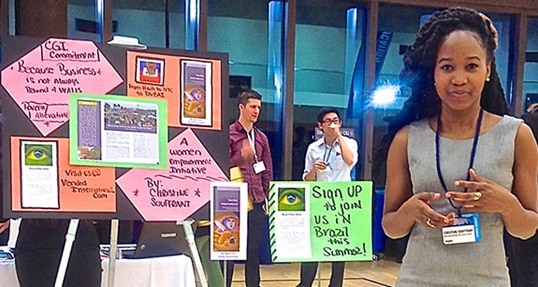 How to Transform Your Network

Hult News, 10 years ago
0
3 min

read
Its 7 a.m. and the water is running, breakfast is simmering, and bags are packed for an eventful day. For some, free time is allocated to catching tans at the beach or grabbing drinks at Baratsi, a local beach bar in Dubai. For others, it's another opportunity to experience the Dubai cultural community outside the walls of Hult International Business School.
Dubai is an expat community, one that encompasses over 85% of the Dubai population. It seems like everyone is in the same boat, trying to network and connect with as many people as possible.
I recall using the months of September and October, soon after I started my program, to get myself out there. I attended as many events as possible to increase my exposure. In total, I attended over 33 Eventbrite events, eight Meetup workshops, and supported over six events by volunteering. The range of events included a "Doing Business in Dubai," workshop to an American Business Council Networking mixer. I spent no more than 160 dirhams (approximately $44 USD), since practically all of the events were free.
I've slowed down a bit, and now have a huge support network thanks to six months of active participation in the community. As I decreased my attendance at events, I increased my commitment to organizing volunteers for events like TEDx, BOLDtalks, Social Enterprise Week, the Hult Prize, and several other conferences. Event management is a great way to get involved with the movers and shakers in Dubai.
My suggestion: take a leap of faith and lead your own initiatives. I now have several obligations that keep me engaged. I'm the Managing Director of Startup Grind Dubai, a global startup platform of 35,000 entrepreneurs across 98 cities; I participate in local community events as a Rotaract member of Jumeirah, and maintain my campus presence as a co-founder of two Hult student groups, the Women Empowerment & Leadership League and the Global Expo Group. Don't stop at organizational leadership—set trends for yourself, too. For example, I initiated a citywide initiative with DP World, an international marine terminal port logistics entity, called Smart City Weekend, and a CSR Women Empowerment initiative with the support of Al Ahli Holdings called She Dares Group. It's been a jam-packed experience, but totally worth it.
A word of advice to students rotating to Dubai: build a supportive network early. There are numerous ways to do this, and I don't mean a database of cards or LinkedIn contacts. Immerse yourself in the city's inner circles with purpose. Know your passion points and pursue events that reflect them in order to meet people that share your interests. Eventually, the people you meet will become the best references for opportunities in Dubai.
Here's another tip you won't hear too often: try to stay behind at events that you love and offer the organizers help with future projects. Be a giver, not a taker and opportunities will fall into place. It's funny, at a certain point I felt like I had more pull in Dubai then I did within my own hometown in New York—and I've done that in just over six months. So can you.
Kickstart your career in a state-of-the-art innovation hub by studying at Hult's Dubai business school. To find out more, take a look at our blog Discover Dubai: The top 6 things you need to experience. Download a brochure or get in touch today to find out how Hult can help you to learn about the business world, the future, and yourself.
Related posts