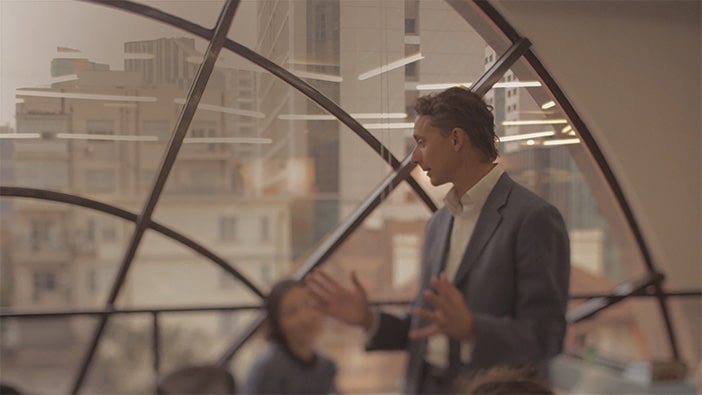 "Hult graduates bring with them a wealth of cutting-edge business knowledge, and more importantly, practical business know-how. They are job-ready from day one." – Ania Jakubowski, General Manager Poland & Baltics, Coca-Cola
Most leading business schools teach leadership skills; we wanted the skills our students learn to be as relevant as possible. Hult interviewed 100 of the world's leading CEOs to find out if business school graduates arrived in the workplace with the right skills. CEOs said no, they did not. They needed candidates with stronger soft skills in influencing people, collaborating in teams, and thinking creatively.
In response, we integrated the development and measurement of these skills directly into our curriculum — it's this that won Hult the Association of MBAs Innovation Award.
"Hult's unique approach to the development of managerial and soft skills, along with a multicultural approach to being successful in a globalized labor market, really makes it stand out."
Javier A. Cuellar, Columbia, MBA Class of 2013, Assistant Vice President, State Street London
The model
The 18 soft skills deemed critical by the CEOs we interviewed form 3 core competencies: Interpersonal Influence, Team Collaboration, Adaptive Thinking.
Students work on developing observable skills across these competencies. Skills such as persuasively selling an idea, coaching team mates for performance and growth, and seeing underlying patterns in complex situations. Their progress is systematically measured throughout their entire degree program.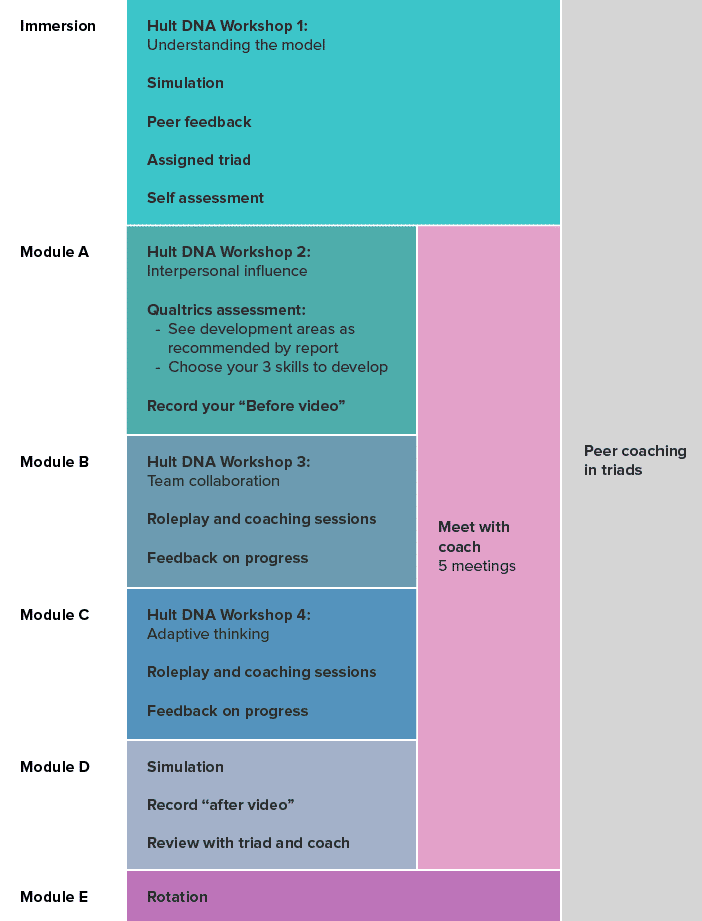 The method
Workshops and simulations
During the first weeks of the program in Immersion, students take part in workshops and receive detailed guides on the competencies and skills. They then do a simulation designed to help them understand what these skills mean in practice and where they currently stand in terms of their development level.
"The soft skills element is one of the strengths of the Hult program." – Michael Poy, Canada, Master of International Business Class of 2015, Consultant, EY
Peer feedback and self assessment 
Following the simulation, students receive peer feedback based on their performance in the simulation and carry out a self assessment that identifies where the gaps in their skill set are. Based on this assessment, they select 3 skills that they will focus on developing to a high level for the remainder of their program.
Practice
At the start of the program, students film themselves practicing a particular skill in a "before" video. For example, if they've decided to focus on persuasively selling an idea, they will film themselves pitching a business model. Towards the end of the program, they will repeat the exercise in an "after" video to see how they have progressed.
In each of the first three modules, students participate in in-depth workshops that concentrate on one of the three critical competencies. They then practice the skills associated with that competency for the remainder of the module.
Peer coaching
Peer coaching is central to the development of leadership skills at Hult. Students are placed into "triads" – groups of three peers who will coach, assess, and feedback on each others' performance and development. So every student's progress is systematically tracked.
Leadership Development Coaches
Each triad also has a professional Leadership Development Coach that they will meet with at key points throughout the year to review their progress and plan next steps. These coaches are members of Hult's faculty who specialize in leadership development, advising, consulting, and training some of the world's top executives in leadership skills.
"I found the soft skills taught during the Hult program, particularly leadership and management, to be among the most useful for me." – Carlo Viray, U.K./ Philippines, EMBA Class of 2013, General Manager for Corporate Planning & Control Europe, Sony
The Results
We begin charting each student's progress from their first week of Immersion and, by graduation the results are very impressive—over 85% of our students show a significant improvement in all three core competencies. This chart shows students' average scores at the start of their program compared to the end:
Find out more about Hult's award-winning MBA curriculum. 
Read about how Hult uses simulations in its degree programs.
Hult offers a range of highly skills-focused and employability-driven business school programs including a range of MBA options and a comprehensive one year Masters in International Business. To find out more, take a look at our blog Hult's Global Executive MBAs launch new careers in Consulting & Tech. Download a brochure or get in touch today to find out how Hult can help you to learn about the business world, the future, and yourself.
Related posts