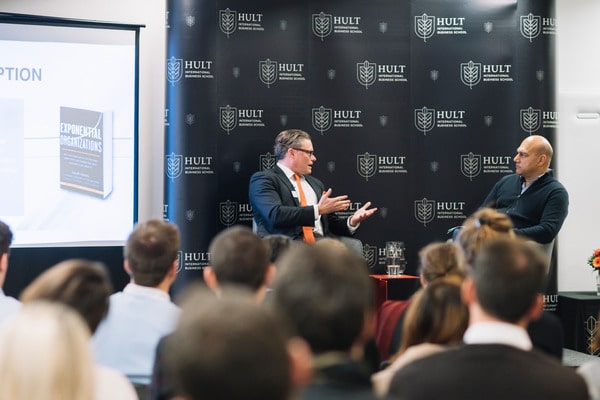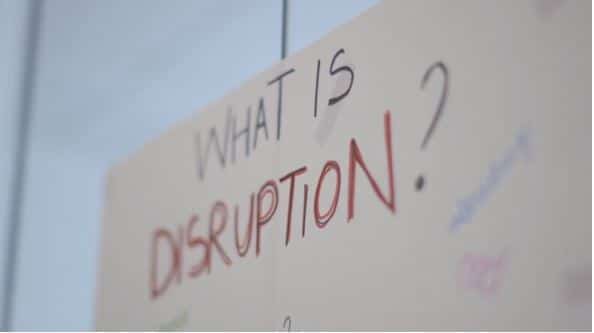 Hult's annual Global Speaker Series returned amid much anticipation for this year's Day of Disruption. World-renowned entrepreneurs and business leaders met students on our global campuses in Boston, London, San Francisco, and Dubai, for a memorable day of buzzing activities and inspiring speeches. Hult alumni joined the 1,000+ attendees on the global livestream and joined in welcoming EasyJet CEO Carolyn McCall, Bitcoin Founder Brock Pierce, Airbnb Chief of Strategy & Hospitality Chip Conley, Local Motors Co-Founder John B. 'Jay' Rogers, Executive Director of Singularity University Salim Ismail, aviation expert Laila Hareb of GCCA, and CFO of Novartis Chris Klee, among others, to share their experiences of disruption in the digital age and how to harness this unprecedented dynamic for business success. At Hult, we are committed to providing the best and most relevant business education on the planet. We challenge our students to question the status quo. And so disruption is naturally aligned to who we are.
Read on for the highlights of our 13 hours of non-stop, global disruption. Timings are in GMT.
"I joined from London for the entire day, from 9am until 10pm. By the end of the day, I felt absolutely inspired, and much energized. This was an ambitious event focusing on the business leaders driving disruption and innovation—something that truly reflects Hult's spirit." 

Eveline Sijbrandij, Netherlands, current Hult MBA student.
09:00 am
Laila Hareb opens up the livestream from Dubai. Laila is Assistant Director General of Strategy and Affairs for the General Civil Aviation Authority and is passionate about environmental issues within the sector. The winner of a World Women in Leadership Award, Laila has been named one of the first Arab women to hold a vital strategic position in the MENA region. She draws on her impressive >20-year experience in the field to convey the importance of a structured approach to innovation. Laila's three key innovation considerations: strategic direction, risk versus reward, and stakeholders. And the main challenges ahead for aviation:
Future energy sources and reducing fossil fuel dependence
Unlocking airspace congestion
The "Concept Plane" – improving aerodynamics by emulating nature's best 'designs'. Look out for the planes of the future featuring eagle's wings and lotus leaf ridges.

10:00 am
Dubai students feel the pressure of playing 'presentation roulette'. Meanwhile, in London, staff and students learn that it is never too early for a silent disco: through the sound of shuffling feet and intermittent whoops of appreciation, even London's Campus Dean, Agnes Nairn, joins in the early morning dance-off.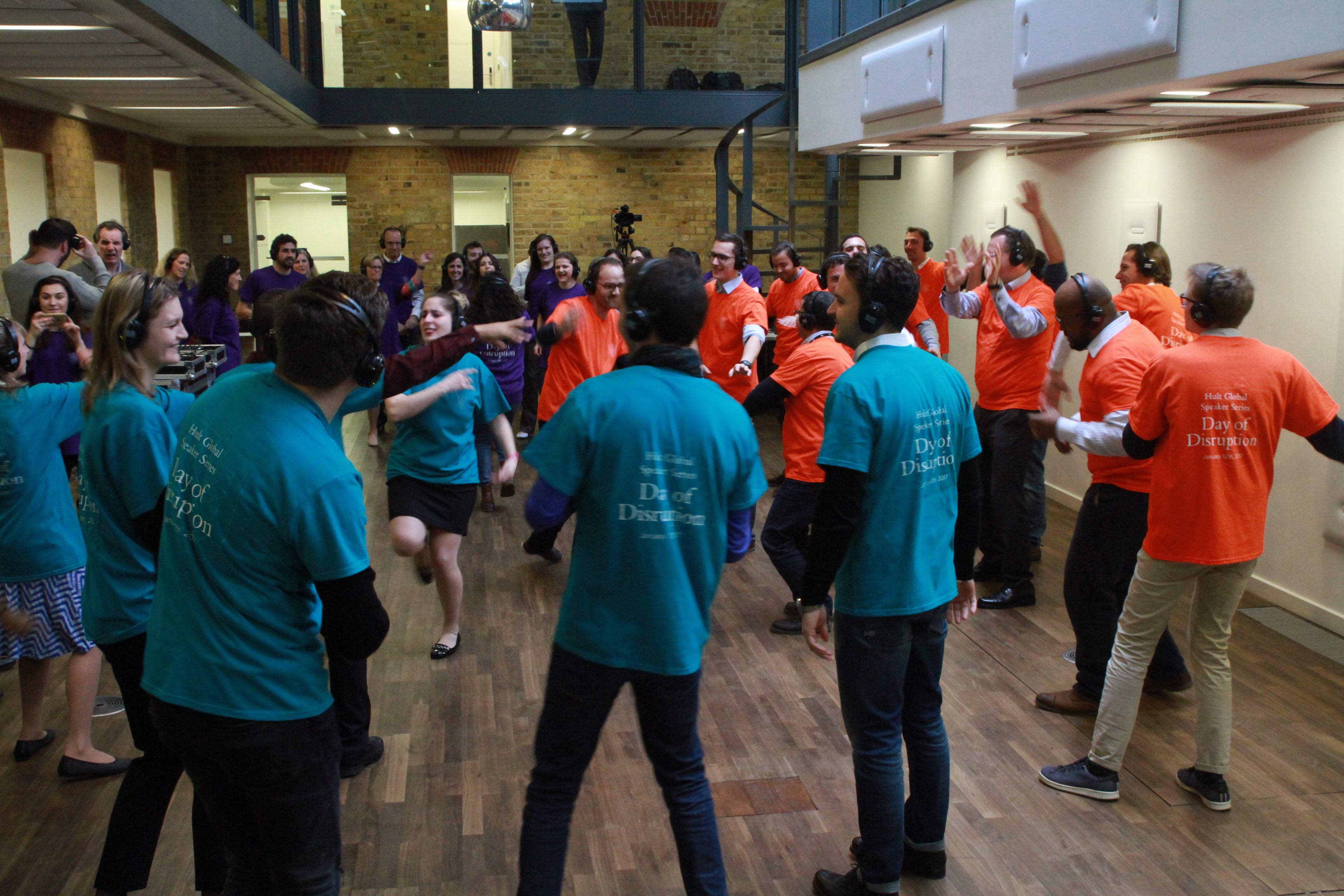 12 noon
Kathryn Jacobs, CEO of Pearl & Dean—an iconic cinema advertising company in the UK—talks to the students in London about how to find inspiration and tips for unleashing your creative spirit.
01:00 pm
Chip Conley, Head of Strategy & Hospitality, Airbnb joins live from Sweden to give the inside scoop on the 'foreshadows' that led to the birth of Airbnb and blew the hotel industry apart.
                "Disruptions are not a short-term fad but a long-term trend. Some people are experts at seeing the early signs." Chip Conley, Airbnb.
Chip talks about how innovations usually address an underlying need that isn't being met and lays out the "needs pyramid": where the tangible, 'obvious' elements form the base of the pyramid but the intangible 'extra' elements at the top can get overlooked.
Chip also notes that disruption is often the brainchild of industry outsiders—this is echoed by nearly every keynote speaker throughout the day across all industries.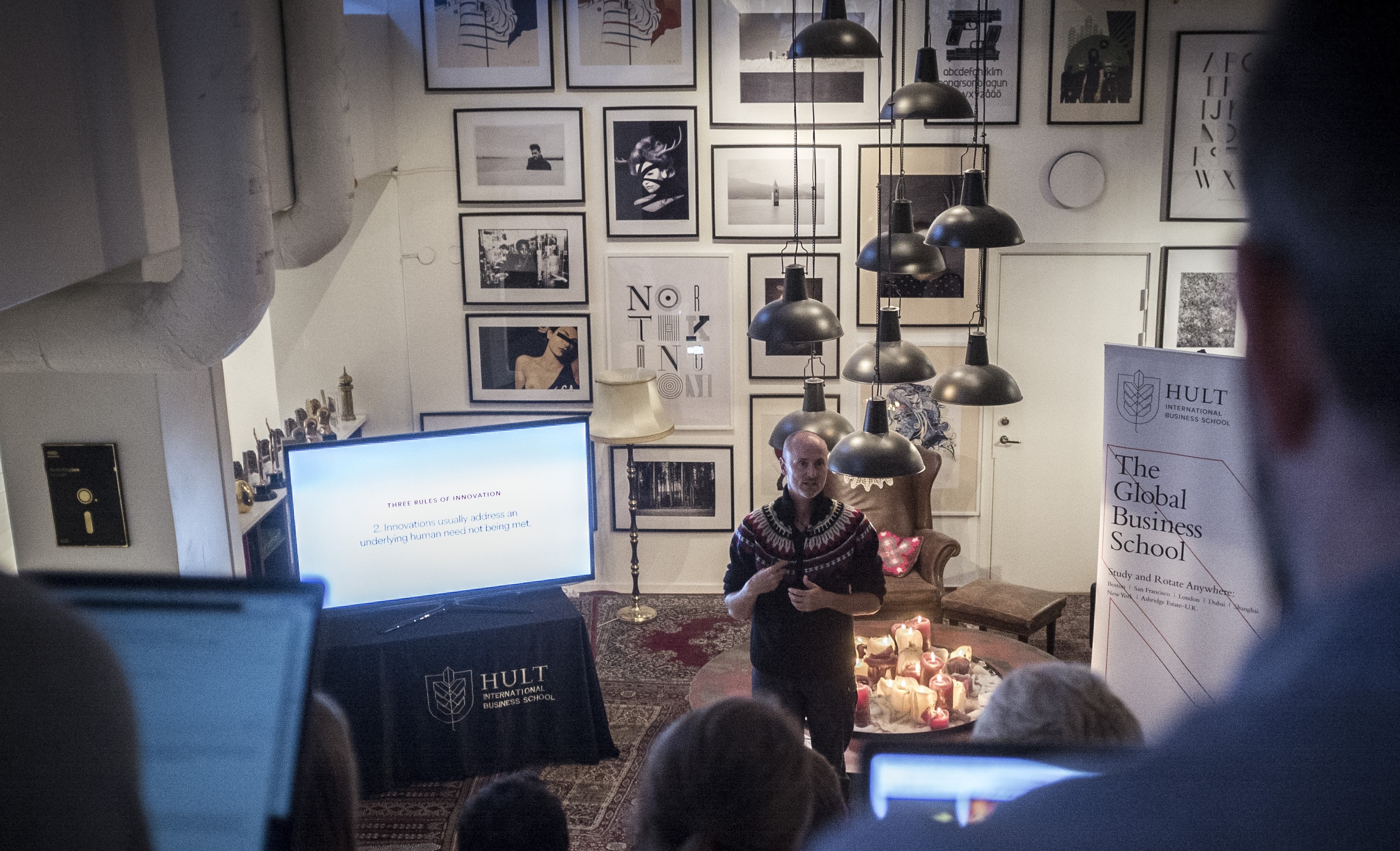 02:00 pm
Salim Ismail, Executive Director of Exponential Organizations, is in London to deliver insights on innovation and disruption—usually reserved for the Fortune 500 CEOs he advises—for what quickly becomes a glance into the near future and the game-changing disruptions in our midst. Moore's law is the basis for exponential theory—the 1965 observation that the number of transistors per square inch on integrated circuits was doubling every year. This observation set the pace for our modern digital revolution, which is growing on an exponential curve, and Salim is passionate about empowering people to apply disruptive technologies to the everyday.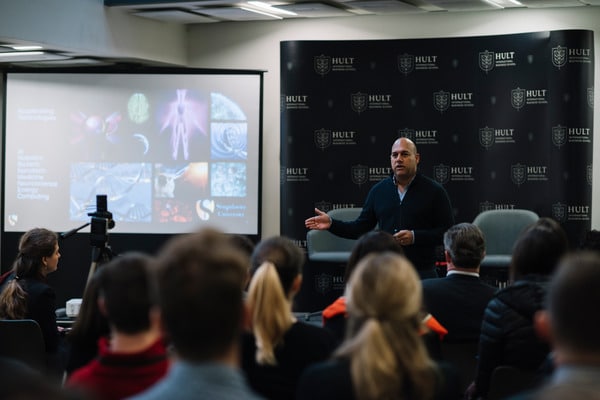 Digital information is literally transforming the world's business from a scarcity model to an abundance model. Reality is even being disrupted by virtual reality in many ways. The established world is not ready for the democratization of technology, as evidenced by recent large-scale political upsets.
Salim talks about the common 'immune system response' to radical digital developments: wariness of the unknown that leads people to want to shut it down. But the tide of progress cannot be stopped and the world is fast-changing beyond recognition. The rapid ascendance of Artificial Intelligence will soon drastically alter the business and employment landscape. Gene editing is now as simple as cutting and pasting in a Word document and will be able to eradicate cancer within 2 years. Solar energy will be widespread enough to power the world's energy supply within ~20 years. This will in turn lead to a crisis in the MENA region. The first person who will live past 1,000 years old has already been born: these are just a few of Salim's astounding predictions based on his research of exponentials.
Salim's advice for those wanting to leverage exponential growth: look out for doubling growth rate patterns and layer solutions on to them that will scale with the doubling technologies.
03:00-05:00 pm
Salim's second presentation moves on to how to build an exponential organization. At 4pm he interviews Hult faculty and Founder of iKNOW-WHO Sigvald Harryson. Sigvald is an integral contributor to the creation of Hult's Entrepreneurship curriculum. Sigvald draws on his experiences harnessing breakthrough innovation to solve major companies' "impossible challenges" in collaboration with university student teams.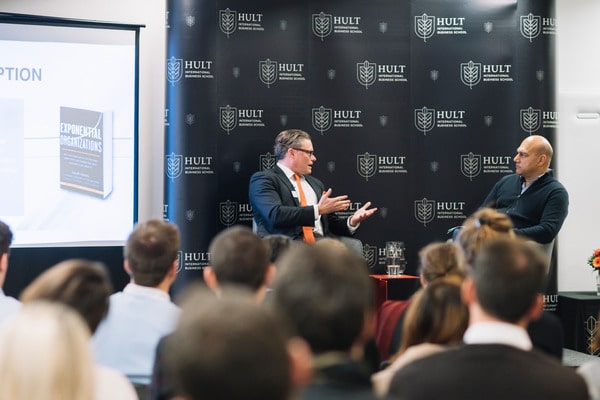 Elsewhere in the world, Hult student clubs are running entrepreneurship and consulting workshops; Hult star faculty are leading masterclasses; there are drone races; pitch competitions to disrupt the travel industry and improve the travel experience; and Boston students are enjoying making use of their own 'Hultian' currency in honor of their keynote speaker Brock Pierce, Founder of Bitcoin. From investing in business pitches in the 'H-Factor' competition, to 'cycling a smoothie' in the health & wellness room, anything is up for grabs today if you have the "HIBZ" coins to pay for it!
"Hult provides people with the experience and knowledge necessary to go out and change the world."

Brock Pierce, Bitcoin Founder.
05:00 pm
John B. "Jay" Rogers, Co-Founder of Local Motors, takes the mic in San Francisco to talk about his phenomenal startup, Local Motors—the world's first ever manufacturer of 3D printed cars, pairing micro-finance and co-creation. Jay's vision is an end to the 'junkyard' of dilapidated, material-intensive vehicles and a new era of melting and deconstructing 3D printed cars—and buses, houses, drones, and much more—before rebuilding them to spec. Essentially redefining car manufacturing and subscribing to a recyclable, upgradeable, customizable, locally made alternative. Jay echoes the success of the 'less over more' approach. His cars use 50 components instead of the usual 2,500. So development is faster, greener, cheaper, and more flexible.
07:00 pm
Shortly after a rock 'n' roll bagpiper injects a fresh burst of energy into the audience, Carolyn McCall, EasyJet CEO is interviewed in London. Carolyn draws on her experience of digital disruption in the print industry during her time as CEO of Guardian Media PLC, and her experience at the helm of Easyjet, one of the most disruptive airlines in the world.
Carolyn echoes Hult's ethos that business acumen must be practiced before it can truly be learnt:
"My advice to those wanting to think disruptively: get out there! Get stimulation and learning in the real world" Carolyn McCall, CEO, Easyjet
08:00 pm
Chris Klee, CFO Novartis, is welcomed in Boston. He talks about the future of pharmaceuticals and latest advances in gene therapy. He notes the unrivaled opportunities for students living and studying in Boston, AKA the "Life Sciences Supercluster". There are over 550 life science companies in Massachusetts—and over 250 in Cambridge and Boston alone. This offers huge opportunities, talents, and networks within the major biologicals.
09:00 pm
Brock Pierce, Founder of Bitcoin & Blockchain Capital, is next to the Boston stage. Bitcoin enables the self-centralized, safe digital movement of money around the world. Brock believes it will ultimately make financial services (along with many other services such as legal and medical) accessible to everyone in the world. Bitcoin, along with Local Motors, is itself an exponential organization, shaking up the future of the services paradigm.
"It is important for business schools to be agile in these uncertain and fast-changing times. I have spent the day experiencing your incredible facilities here in Hult Boston and meeting Hult students. I would say that the school's ethos is disruptive; Hult students are eager to learn; ready to embark and take on the world, and make it a better place." Brock Pierce
10:00 pm
Wrap-up of this epic and inspiring day. Common themes emerging include the democratization of services, value, and trust; the sense that the developing world is going to leapfrog the developed world; the need for the outsider's perspective in facilitating breakthrough innovation; and the successful business model of tomorrow being founded on decomplexifying the business models of today.
Stay tuned for video of the best keynote speeches in full and serialized interviews.
---
If you would like to find out more about Hult's global business programs, download a brochure here.
---
Learn more about the Global Speaker Series and prior speakers.
Like game changers? Break the mould in the business world with a Masters in Disruptive Innovation from Hult. To learn more, take a look at our blog Week of Disruption, Fall 2018: Embracing a changing world, around the globe, or explore overall business challenges with a Masters in International Business instead. Download a brochure or get in touch today to find out how Hult can help you to find out everything about the business world, the future, and yourself.

Mel Cloney
Mel is a staff blogger working in London, and is passionate about the Hult journey. Her writing focuses on faculty, academics, and student and alumni experiences. She's a food, scuba, and running junkie with a penchant for all things French.
Related posts