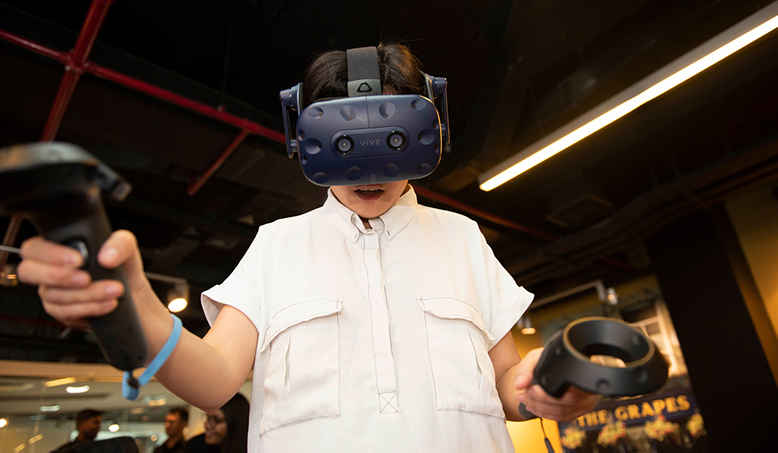 Hult campuses around the globe experienced an interruption to their schedules – and their thinking – this November, courtesy of Fall 2018's Week of Disruption. A major (and enduring) buzzword in business, creative, and technology circles, disruption is a concept embraced fully by the school and its students, whose ever-curious minds seek to challenge the way we do business from start to finish. Hult proudly welcomed a packed agenda of both faculty and industry speakers across Dubai, Boston, San Francisco, and London, sharing their extensive experience of disruptive behavior in their own specialisms and communities.
The result? A 360, up-to-the-minute check-in with the international business world, complete with stimulating conversation, snackable insects, and more than one reference to "chihuahua or muffin?" Who better to give the inside view than a selection of Hult's Global Ambassadors, who share their personal gauge of the atmosphere on campus, plus key learnings to take away, below.
Dubai
On the agenda: Hans Henrik Christensen, Dtec; Ghaith Abdul Rahman, Dubai Future Foundation and Area 2071; Daniel Khayat, HTC; Ramit Harisinghani, HTC
On the ground: Yusra Bagosher
Having guest speakers from various industries was an excellent opportunity for us to learn about disruptive innovations, how they have impacted different industries and how we, the youth, can be leaders of future disruptions.
One of many interesting insights from the day was how the business world significantly changes every decade, thus increasing the urgency of open innovation, involving the youth, and development of supportive ecosystems. Gaith Abdul Rahman explained how the majority of us are worried upon hearing the word "disruption", as it involves change. However, disruption is essential, and it will occur across sectors.
One way to prepare ourselves to become the next leaders of change is to focus on technological advancements, and learn coding languages to be able to innovate and survive the upcoming industrial revolution.
"Dubai is on its way to becoming the next Silicon Valley," stated Hans Henrik Christensen of Dtec. When it comes to the latest technological advancements, Dubai is among the first cities to incorporate them; Dubai is, for example, currently in the planning phase of opening the world's first crypto currency café.
It's also important to understand that disruption will not result in a loss of jobs. When AI was first introduced, many feared the loss of their jobs due to automation. However, they did not realize the new opportunities created by AI – a study indicated that although 75m jobs will be displaced, another 133m will be created, all the while making significant improvements in every field.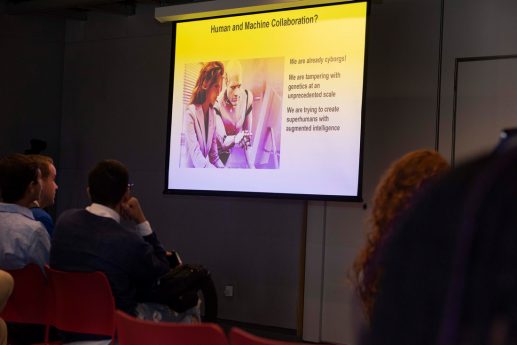 Boston
On the agenda: Michael Cucurello, Hult Faculty; Dr. Johan Roos, Chief Academic Officer & Professor, Hult; Mehdi Merai, DataPerformers; Jeff Aresty, InternetBar.org & Center for Information Technology and Dispute Resolution, UMass; Jeff Key, Pulse Secure
On the ground: Renata Vasconcelos
Have you ever pictured yourself tasting a cricket during lunch break? No? Welcome to the Week of Disruption at Hult Boston!
Disruption, according to the Cambridge Dictionary, means "an interruption in the usual way that a system, process, or event works" – and the agenda delivered, with guest speakers and activities such as cricket tasting, virtual reality video games, and a silent disco.
The dynamic environment was contagious; all students were involved in activities between classes, and I can't think of a better way to both relax and stimulate our learning. Disruption affects our studies, showing us that we can learn from innovative, outside-of-the-box approaches that may even be more helpful than the traditional ones.
I had the pleasure of watching guest speaker Dr. Johan Roos speak about how Hult is disruptive in the business of business schools; and after seeing his passion, I have to admit that I found myself even more excited to be a part of this amazing institution that is changing the game of teaching. What makes Hult disruptive is its global factor and cross-cultural careers; that it is a non-profit run as a business; and mostly, that it is becoming more than a business school, home to disruptive projects such as the Hult Prize. To quote Roos, at Hult students learn about the world, the future, and themselves, and so far my journey has been exactly like this!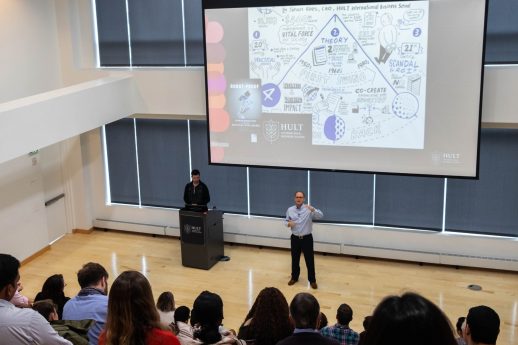 San Francisco
On the agenda: Professor Larry Louie, Hult; Justin Lokitz, Business Models Inc.; Professor Olaf Groth, Hult; Professor Mike Grandinetti, Hult; Guest speakers from Facebook, Apple, and Google
On the ground: Alma Dóra Ríkarðsdóttir
Ask a student on the San Francisco campus why they chose this city out of all the Hult campuses and they will tell you reasons such as: it´s the city of innovation and disruption, a center of new ideas, a hub of new technologies, and endless possibilities.
No wonder many had been looking forward to the Week of Disruption.
Amidst midterms and Thanksgiving preparations, we welcomed the speakers to our space. Some spoke about their companies, our chances of working for them and tips and tricks on how to achieve that. Others had just published books, and shared their knowledge and findings. Some had conducted successful TED talks, while others got the whole group dancing, even our professors.
I took something precious out of each event. I am especially happy to have signed up for Justin´s Design Thinking workshop as it gave insight into the power of the tool and how it can be applied in our work at Hult. Moving forward the workshop has inspired me to apply more Design Thinking to my study process. Connecting the dots throughout the week I now know that disruption takes many angles, and that organizations don´t just disrupt for the sake of disruption, but to create a greater value. This is something that I will take with me throughout my Hult journey and apply to my future projects.
It is for these events that we came to Hult, for authentic stories and advice. To shake hands with people who have real impact on the world, and encounter mentors from different sectors, who can direct us one step closer to who we want to become.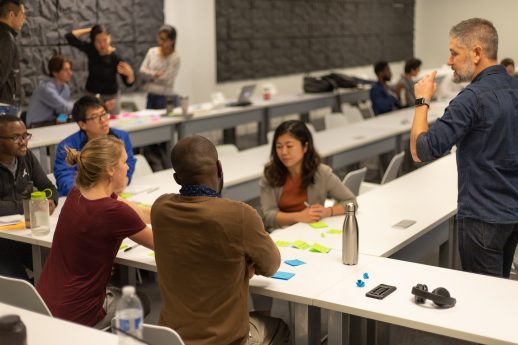 London
On the agenda: Dawn Watson, Hult; Ellen Donnelly, The Bakery; Riaz Shah, EY
On the ground: Mikki Somera, introducing the highly anticipated, 10th anniversary Hult Prize challenge for 2019, which was presented across all Hult campuses
London's Day of Disruption started with the announcement of the Hult Prize. The challenge for the coming year is to create venture opportunities for 10,000 youths. The competition invites all students with the drive to disrupt the current status quo. The evolution of our world today, as it transitions into the Modern-Technological era, perceives our capabilities as human beings as becoming a "side dish" rather than the main course; the Hult Prize challenge is disrupting that movement.
Disruption has been seen in many forms, used in a variety of ways. As Hult students, we are given this massive opportunity to exercise our creativity. We have the power to build our future with consciousness and openness. It will be exciting to experience and see our Hult community dive into this year's challenge.
---
Our thanks to our intrepid Global Ambassadors who covered the Week of Disruption from every angle, across our campuses. Find more of their stories of disruption on Instagram Stories. The Hult Prize has officially launched for 2019; find the challenge brief, and more information on the Hult Prize website.
Hult offers a range of highly skills-focused and employability-driven business school programs including a range of MBA options and a comprehensive one year Masters in International Business. To find out more, take a look at our blog Choosing your school: Is it time to get out of your comfort zone? Download a brochure or get in touch today to find out how Hult can help you to learn about the business world, the future, and yourself.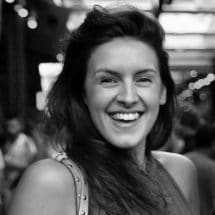 Kimberley Lovell
Kimberley Lovell is a staff blogger at Hult, where she creates and manages content for the school's masters programs. With a background in the creative industries, her interests revolve around the ever-changing fields of technology, design, and entertainment.
Related posts