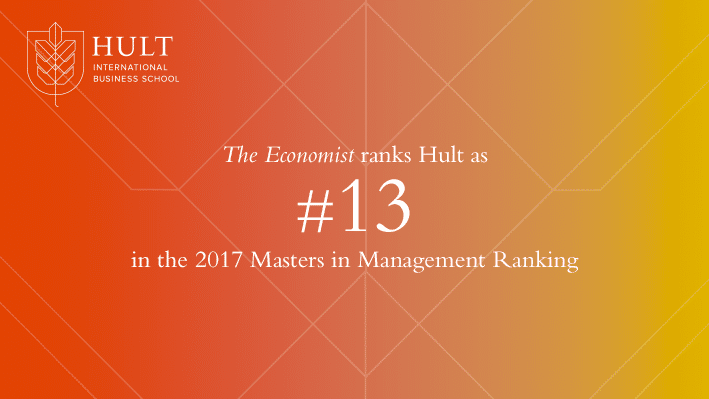 Hult International Business School's Master of International Business program has debuted at number 13 in The Economist's first ever ranking of the world's best Masters in Management programs.
The ranking is a recognition of the school's diversity, global reach, and graduate career results.  The Hult review saw the program rank at the top in many categories including:
#1 for Diversity of Recruiters
#1 for Student Diversity
#1 for Geographical Diversity
#1 for Overseas Study Programs
#1 for Languages on Offer
#3 for Overseas Alumni Chapters
#9 for Post-MiM Salary
The Economist's Masters in Management 2017 Ranking reviewed general business programs where no more than 40% of the degree is focused on a single functional area. You can review the full ranking here.
According to The Economist, Masters in Management degrees are now the most sought-after graduate degrees, particularly in Europe. They pinpoint the main difference between a MiM and an MBA as the work experience of the students and say that, whereas those taking an MBA are often looking to change careers, those on MiM programs are looking to land their first job: "Masters in Management degrees cover nearly all of the same academic ground as their posher cousins [MBAs]. But instead of recruiting people who have already been working for years, MiM students tend to join programmes straight from their undergraduate degrees. Students who study an MBA at a school ranked by The Economist typically have six years' work experience. Those listed on our inaugural MiM ranking have less than 18 months."
Hult's President, Dr. Stephen Hodges, said:
"We're pleased that Hult is ranking so highly in The Economist's inaugural rankings of Master in Management programs. Our Master of International Business program offers a distinctive global experience that employers value and reward, so we're proud to see this recognition reflected in the categories we placed top in."
This ranking, conducted by The Economist's Which MBA? means Hult's Masters program joins the school's other programs in being ranked among the best in the world including:
17th Best International Business School – Bloomberg Business Best Business Schools 2016
19th Best Custom Programs, globally – The Financial Times, Executive Education rankings 2016
50th Best EMBA, globally – The Economist, Which MBA? 2016
60th Best MBA, globally – The Economist, Which MBA? 2016
Bachelor of Business Administration program listed in Bloomberg Businessweek's Best Undergraduate Business Schools 2016
About Hult International Business School
Hult is a new kind of business school for the global generation. With campuses in Boston, San Francisco, London, Dubai, Shanghai, and New York, students can study in up to three of these cities during their one-year graduate program. The school's student body is made up of more than 150 nationalities with students speaking 105 languages between them.
Hult's alumni network of more than 17,000 graduates work in 170+ countries across the globe and there are 70 clubs and chapters active in over 60 countries worldwide. Employers value Hult graduates' international outlook and entrepreneurial flair which has yielded impressive employment statistics for the Class of 2016.
This latest ranking adds to a growing list of publications who have reviewed Hult's programs and ranked them among the best in the world, including:
---
To find out more about Hult's programs, visit the website or contact the school directly.
---
More reading:
Hult offers a range of highly skills-focused and employability-driven business school programs including a range of MBA options and a comprehensive one year Masters in International Business. To find out more, take a look at our blog Hult scores in top 20 in The Economist's Which MBA? ranking for 2019. Download a brochure or get in touch today to find out how Hult can help you to learn about the business world, the future, and yourself.
Related posts