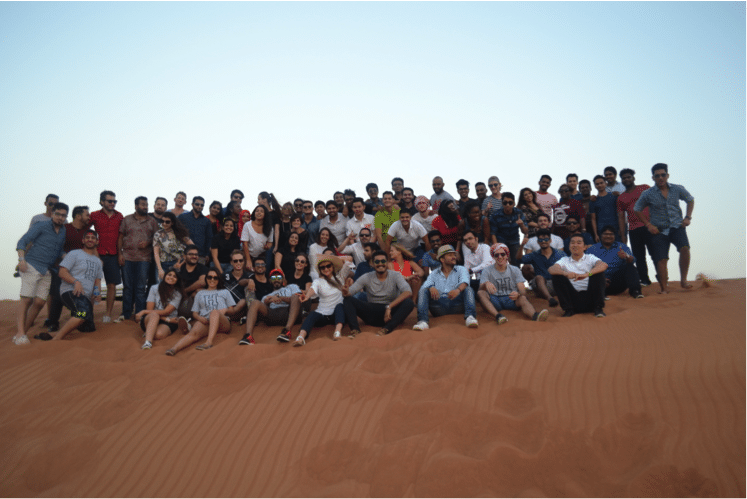 90% of Hult students are international. So when we welcome a new class onto our campuses, we are also welcoming them to a new country. At every campus, we hold welcome events designed to help students settle in to their new city and to give them some insight in to the local culture.
This year, Hult Dubai's new students visited the Sheikh Mohammed Centre for Cultural Understanding which promotes awareness of Emirati culture. Their moto is "Open Doors. Open Minds" – something that really resonates with Hult and our students.
Students were joined by an Emirati host who gave a talk on local culture and religion to give them a personal introduction to living in Dubai.
"Our host created a very comfortable, homey atmosphere and encouraged us to ask any question we wanted. He shared some fun and also very personal stories and did a great job explaining the local culture to us." – 

–Miroslava Vavlova, MBA Class of 2017
Students also shared a delicious feast of Emirati food with their host that was much enjoyed my everyone and gave them opportunity to ask more questions in a relaxed environment – a warm welcome to Dubai.
"It was a great introduction to Arabic culture with awesome food."

– Matus Horniacek, Masters student Class of 2017
Many Hult students come to Dubai looking for adventure and a new experience, we made sure their introduction to Dubai gave them just that! The new students were treated to a "Desert Safari" and had lots of fun driving around the desert at top speed and bonding with their classmates before sharing a local meal together, and trying out Emirati dancing and Shisha.
"First time experience! Exciting! Thrilling! Pumping! Adrenalin rush!"

– Arvind Behera, Masters student Class of 2017

"The best part about driving around the desert was getting to know the people in the car better! Sharing an adrenaline rollercoaster ride brings people together."

Miroslava Vavlova, MBA Class of 2017
Over at Hult Boston, new students dressed in nautical themed outfits for a boat cruise on Boston's iconic Charles River.
As well offering breathtaking views of the city's skyline by night, the students embraced the party atmosphere and got to know their classmates on and off the dance floor!
In San Francisco, our undergraduate students were introduced to the Californian lifestyle with a beach barbecue and bonfire, while our graduate students danced the night away at the Bently Reserve in one of San Francisco's most historic buildings. Undergrads and grads also came together during Welcome Week for bus tours of the city and to see their local baseball team – the San Francisco Giants – play at the AT&T Park. Welcome events in London included a river cruise along the Thames, past some of London's most famous landmarks.
Welcome to Hult Class of 2017!
---
If you would like to find out more about Hult's global business programs, download a brochure here.
---
Hult offers a range of highly skills-focused and employability-driven business school programs including a range of MBA options and a comprehensive one year Masters in International Business. To find out more, take a look at our blog Hult Business Challenge: Interview with Boston's 2017 winner. Download a brochure or get in touch today to find out how Hult can help you to learn about the business world, the future, and yourself.
Related posts