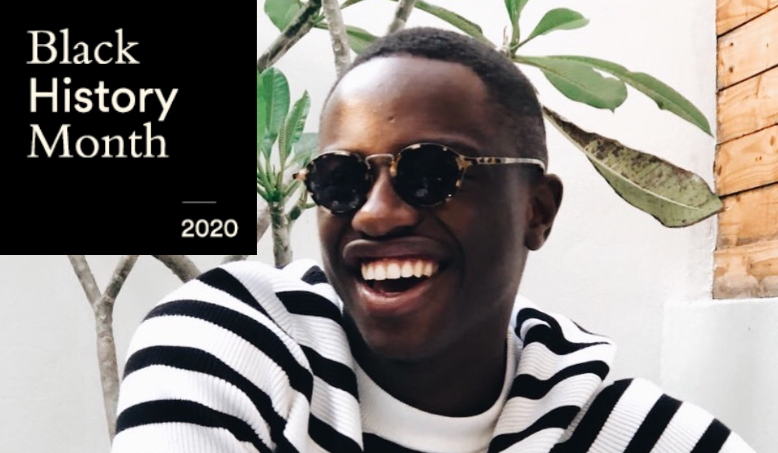 To mark UK Black History Month, we've asked our faculty, students, and alumni to tell us about someone from the Black community—past or present—who has been a big influence in their lives and deserves recognition. In this third post, we catch up with Ian Zaqueu, a current undergraduate student at Hult, to get his take on global injustice and who inspires him.
Where did you grow up?
I was born in Brazil but grew up in Belgium. I was there for about nine years before moving to Italy for three years and now I'm living in London. I moved around so much because of my mother's job, she's a diplomat so we always had to move around. Both of my parents are Mozambican diplomats and so that multinational feeling is sort of embedded in my core. Changing environments, languages, and cultures has been amazing and so enriching.
Who is the special person that you'd like to recognize?
My mother is my idol. I appreciate many celebrities but my mother is my only idol. She had to raise her own siblings because her mother passed away when my mother was in her early 20s. Being the eldest out of ten, she undertook the responsibility of raising them. Whatever came her way she never stopped, and she got to where she is today because of her perseverance. For me that is amazing because, as a woman in a world that's dominated by men, it's so impressive to see. When I see women succeeding, I'm like "you got a seat at the table, you deserve it."
My mother is my idol.
What are your thoughts on Black history?
Society has normalized and accepted the injustice that exists around the world—I mean look at what has been happening in the US over the last couple of months and what has been happening in Nigeria over the last couple of weeks. The theme of police brutality is a recurrent one, in many countries around the world. I'm appalled to see what has been happening in Nigeria over the last couple of days. The brave #endsars protesters have been getting killed—simply because they are standing for what they believe is right.
The theme of police brutality is a recurrent one, in many countries around the world.
I think there's only one way you get out of it and that's with economic empowerment. I'm starting to see Black people all over the world owning their own businesses and that's beautiful. For example, Rihanna recently had her Fenty show and it's a great representation of what the Black community is about. It allows young girls of color to see themselves in positions of success. Rihanna was able to show Black women in all of their glory and natural beauty—it's not fake and I love it.
What are you doing to be part of the BLM movement?
I'm in conflict with myself. As an African person I feel there's so much to fix in Africa, but then again, I'm a Black person in the UK. And it's like, which fight do I fight first?
I've come to the conclusion that, as a Black person, I ought to be an example of breaking boundaries and stereotypes. For instance, I speak Italian, and you rarely see Black people speaking Italian. So every time I go to an Italian restaurant I speak Italian because it's a surprising gesture that changes the way the people who work there perceive me. I think people are very quick to judge a book by its cover and that's, in part, why I actually wrote a poetry book.
Representation is a top priority for me and I want people within the Black community to feel represented—feel like you can do whatever you want, you can be vulnerable, you can be whoever you want to be.
People are very quick to judge a book by its cover.
Tell us more about your poetry book
It's called Silent Tears and I started writing it about four years ago when I moved from Mozambique to Italy. When I moved there, I felt quite lonely because, if you can't speak Italian, it's hard to integrate. I had just been through a breakup and I had a lot to get off my chest. The poems are about love and the pain of loving; whether it be self-love, loving others, friendship love, or romantic love.
The purpose of the book was to help people heal. Allowing them to realize that they're not alone and that others feel what they feel or are experiencing the same thing. I got in touch with my brother (who's an amazing photographer) and I asked to use his photos in the book. I then paired each photo to individual poems.
---
Read the first and second posts in this series for UK Black History Month for more insights and inspiration from Hult students, alumni, and faculty.
Ian Zaqueu
Ian Zaqueu is a current undergraduate student at Hult and comes from Mozambique. He considers himself to be a creative entrepreneur and as an example of this, he launched his first first fashion collection at the Mozambique Fashion Week at 14 years old. Now, Ian is the owner of a consultancy company focused on providing guidance to Mozambican businesses and western businesses which seek to enter an African market. He also owns a fintech company in Mozambique which works in partnership with the Mozambican central bank.
Related posts