Black History Month: Mariam Shodeinde, EMBA Alum

Mariam Shodeinde, 3 years ago
5 min

read
To mark UK Black History Month, we've asked our faculty, students, and alumni to tell us about someone from the Black community—past or present—who has been a big influence in their lives and deserves recognition. In this second post, we catch up with Mariam Shodeinde, Hult Executive MBA alum and Chief Growth Officer at Claned Group, to find out what Black history means to her and who inspires her.
What does Black history mean to you?
I grew up in Nigeria and I've been living in Europe (Helsinki, Finland) for only 12 years. Before that, Black history meant nothing to me. Where I lived, everyone looked like me; even the word "Black" didn't necessarily mean that much to me. But now, for me, Black history is just truth. Truth that needs to be told and retold.
Very often, the power and the impact of Black people are forgotten. So that's what Black history means to me—bringing those truths to the surface, of the power of Black people and our place in the world.
Black history is just truth. Truth that needs to be told and retold.
Who have you chosen to recognize for Black History Month?
There's not just one person—there are so many, I have a list! These are people I know whose work, in Africa primarily, and impact on the continent I've been following for some time. Black people doing great things with very little. Three that I would like to call out are Bosun Tijani, co-founder of CcHUB in Nigeria; Jessica Francisca Colaço, co-founder of iHub in Kenya; and Sangu Delle, an investor in early-stage startups across Africa. In the beginning, they had to get funds to lay fiber optic cables under the sea around Lagos so that they could have the internet! That's where they had to start from.
These are the people that inspire me, people that focus on building long-term sustainable solutions.
Now, we're seeing stories from all around Africa about these innovative startups that are changing the world. It's because of the work that these people have done; and no one knows their names. Because they're bricks in the foundation and no one sees those, you only see the shiny finished product.
These are the people that inspire me, people that focus on building long-term sustainable solutions. They've been doing this for years, and some of the results are just starting to be visible but it's going to take maybe another ten years for the impact of what they're doing to be felt—and maybe no one will ever know their name. Those are the kind of people that really inspire me.
Why do you think it's important that they're recognized?
At the beginning of this year, I started to create a list of inspirational people because I'm working on a project that aims to share some of their stories and career paths, so that other young Africans, or anyone, can see what they've done.
The main reason I'm doing it is not to celebrate them, it's to show the how. Because representation is great and young people can say: "Ok, I see someone like me who's in this position and I now have this belief that I can do it too." But then what?
They need to know how they got there and what they need to do. So that any young person in, say, Burundi, can see these stories and say, "Ok, I have a path to follow. My studies in school matter because there's this opportunity that I can attach it to. My parents have a farm and we're this rural, agricultural family, but here's this agricultural entrepreneur who's doing these great things and using technology in this way. So maybe I need to take a technology degree program so that I can combine all these elements and create something new."
We need these young people. Especially Black young people, there's so few already in the game.
So these stories are vital to inspire and guide the next generation?
Absolutely. I work with youth groups of teenagers here in Helsinki and there's one thing they know I hate: YouTubers and Instagram influencers with no substance. The thing I've seen is that it's caused young people to stop dreaming, to say: "My dream now is to be an influencer." Well, that's fine, but who's going to change the world? Who's going to go into policy? Who's going develop the next cure or fix climate change or develop sustainable agriculture processes?
We need these young people. Especially Black young people, there's so few already in the game, so I say to them—come on! You really need to aim for more than that! Can you apply yourself a little bit more? Can you dream a little bigger?
How have they influenced you personally?
What I carry with me day to day is their "no excuse" attitude. Because many things will try to grind you down on almost a daily basis. That's something that I take from them: every day is a day to go further toward the goal. No excuse. The government sucks, that's no excuse. They're doing it so I have to keep doing it. I don't have enough resources, well, they've done it. It's resilience. Resilience is what I take from them.
---
Read the first post in the UK Black History Month series featuring Hult entrepreneurship professor, Daniel Rukare.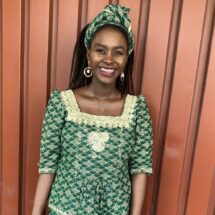 Mariam Shodeinde
Mariam Shodeinde is a Hult Executive MBA alum, co-founder of Adar Impact, and social impact innovator. She works with EdTech innovations focused on the emerging market and Impact business creation and has developed projects for the Claned Group, World Vision, Funzilife Oy, and the Ministry of Foreign Affairs of Finland. The programs have included implementing technology to scale up access and quality in teacher in-service education in Kenya, vocational skills development for youths in Nigeria, and distance learning in Zambia and Uganda.
Related posts