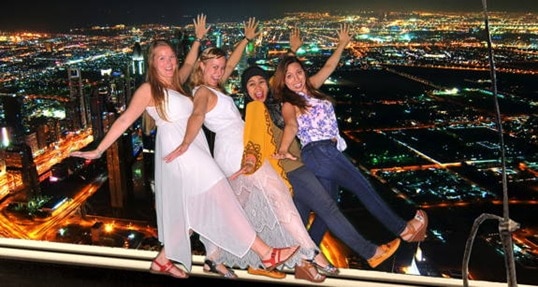 A Malaysian in Dubai

Hult News, 9 years ago
0
5 min

read
When I decided to rotate to Dubai from the London campus, my first thought was this: at least there will be sun! Indeed, it was all sun—and sand, too. On all the days we could, fellow students and I explored the city—the malls, the dessert, the souks, the marina, the beaches, and even the water parks. Though our weekdays days were packed with electives for Module D, my housemates and I still managed to continue learning about the people and rich culture in our new city. Or, perhaps I should say, a luxurious city that features the tallest building in the world, the Burj Khalifa.
Dubai fascinated me, and my experience convinced me that it is an easy and fun city in which to live. Here are my top eight observations of living in Dubai:
1)   It is a truly culturally diverse city. Dubai is filled with many expats and tourists from all over the world. It was not unusual to see Emirati walking down the street in Abayas and Kanduras, alongside visitors wearing shorts and t-shirts. Abu Dhabi on the other hand, which is not that far away (about an hour and a half) is a more traditional city, and is not to be missed. Some of the sites to see include Ferrari World, Yas Waterworld Park, the Sheikh Zayed Grand Mosque, and the Emirates Palace—they made my weekends.
2) The main language is Arabic, but everyone speaks English. Communication was not a challenge, and I could easily get my daily routine done. Making the attempt to speak a few Arabic words is great, too. Some phrases I picked up are: "shukran", which is "thank you"; "khalas", which means "It is done, no problem!" One of my favourites was "yalla, yalla", which is "Come on lets go! Quickly!" And I often used the greeting "Assalamua'laykum", instead of saying "hello".  The locals appreciate these efforts.
3) Public transportation is convenient. Travelling in the city via taxis and the Metro was easy and inexpensive, although Metro service is limited to the more popular areas of the city. Taxis are easy to catch and cheap to use. Converting rates into pounds, I never paid more than 10GBP ($17 USD). As a student, that is a total win! I can't forget to add that women have their own designated compartments on the Metro, and in taxis. It isn't unusual for men and women to have separate areas in places like spas, hair salons, and gyms.
4) There are ample restaurant/eating choices. My personal favorites were located near the school, such as the Italian restaurant Oregano, of which my classmates and I couldn't get enough! Subway, Dominos, a French bakery, a German kebab and Japanese/Thai/Korean restaurant are all situated right in front of the Hult campus. As a Muslim, it was very convenient to eat because I had easy access to Halal food—food that is permitted by Islamic dietary guidelines. I was able to eat a decent meal for AED45, either a bowl of rice or a Subway sandwich for AED28, and that's roughly GBP7 and GBP4, respectively.
5) Clothing restrictions are not a big issue. Certainly no one is wearing their swimwear anywhere other than the beaches, but there were no major constraints in terms of what my housemates and I wore as we explored the city. Although wearing a shirt and long jeans or pants are appreciated, it is still acceptable to wear shorts in the malls.
6) Dubai residents—from natives to long-term expats—were very welcoming. If you've never studied in, or visited the Middle East, it's understandable that you may have perceptions about the region, but try not to let them cloud your judgment.  In stores, taxis, and souks, most people are friendly and intrigued to get to know visitors to the city. Say hello to everyone and anyone. The city has an "open vibe"; people are open to learning about you and providing a helping hand if you need one.
7) The weekend is composed of Fridays and Saturdays, not Saturdays and Sunday. Even though we had classes Sunday evenings, I always felt like I had an extra day; we would fill our Sundays with outings during the day—and still managed to get a lot of work done.
8) Dubai weather is HOT. It's unlike any "hot" I have ever known. But fret not; there are days when the warm weather is not so extreme, and plenty of buildings everywhere provide cover. Well, I should say that while I would run for the shade, some of my friends welcomed the opportunity to go sun bathing at the beach.
Of course I can't leave out all the glitz and glamour. It was fun to see all the Ferraris, Lamborghinis and Rolls Royces rolling through the streets every few minutes. In fact, I became so used to it that there came a point where I wasn't surprised at all to spot a luxury car. While the lives of some are lavish, Dubai is still an affordable city. All in all, my expenses living in Dubai City were similar, or slightly less than my living expenses in London, where I spent my first three modules. 
I got to live and study in Dubai for six weeks, and at the end of it, I found my experience bittersweet: too much fun in a very short amount of time. It was an invaluable experience getting to know another culture, being respectful of certain differences, all while still feeling comfortable as a foreigner. I wish I could have stayed for another Module, but now I am exploring and studying in a new city: San Francisco. And that my friends, is another story!
---
If you would like to find out more about Hult's global business programs, download a brochure here.
---
Kickstart your career in a state-of-the-art innovation hub by studying at Hult's Dubai business school. To find out more, take a look at our blog Dubai entrepreneur makes cosmetic change to career path. Download a brochure or get in touch today to find out how Hult can help you to learn about the business world, the future, and yourself.
Related posts