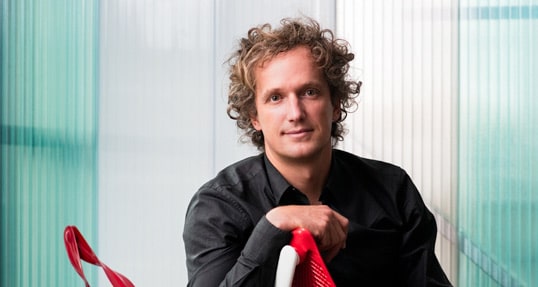 NEW YORK, June 26, 2013 – The Hult Prize is proud to announce an exclusive collaboration with legendary designer Yves Béhar, who will create a unique award, which the winning team will receive each year along with $1 million in non-profit seed funding.
Currently in its fourth year, the annual competition crowdsources ideas from the brightest college and MBA students around the world after challenging them to solve a pressing social issue around topics such as food security, water access, and education.
"Yves focuses much of his work on using innovative design to help socially-driven businesses do well by doing good," said Philip Hult, a member of the Prize's funding family, board member of Hult International Business School, and Co-Chairman of EF Education First.  "I have been following Yves' work for a long time and we could not be more pleased to partner with him to create what will be a centerpiece of President Clinton's annual presentation ceremony."
Béhar is a multiple award-winning designer and entrepreneur, who currently serves as Chief Industrial Designer for One Laptop Per Child, and Chief Creative Officer at consumer electronics firm Jawbone. He is also the founder and CEO of the award-winning industrial design firm Fuseproject, and co-founder of August, a smart lock and home tech company.  Béhar was named "Designer of the Year" in 2011 at the Conde Nast Innovation and Design Awards and has worked on behalf of global brands including PUMA, MINI, Samsung, General Electric, Sodastream and Prada.
"Each year, the Hult Prize challenges more than 10,000 students to come up with some of the most breathtakingly innovative and disruptive ideas focused on improving the lives of people around the world," said Béhar.  "I am honored that my design will serve as a lasting representation of the winning team's hard work long after they invest the prize money in bringing their idea to life."
The Hult Prizeis sponsored by Hult International Business School, which hosts the competition's regional finals on its five international campuses in Boston, San Francisco, London, Dubai, and Shanghai. The final round is held on the first day of the Clinton Global Initiative annual meeting in New York where President Clinton personally presents the award to the winning team.
About Hult Prize
The Hult Prize is a start-up accelerator for social entrepreneurship which brings together the brightest college and university students from around the globe to solve the world's most pressing issues. The annual initiative is the world's largest crowd-sourcing platform for social good. The Hult Prize has been funded by the Hult family since its inception in 2009. For more information, visit www.hultprize.org.
Hult offers a range of highly skills-focused and employability-driven business school programs including a range of MBA options and a comprehensive one year Masters in International Business. To find out more, take a look at our blog How the Hult Prize turned me into a social entrepreneur. Download a brochure or get in touch today to find out how Hult can help you to learn about the business world, the future, and yourself.
Related posts