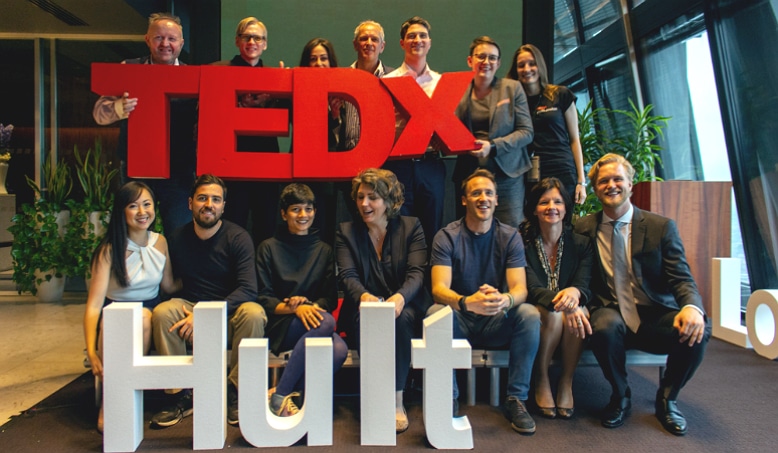 This year, we had the privilege of organizing our very own TEDx for Hult in London.
On April 28th, at the very tip top of the London skyscraper known as "The Cheesegrater," TEDxHultLondon unfolded with eleven inspiring and thought-provoking speakers and a musical performance. The event was hosted by Hult's very own Marketing Professor, David James.
The theme of our event: A Shift in Mindset.
The mindset that we have at any given moment influences how we act, react, and make decisions. Yet, with a slight change in mindset, our perspectives and outlook on an issue can completely change. This is the theme we wanted to explore—how a small shift can have a big impact.
This theme was broad enough to cover a diverse range of topics and ideas for the talks. It was also highly relevant and relatable for our audience. Our main goal was for our speakers to present concise, practical, and actionable takeaways that the audience can implement in their lives to make a change—no matter how big or small—today.
This theme also fits perfectly with Hult International Business School's theme for 2018: A Year of Positive Impact. Fostering a growth mindset is the basis of everything that we do at Hult.
"The mindset that we have at any given moment influences how we act, react, and make decisions."
The team behind TEDxHultLondon
The TEDxHultLondon organizing team was made up of 10 ambitious members from Hult's postgraduate campus, with roles from Speaker Curation and Marketing, to Audience Coordination and Videography.
Once we set the theme of our event and received our TEDx license, our next big challenges were to curate our line-up of speakers, find a venue, seek sponsorship, and advertise the event. Our final speakers and their ideas covered a wide spectrum of topics, including biohacking, contemporary art, Blockchain, and transformational HR, to name just a few.
With the generous help of our key external sponsors, MS Amlin and Aon, we were able to secure the 45th floor of The Leadenhall Building (also known in London's skyline as "The Cheesegrater"). This incredible venue provided our event with a 360-degree view of London, nearly 225 meters above the ground.
As a student-run, not-for-profit event, every effort from every team member, regardless of their role, was put into finding support within our community for every aspect of our event. As with many not-for-profit events and organizations, this definitely proved to be our biggest challenge. We were dreaming big and strived to host the best TEDx event in London for our school.
"As a student-run event, we were dreaming big and strived to host the best TEDx event in London for our school."

Kicking off the day
The day started at 12:30 pm for our attendees, where they checked in at reception and were brought up to the top floor of The Cheesegrater to collect their name tags and swag bags. (Fun fact: Pokemon was being filmed on site that day, so our guests walked through a movie set and into an office named "CNM" instead of MS Amlin!)
All name tags included three unique topics each attendee listed as "what to talk to me about." This aimed to inspire conversations and networking throughout the day.
Margareta James, Director of the Harley Street Wellbeing Clinic, helped us kick-off with a talk on "The Idea of You: Shape Your Own Reality." This was followed by Mariana Bontempo, an experienced project manager from Applied Blockchain, explaining the paradigm shift from a centralized to a decentralized system.
Next, Mark Godfrey, Senior Curator at the Tate Modern, shared his latest exhibition, "Soul of a Nation," describing how it shifted the mindset of not only its viewers but also the Tate Modern as an institution. Finally, Praveetha Patalay, Lecturer at the University of Liverpool, closed the first period with a talk on "Rethinking Mental Illness."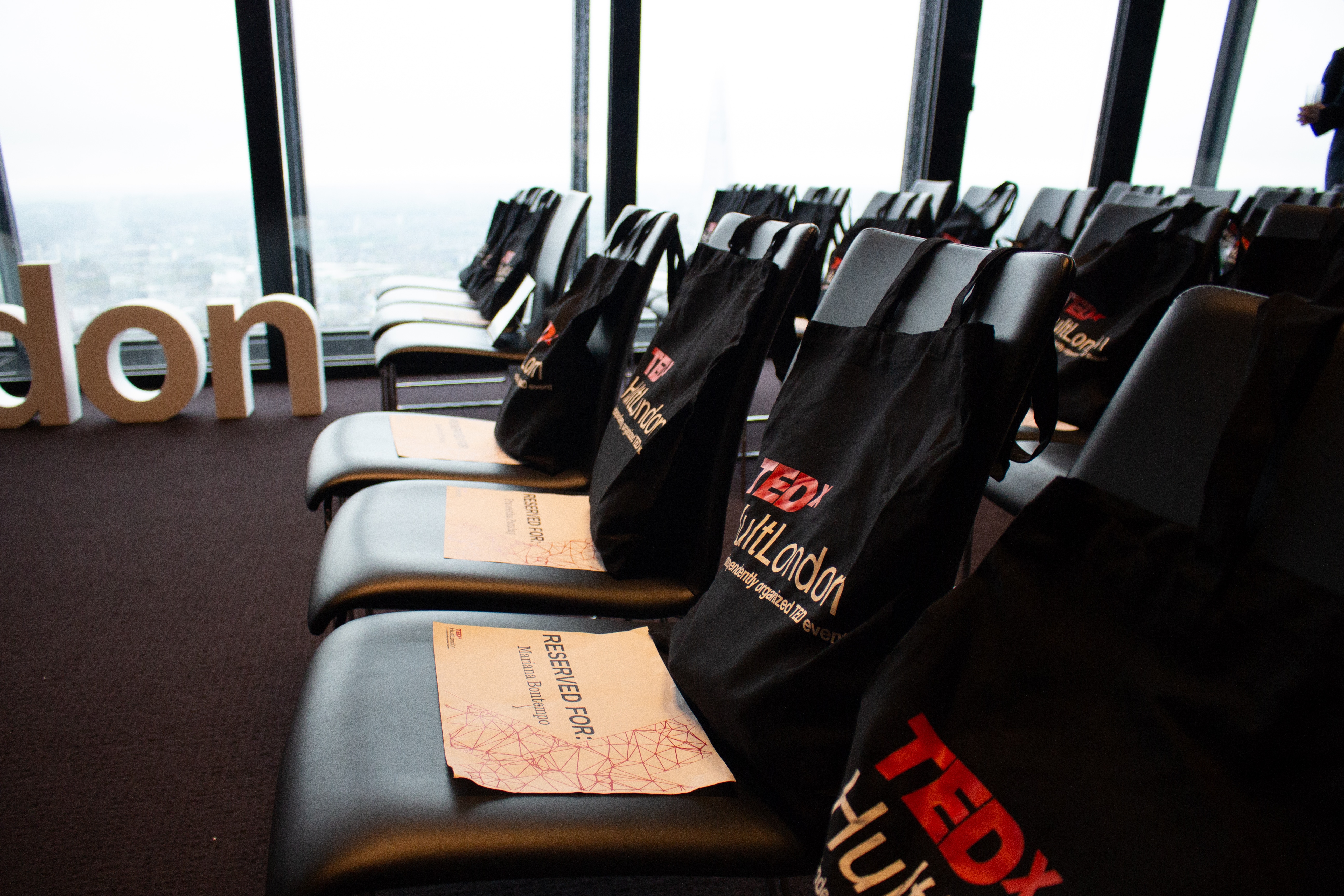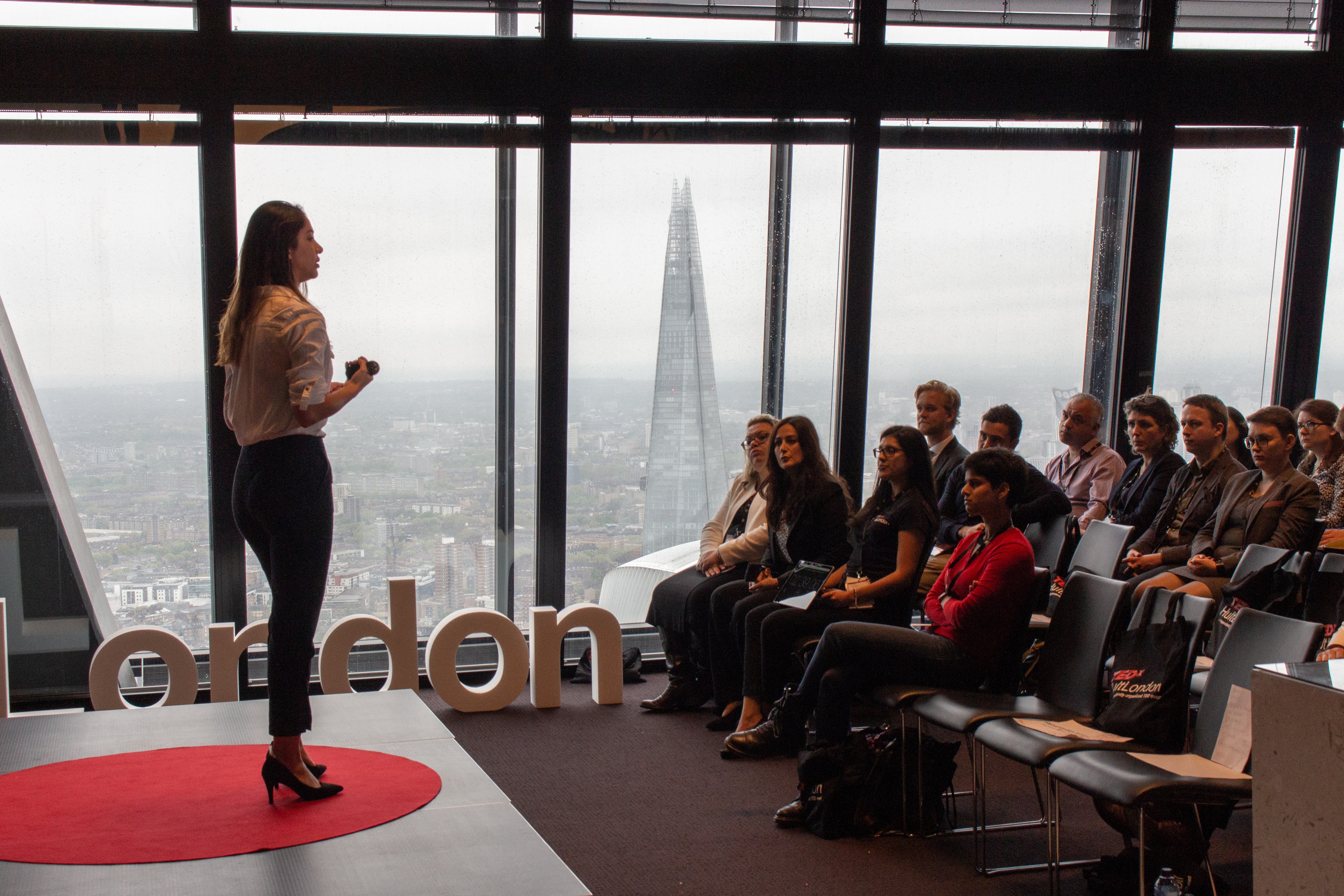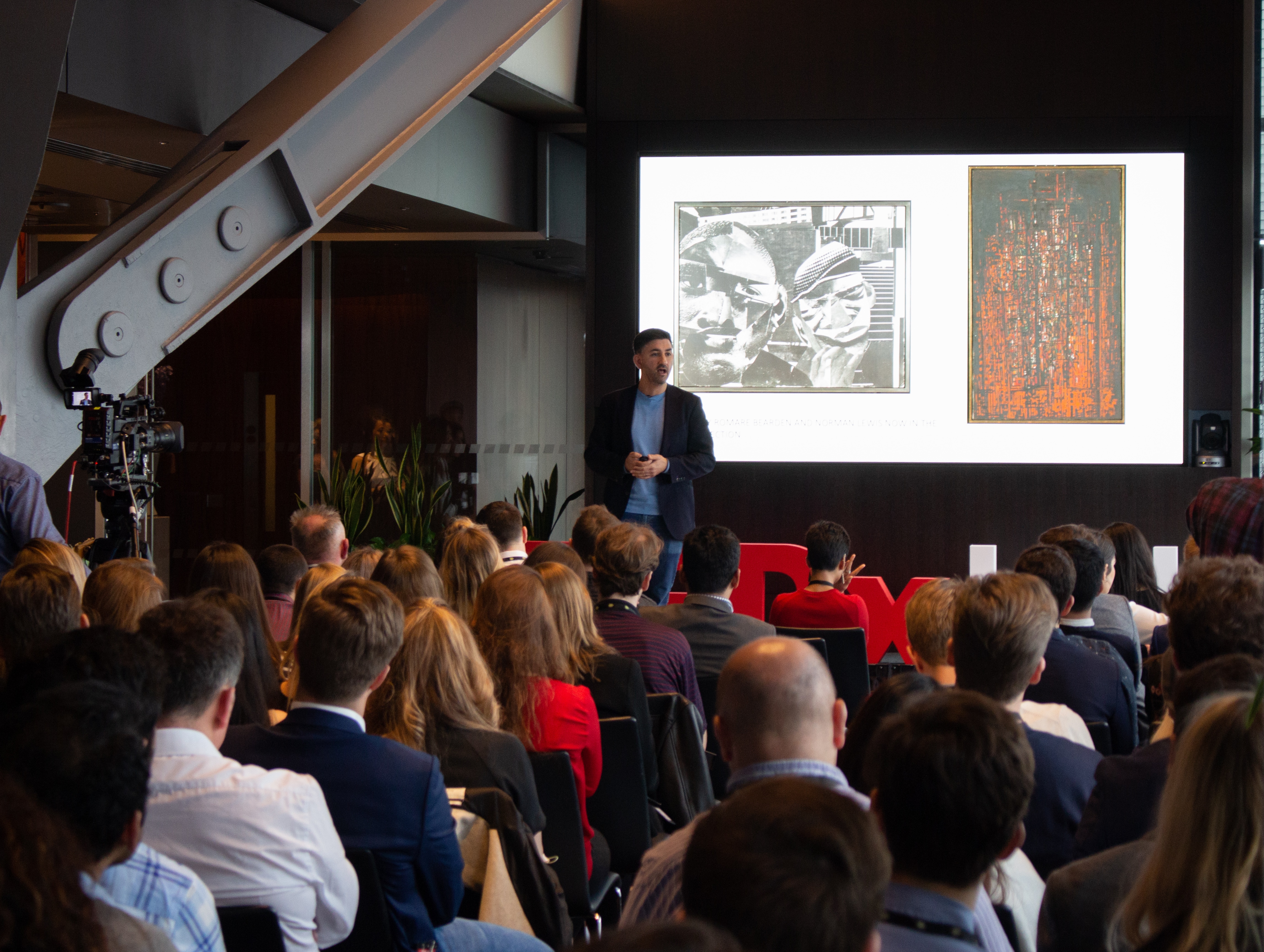 An inspirational afternoon
After a short break, Hult London's very own Samineh Shaheem (aka Dean Sam) shared an inspiring talk about limiting beliefs, titled "This Talk Will Change Your Life!" Her talk was followed by Viktor Johannes Matre from Amnesty International Norway on "Using Our Freedom of Expression for Those Who Can't."
Next up was technology entrepreneur Teemu Arina with a thought-provoking talk on biohacking, titled "Unleash Your Inner Potential." Finally, to close the second round of talks, Kydd Boyle of social enterprise Horizons Next Gen shared an intriguing and unexpected personal story, illustrating how communities can shape behavioral patterns.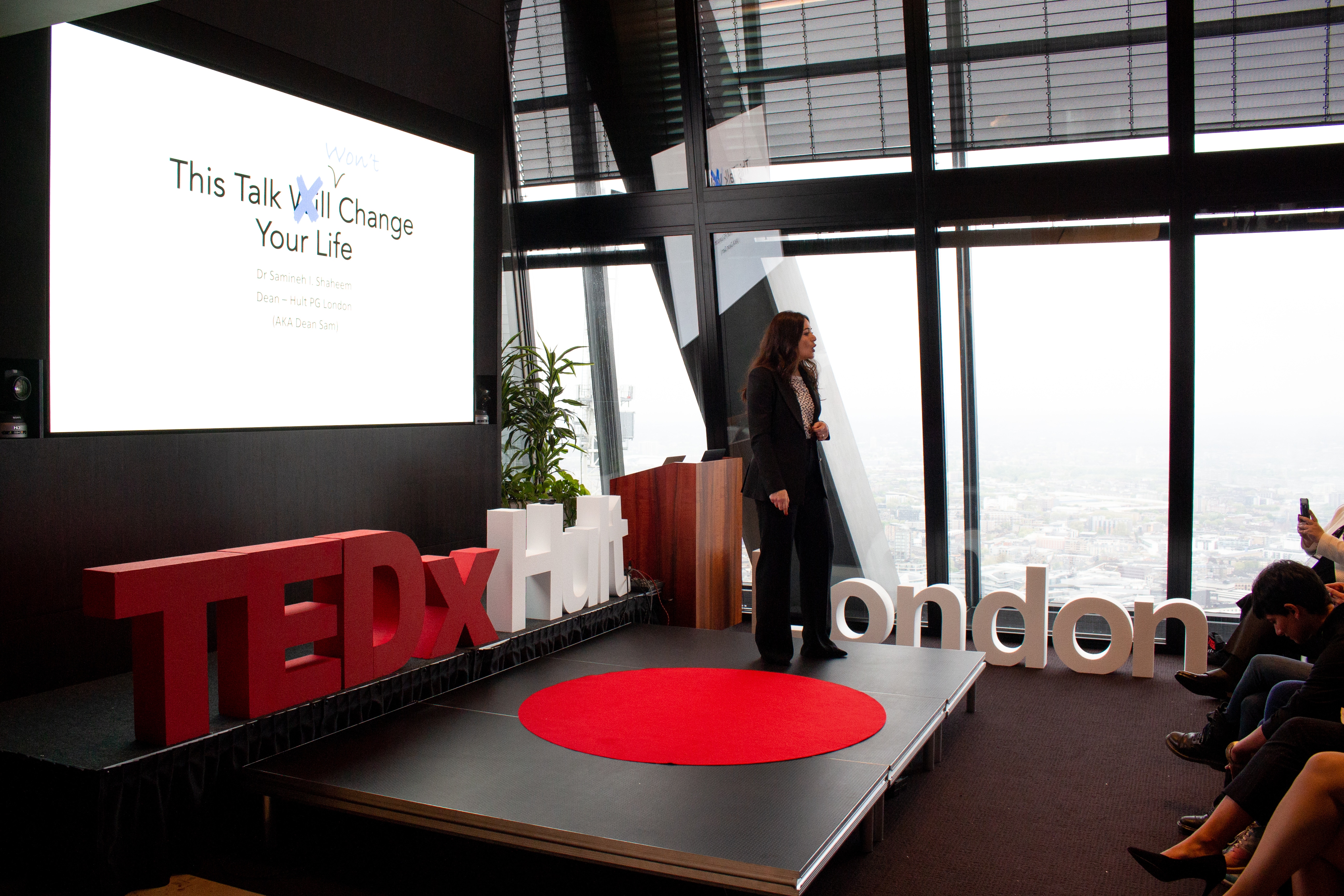 Energy levels were at an all-time high for our final three captivating speakers. Perry Timms, Founder of People & Transformational HR, began with a talk on "People-powered Design," followed by solo trans-Atlantic rower, Stephen Shanly, who shared the story of his journey. Our event's final talk was delivered by Ashridge Executive Education's Trudi West, who led a discussion on "The Darkside of Integrity."
As you can see, within the theme of a shift in mindset, our line-up of speakers brought eleven very unique and new ideas to the stage. We must also give recognition to our speaker coaches Dr. David James and our very own Hult MBA alumna, Edita Kaminskaite, who worked tirelessly to practice and train with our speakers.
Our fantastic audience members included Hult undergraduate and postgraduate students, alumni, faculty, and staff, as well as business professionals from our extended network.
An evening of networking
After the final speaker, the event continued with an evening of networking. Audience members and speakers were able to share a glass of wine and nibbles and discuss the ideas that were gleaned from the day. For the TEDxHultLondon Organizing Team, it was an absolute honor and dream come true to be able to host such an event for our school.
We have become our own little TEDx family and will be forever grateful to Hult for bringing us together, supporting us in every way possible, and giving us this opportunity to put on our dream event.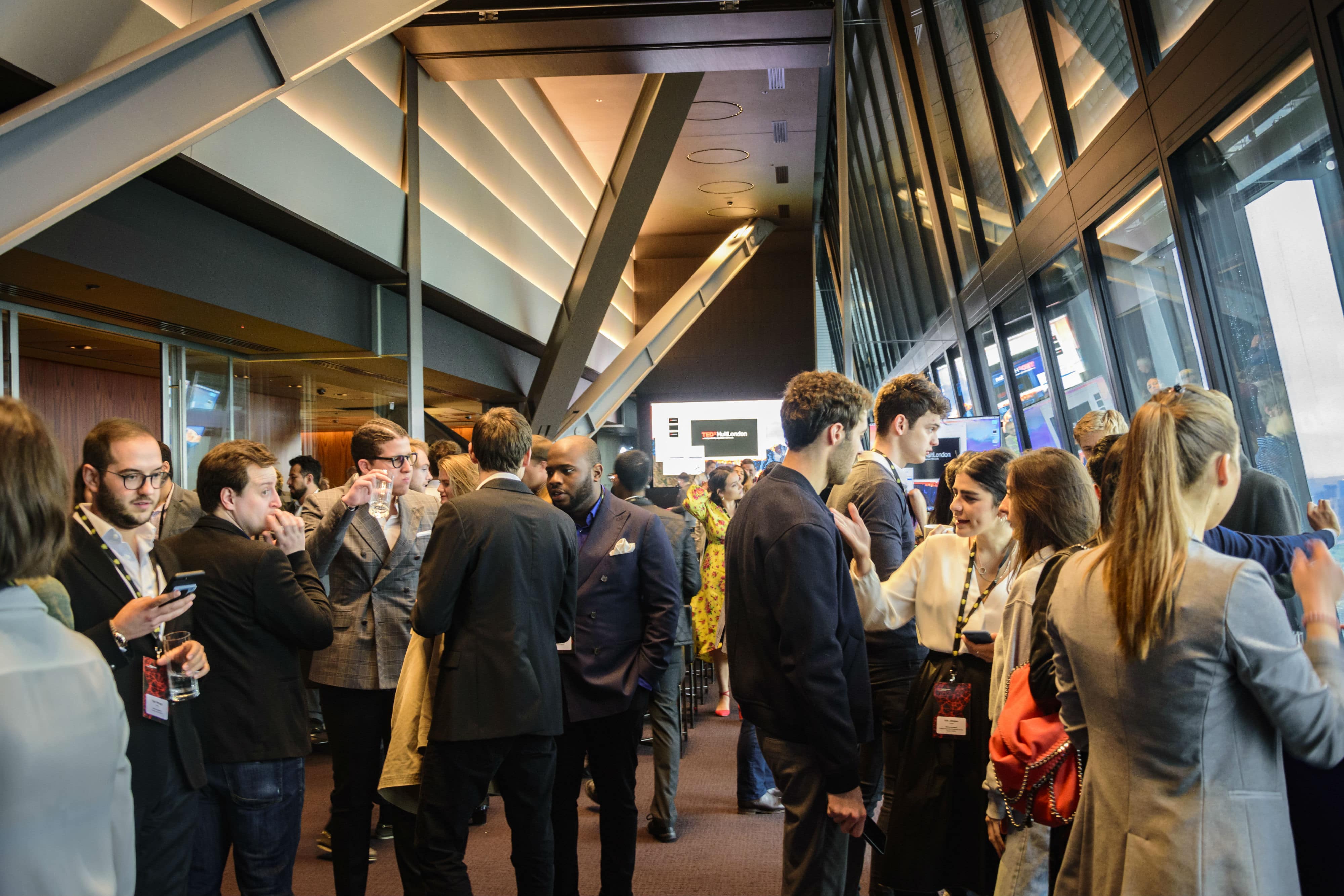 For anyone out there who loves TED talks and has ever considered organizing their own local TEDx event, it is something that I strongly recommend pursuing. The journey and destination were more than anything that I could have ever imagined. It's an adventure you get to share with your team members, which will be remembered forever.
Of course, it is not an easy undertaking and will require your dedication, hard work, passion, and energy (lots of it!) but don't all things that are worth doing? And I promise, it is worth it!
Thank you so much for reading and please stay tuned for our TEDx speaker videos, which are coming soon!
"We have become our own little TEDx family and will be forever grateful to Hult for bringing us together."

Kickstart your career in Europe's biggest startup cluster by studying at Hult's London business school. To find out more, take a look at our blog TEDxHultLondon: The idea of you — shape your own reality. Download a brochure or get in touch today to find out how Hult can help you to learn about the business world, the future, and yourself.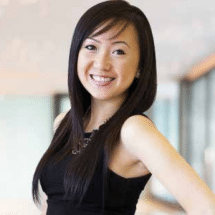 Grace Mak
Grace is a Masters in International Marketing student. Originally from Vancouver, Canada, she has studied in London and Dubai with Hult and is completing her degree in New York. Along with taking the lead in organizing TEDxHultLondon, she is also a judge and coach for Pitch@Palace, working with start-up entrepreneurs from participating commonwealth countries.
Related posts