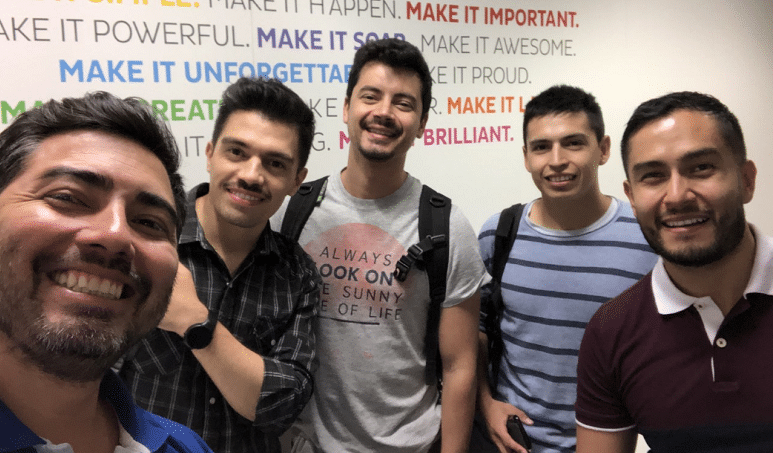 Gustavo Huenelaf launches Big Blue People, a digital marketplace for services, on May 1st. We spoke to the Argentinian national and Hult EMBA Class of 2017 grad to mark the launch and hear how an Executive MBA at Hult unlocked his entrepreneurial spirit.
Congratulations on your upcoming launch! What led you to launch Big Blue People?
My career has led me to many countries around the world. From the Argentinian navy, to finance for Microsoft and Pfizer in Ireland. Then on to Belgium and now Switzerland, where I'm working for Novocure as Director for Global Treasury & EMEA Business Finance. So I know how tricky the "settling in" process can be. Each time I moved to a new country, I'd have to ask local contacts for recommendations for local services. Everything from an electrician or cleaner to a hairdresser. Throw in the confusion of learning a new language – I figured technology must offer an easier way.
How does Big Blue People simplify the process?
Big Blue People puts all of these services in one marketplace and incorporates reviews, price comparison, a booking portal – under one roof. Kind of like an Airbnb for services. We're launching in Argentina this month. Then we're targeting Colombia and then Brazil. We already have over 10,000 followers in each of these countries. We can't wait to get started and learn along the way.
We also want to give back to the community so we're allocating 1% of our net income to NGOs that build student housing. This is a major issue in Argentina as well as other countries across Latin America, where universities are public but some people can't afford the fees to cover rent.
How did you get started?
My Executive MBA was a major factor. It really was a transformative experience. I originally chose to pursue an EMBA so that I could get to the next level at work. I got the promotion but I also discovered my passion for entrepreneurship.
I chose to pursue an EMBA so that I could get to the next level at work. I got the promotion, but I also discovered my passion for entrepreneurship.
A number of friends from my EMBA cohort are involved. Pavel Dmitriev is the company's lawyer. Sofía Pineda, from Mexico, is assisting on the Strategy side as well as Alina Tavasiti, who is looking to gain experience towards her own startup.
The name Big Blue People actually comes from a concept I learnt at Hult – this is what we became after we went through our transformation process. I used the business model for one of our challenges. And I learnt so much from my teammates who brought diverse skillsets with them. Now I think I can honestly say that I am not just a finance person–I have a well-rounded skillset and I draw on all this experience daily.
Why did you choose to study in London?
I enrolled to Hult London when I was living in Brussels. It was easy to take the Eurostar to class once a month. During this time a former boss contacted me about a role in Switzerland so I moved there part-way through my studies. I liked that Hult was so flexible in terms of study location. My new company supported my studies so I would travel to the Dubai or Shanghai campuses for some classes and combine this with a 'working holiday.' London is a great place to be for finance people.
It was easy to travel from Brussels to London campus for class once a month. I also attended Dubai and Shanghai campuses and combined these trips with working holidays.
What was your biggest challenge?
We have had people challenges in the startup. When you put together all these different nationalities, time zones, skills, backgrounds – and when some are paid while others are doing it for free – there are bound to be some personality clashes. Naturally, we need to work hard to keep the team cohesion. But these are all part of the ongoing dynamics of a startup. The diversity at Hult was definitely a good test run to prepare me for this!
How would you describe the diversity at Hult?
The diversity on campus is just amazing. In my cohort only a few nationalities were represented more than once. Colombia, Argentina, U.S., Europe, Israel… And I felt a different regional demographic in the Dubai and Shanghai campuses. We have different backgrounds but we all have things in common. You need to step back and consider why someone might think differently. I did have challenges. But different perspectives are what enriches a project.
You need to step back and consider why someone might think differently. Different perspectives are what enriches a project.
What's your advice to incoming EMBA students?
Really make the most of your time on campus. I know we're busy with our personal and working lives but there's so much to benefit from on campus with your classmates. Contribute as much as you can and don't be afraid. Embrace this opportunity and get out of your comfort zone so that you can improve yourself every month. The Hult EMBA is really a transformation that will unlock your motivations. You can make friends for life here. I did. Two of my former classmates recently came to Switzerland and we ran a marathon together. Four of us are meeting up in Wales for our next one.
What are you most looking forward to?
Launching in Argentina! We know there will be obstacles along the way and we're just eager to get there now. I can't wait to see the market reaction. Our technology is easily scalable and we are passionate about covering South America and then bringing the service over to Europe.
---
Find and follow Big Blue People 
Hult's business degree programs instill an entrepreneurial mindset so that Hult grads thrive both in and out of the workplace. Find out more about our award-winning, top-ranked business programs and download a brochure here.
Make the most of what your career has to offer with a Masters in International Business from Hult. To learn more, take a look at our blog Hult ranked #12 and Tier One by CEO Magazine in 2019 Rankings, or give your employability a huge boost with an MBA in international business. Download a brochure or get in touch today to find out how Hult can help you to explore everything about the business world, the future, and yourself.

Mel Cloney
Mel is a staff blogger working in London, and is passionate about the Hult journey. Her writing focuses on faculty, academics, and student and alumni experiences. She's a food, scuba, and running junkie with a penchant for all things French.
Related posts