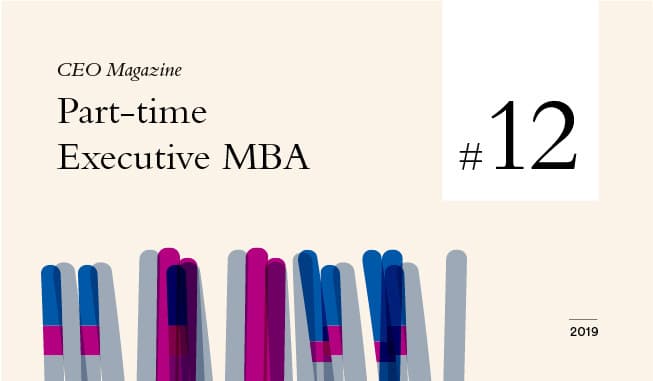 Hult International Business School has been recognized for the fourth year running as a Tier One Business School in CEO Magazine's North American MBA rankings. Hult's Global Executive MBA program is also in the latest rankings, placing 12th globally in its 2019 Global Executive MBA Rankings. This reflects a climb of three places against last year.
The rankings use fact-based criteria to provide students with a performance benchmark and identify schools that combine exceptional quality with a strong return on investment. Hult is recognized among other top schools for its quality faculty, classroom experience, international diversity, and professional development.
This ranking joins other prestigious rankings with The Economist, Forbes, FT, and Bloomberg Businessweek among others who all recognize Hult among the top business schools globally, applauding Hult's innovative curriculum and impressive alumni career outcomes.
Hult International Business School MBA and EMBA rankings
#73 Best Executive MBA program – Financial Times (2018)
#43 Best Global Full-time MBA program – The Economist (2018)
#53 Best Global Executive MBA program – The Economist (2018)
#15 Best International MBA – Forbes (2017)
About Hult International Business School
Hult International Business School is a non-profit educational organization and the first triple-accredited U.S. business school. Ranked by the Financial Times, The Economist, Forbes, and Bloomberg Businessweek, Hult offers programs at undergraduate, graduate, and executive education levels and awards both U.S. and U.K. degrees across its global campus locations in Boston, San Francisco, London, Dubai, Shanghai, and New York. Through a future-focused curriculum that has business at its core and an entrepreneurial spirit throughout—Hult is dedicated to taking students beyond business to graduate with the mindset and skills they need to thrive in a global landscape that is changing faster than ever before and are empowered to make an impact on the world through business.
_________________________________________________________________
To find out more about Hult's future-focused global business degrees, download a brochure
Hult offers a range of highly skills-focused and employability-driven business school programs including a range of MBA options and a comprehensive one year Masters in International Business. To find out more, take a look at our blog 3 big questions to ask yourself before Decision Day. Download a brochure or get in touch today to find out how Hult can help you to learn about the business world, the future, and yourself.
Related posts