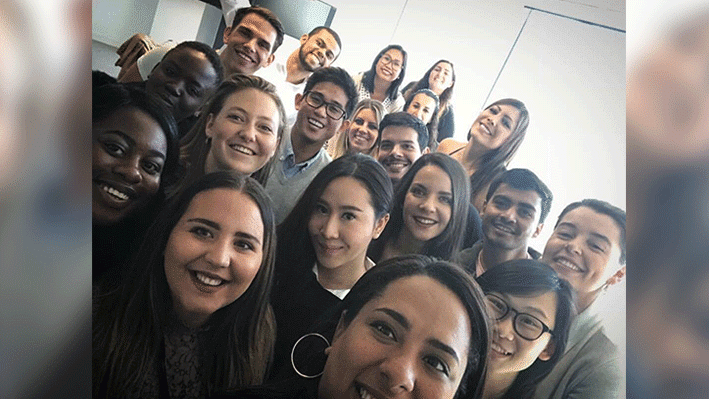 Written by Terry McMillan, Global Ambassador and Masters in International Marketing student Class of 2018.
Cultural Diversity
What is cultural diversity? My definition: a diverse group of people who are different based on their cultural behaviors. At Hult, you will be challenged to work with different people who: don't share the same views as you, speak a variety of languages, and have had different life experiences.
As a result of mixing with different people, we begin to understand and learn from one another which creates richer environments and more well-rounded human beings. While at Hult, your eyes will be opened to new ideas and cultures just by having a simple conversation with your classmates.
What it means to be an Ambassador
As Hult students and Global Ambassadors, our goal is to represent what it means to be a student at Hult and to share our insights and experiences. Many of us have traveled thousands of miles to be here and are committed to investing in our futures. We all chose to be a part of the ambassador program because we are not only passionate about Hult, but also about the global generation. Our generation!
A lot of us Ambassadors are heavily involved with clubs, societies and challenges on campus, like the Business Consulting Club and the Hult Prize. We also like to partake in events off campus, like the TEDxCambridge that took place in October at the Boston Opera House.
We make interesting and informative content for current, past, and prospective students. You can check out our blogs and vlogs on Hult News and various social media platforms. We also post on Instagram and Twitter, attend Open Houses, and even connect and chat with prospective students who have questions about Hult.
"The experiences, passions, languages, and cultures among us are so vast it's what makes us a great and unique team to help represent Hult."
Our Global Ambassadors team in Boston
There are Global Ambassadors at every Hult campus, and here at Boston there are 19 of us. The experiences, passions, languages, and cultures among us are so vast it's what makes us a great and unique team to help represent Hult. Nick H. Plueschke, a Boston Global Ambassador, spends a lot of his time on campus meeting with his teammates and friends but also works with his team and startups to develop an app to make it easier to travel. Anne-Catherine is passionate about bungee jumping, and thinks the adrenaline rush you get from it is amazing and that everyone should do it at least once in their lives. AJ is the nicest person you will ever meet and is always smiling, but don't let that smile fool you, he will not be sharing his food with you. When Karolina is not empowering women through the Women in Business club, you might find her at school early studying to ace an exam. You can wish her luck, but as she puts it, "I don't believe in luck. I believe in creating your own luck by acting on opportunities and overcoming certain challenges."
All of us have unique views, talents, and skills that make us diverse individuals but also help us work together as a team. Our culture is what shapes and influences our behavior, and here at Hult we use it to connect and understand our fellow Hultians.
Learn more about the Boston Global Ambassadors individually and follow our journeys through the Hult year.

Terry McMillan
Terry McMillan is an MIM student at the Hult Boston Campus. She is from Washington, D.C. and has worked for several government agencies within the Washington, D.C. area. She loves design and traveling and previously lived in Okinawa, Japan. Follow Terry's Hult journey on her blog.
Related posts