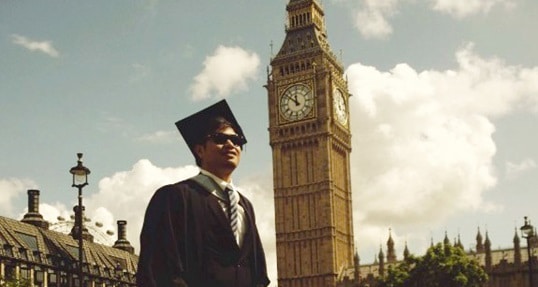 Congratulations to the Class of 2014
Friday, August 22nd, Hult hosted three graduation ceremonies, all on the same day, this was an amazing feat proving that nothing is impossible and thanks must go to Annabelle Hunting and Jemma Allen, along with all the London staff that helped on the day for pulling them all off with style and aplomb. A fantastic team effort.
EMBA Graduation

The EMBA Graduation was held at the delightful Church House conference Centre in the heart of Westminster; over 80 students were present to celebrate the day.
Professor of the Year Award: Ajay Bhalla
Highest graduating GPA: Yvonne Buysman, EMBA
Class Address: Austin Cohort: Janet Hoogstraate
Class Address: Dickens Cohort: Daniel Meron
MBA and Master degree Graduation

Masters and MBA students assembled in the amazing Central Hall venue in the heart of Westminster, over 400 students were present.
The venue was buzzing with excitement and proceedings were opened by Sarvia Wiedmann (MIB student) who had composed her own song to encapsulate her time at Hult.
Hult students were privileged to be able to hear from Ania Jakubowski, Operations Director at Coca Cola – who shared her experiences of study and working life for the global FMCG brand and insight into experiences she wanted to share in her career.
MBA Program:
Professor of the Year Award: Terence Tse
Highest graduating GPA: Daniela Colombo, MBA
Class Address: Ron Marcovici
MFIN Program:
Professor of the Year Award: Khaled Soufani and Alex Grzechak
Highest graduating GPA: Iuliia Budz, MFIN
Class Address: Joseph Khalife
MIB Program:
Professor of the Year Award: Terence Tse, David James and Ajay Bhalla
Highest graduating GPA: Daniela Soler Fonseca, MIB
Class Address: Maximilian Boelck
MIM Program:
Professor of the Year Award: David James and Stephen Humphrey
Highest graduating GPA: Gabriella Gavinelli, MIM
Class Address: Brian Gabriel del Val
Rebecca Churchill, Executive Director for the London campuses, summed up the Masters and MBA graduation by saying:
"Graduates would not be here today without the support and dedication of professors and I am sure the year would not have passed by so smoothly or with so much fun if it hadn't been for the support of the London team. We were delighted that so many parents, relatives and friends joined us today to witness graduation. Students have now got to know an amazing group of people and as Hult alumni, you now have access to an extraordinary network. I urge you to make the most of it. Always."
Quote from Hult student:
"Be your own best, all the time. There is only one chance to make a first impression. Deliver what you say you will deliver. Learn to ask the right questions. Be concise. Organize your research, classify your findings, and summarize your insights. Listen to the older guy; you will be that guy one day. Learn the names of people. Work hard, it will pay off."
Graduates were awarded with degrees in Master of Business Administration, Master of International Business, Master of Finance, and Master of International Marketing.
Want to see more photos of graduation? Visit our Facebook or Instagram accounts.
Kickstart your career in Europe's biggest startup cluster by studying at Hult's London business school. To find out more, take a look at our blog The 'Why' to 'Why Hult London?' Download a brochure or get in touch today to find out how Hult can help you to learn about the business world, the future, and yourself.
Related posts