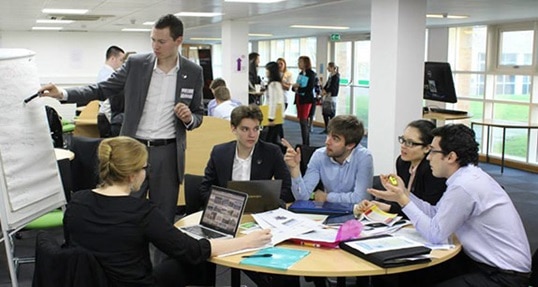 Severe flooding has caused a bridge to collapse in the center of your city. The traffic is backed up for miles. People can't access local businesses. And more floods are on the way. What do you do?
This was the challenge facing six Bachelor students from our London campus who competed against teams from twelve top UK universities in FLUX, higher education's biggest annual competition. The Hult team proposed a solution to the case of the damaged bridge that would reduce traffic congestion, boost the local economy and prevent further flooding. Their approach saw them win second place and come highly commended at the prestigious event held at Lancaster University in the UK.
A business-focused competition that promotes young entrepreneurship, FLUX aims to bridge the gap between education and work by asking students to solve real business challenges, giving competitors practical experience and the opportunity to test the skills they will need in the real business world.
Lyndsey Egerton from Lancaster University said of our students:
"This competition, which sees the best student business minds putting their skills to the test, is the most prestigious contest of its type and I would like to congratulate the Hult team in coming in second place, there was only 3 % in the marks between them and the first place winners".
Well done Team Hult! Dr Melissa Willby, our London Dean of Undergraduate Programs sums it up when she says:
"I am so proud of our team and would like to congratulate them on showcasing their entrepreneurial skills at this level. It is especially rewarding to see practical application of these skills, really demonstrating the employability of our students. Their standing in the competition and feedback received from judges really does go to show that our Bachelor of Business Administration provides an exceptional student experience and a competitive edge when starting your career"
Read more about our Bachelor of Business Administration and London undergraduate campus.
Kickstart your career in Europe's biggest startup cluster by studying at Hult's London business school. To find out more, take a look at our blog TEDxHultLondon: The idea of you — shape your own reality. Download a brochure or get in touch today to find out how Hult can help you to learn about the business world, the future, and yourself.
Related posts